Penn State, one year later: Blue-chip QB Hackenberg sticks with Lions
While recruits fled Penn State in the wake of sanctions, elite QB Christian Hackenberg stayed. Why? Dennis Dodd says it wasn't for bowl glory, but a chance at the NFL.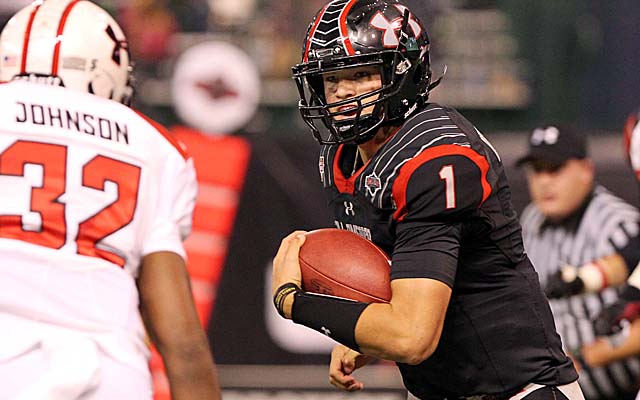 Erick and Christian Hackenberg were on their way home from the Richmond, Va., airport when the car radio delivered the ultimate head slap.
Christian, one of the nation's top quarterback prospects, was returning from the Elite 11 camp in California. Erick, his dad, was driving more than the car. The discussion, his future, was more like it. At that moment, there was a decision to make when the NCAA dropped the crippling sanctions on Penn State last year.
"We kind of looked at each other," Erick said. "We kind of took a deep breath and said, 'We can't emotionally react to it.' "
At that moment, all Christian had done was commit to Bill O'Brien and the Nittany Lions. Commit. That ill-defined recruiting term that means till-death-do-us-part to some. To others, it is nothing more than an elaborate, drawn-out flirtation.
"It comes down to how you're wired," Erick said. "How you are raised. How we've chosen to raise our kids."
You know by now that Christian Hackenberg honored his commitment and signed with Penn State in February. The enduring question is: Why? Why would one of the nation's supreme talents subject himself to whatever was ahead in Happy Valley? Most of it, in football terms, could not be altogether good.
Right?
Hackenberg's arrival says otherwise. In fact, his mere presence suggests there is hope of getting through the sanctions with a Big Ten-level program. It seems like it's going to get bad, but no one really knows for sure. Having to shave down to 65 scholarships by 2014, the possibility exists Penn State will emerge from the sanctions in 2017 with something less than an FBS program.
Then there is the question of how long it will take the program to ramp back up to speed.
Unless Hackenberg becomes a beacon before he becomes a star. The class of 2014 isalready ranked in the top 20by 247Sports. Two four-star receivers -- DeAndre Thompkins and Chris Godwin -- have committed.
The Pied Piper thing is fine, but of course it's important that Hackenberg develop. Without saying it, he's saying it. Hackenberg bought into a degree of separation from Tom Brady, from the NFL. He sure hasn't bought into the bowl experience.
"Let's face it," said JC Shurburtt, 247Sports national recruiting director, "numbers are going to be an issue and Bill O'Brien is going to have to try to compete with a mighty thin roster moving forward. The key is that when the sanctions are lifted and Penn State is able to restock."
To that point, shortly before the start of fall drills, Hackenberg is one of only two scholarship quarterbacks on the roster. The Fork Union (Va.) Military Academy product goes into fall drills even with Tyler Ferguson. That makes him, for now, the only freshman on the depth chart who didn't enroll in January.
It's important now that recruits understand the "why" of Christian Hackenberg at Penn State.
"First of all, I told him I wasn't going anywhere," Bill O'Brien said. "I think a lot of those kids [recruits] thought I was going to leave [after last season] ... There are a lot of things that aren't good about this situation but the one thing I said is, 'This might sound quirky, but you have a chance to come in here and do something special.' "
Special as in ... what? Penn State can't go to a bowl until Hackenberg is a senior (2016). The depth of the linemen protecting him could be compromised. Remember those 15 scholarships.
Part of the early genius of O'Brien is answering those questions to the satisfaction of what promises to be his best playmaker. After the sanctions, Hackenberg's recruitment was suddenly a "fluid situation." (His dad's words.) The Hackenbergs monitored the Penn State transfer situation when anyone was allowed to leave. (And, in fact, are still allowed to leave without penalty until August.)
There was an "emotional meeting" with O'Brien. (Once again, his dad's words.) Then there were Christian's words. If O'Brien was going stay to see it through -- the NFL reportedly had interest in the Penn State coach -- then Hackenberg was buying in.
"I think Bill has shown [his value] because he's had to handle one of the more unique and crazy situations, as a first-time head coach at a high-profile university," Erick said. "It's a 40-year decision. Most importantly, will my son be developed as a player? Who's the guy my son is going to be around for the next four or five years? He's always been upfront and forthright."
What's the worth of a bowl game or two anyway? Erick Hackenberg was mostly a third-string quarterback at Virginia before finishing up at Division III Susquehanna.
"The meaningfulness of a bowl game, unless you're playing in a national championship game, it's an extra game," his dad said. "Let's say Christian starts for four years. Let's say he misses three bowl games. You tell me that three bowl games are going to define a 52-game career? You go to a program that won't go to a bowl or go to one that is so significant, what's the difference?"
To the Hackenbergs, it's Bill O'Brien, it's a degree of separation from Tom Brady, it's the first steps on the path to the NFL.
If not, Christian Hackenberg knows he has already made that 40-year decision.
Penn State, one year later
• Looking for way out in State College
• Why Penn State might make it out
• Key Players, a year later
• Is college sports fed up with the NCAA?
• Could Dan Beebe have saved Penn State?
LSU at Florida has been picked as the SEC on CBS Game of the Week

The Michigan coach had quite a few things to say on Monday after their visit to West Lafay...

Injuries are ravaging an LSU team that is searching for an identity
Jones started answering an injury question and then went off about 'fake news'

The full ranking of all 130 college football teams includes TCU up and a major drop for Florida...

The charges all stem from an investigation into improper debit card charges