Pete Lembo leaves post as Ball State coach to join Maryland's staff
Pete Lembo left his post as Ball State's head coach to take a job at Maryland as special teams coordinator.
• 2 min read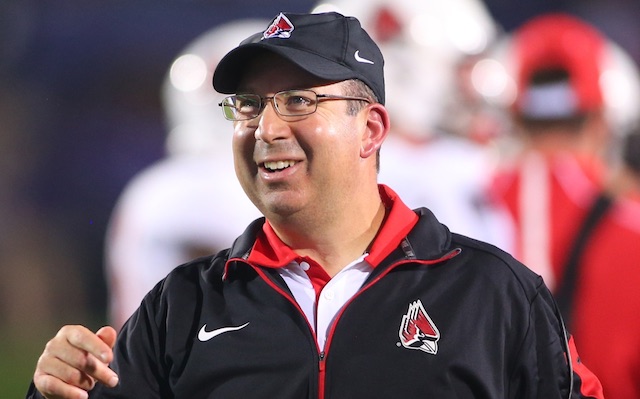 It's a move you don't often see in college football, but this week saw a coach step down from his position as a head coach to take a job as an assistant elsewhere at the FBS level. 
Pete Lembo has left Ball State to take a position on D.J. Durkin's staff at Maryland. According to a release from the school, Lembo will be an assistant head coach and special teams coordinator for the Terps. 
"I'm really excited to be adding someone the caliber of Pete Lembo to my staff," Durkin said. "Pete brings a great deal of experience as a head coach and a proven track record of success. He's been especially successful coaching special teams units and we'll immediately improve with him on board."
Lembo led Ball State to 19 wins in 2012-13 and was reportedly in the mix for a few Power Five jobs after those two seasons but the Cardinals have taken a step back recently, going 5-7 in 2014 and then 3-9 in 2015. Previously, he led Lehigh and Elon to top 25 rankings at the FCS level. 
"I have really enjoyed getting to know Coach Durkin recently and couldn't pass on this great opportunity to be on his staff," said Lembo. "I'm excited to work with the terrific coaching staff that's already in place at the University of Maryland and am looking forward to building this into a highly competitive team in the Big Ten and beyond."
Because it's a coaching move we don't see often, there are going to be plenty of questions as to why Lembo would leave a head coaching job to be the special teams coordinator elsewhere. Fox Sports' Bruce Feldman noted that the move to Maryland allows Lembo and his wife, both Georgetown graduates, to be closer to family.
Feldman also reported that Lembo has been "dealing with frustration after years of leading one of the most under-resourced programs in the MAC." 
It's also important to note that Lembo is not just accepting the "special teams coordinator" role but also the job title of "assistant head coach." Those titles might not mean much to fans, but is it possible that Maryland could offer a salary to Lembo as assistant head coach that would be competitive with his deal at Ball State? Absolutely. According to the USA Today Salary Database, Lembo's total pay for 2015 was just under $518,000 and Maryland, under Randy Edsall, had a salary pool of $2.78 million for its assistants in 2015. 
For Durkin, this is the third assistant hire that was a Division I head coach in 2015. Former Virginia coach Mike London is Maryland's new defensive line coach and former Syracuse coach Scott Shafer is the team's defensive coordinator. 
The movie will zero in on former Penn State coach Joe Paterno during the Jerry Sandusky sc...

Bidding for Salaam's trophy, which the auction house says was obtained legally, ends Satur...

Locksley has been the offensive coordinator at Illinois and Maryland during his coaching c...
Many NFL-eligible juniors ignore advice provided by the league and risk going undrafted each...

Snyder died in Manhattan, Kansas, on Wednesday

Locksley joined Alabama's staff in 2016