Petrino back at Louisville to build on foundation he set
Bobby Petrino with wife Becky in tow is the best story at the ACC spring meetings. It's a second chance in his personal life as well as with Louisville.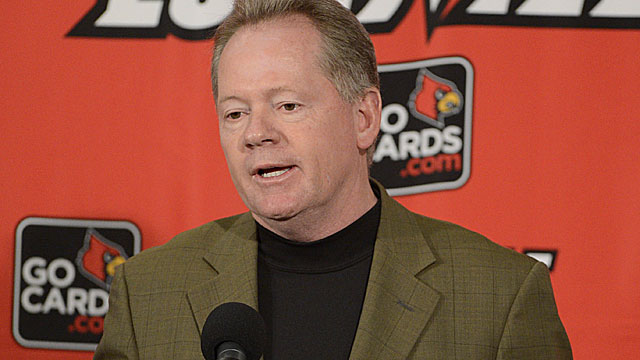 AMELIA ISLAND, Fla. -- I was introduced to Becky Petrino on Tuesday, which is about the best story here at these ACC spring meetings.
No one's writing it because it has nothing to do with cost of attendance or Jameis Winston or the eight-game conference schedule. And that's fine. But in that moment there was something comforting about seeing them together.
It wasn't about me meeting the Louisville coach's wife. It was that Bobby Petrino was doing the introducing. Not to read too much into the situation considering the past, but they seemed like a couple. That's all we can surmise for now. Husband and wife.
It was two years ago this spring, the coach's sordid affair while at Arkansas surfaced. He was fired without hesitation by Razorbacks AD Jeff Long. We can imagine what Petrino put his wife through. I wrote at the time "there promises to be a long, twisted, complicated path back to coaching relevance" for Petrino.
Except there really wasn't. After taking 2012 off, he was back at Western Kentucky. That allowed Petrino to be in position to reclaim his former job at Louisville -- the one no one thought he would get. Two years after Arkansas here he and Louisville are -- at the top of the sport's food chain.
It's been eight years since they were together, eight years since Petrino put Louisville on the map. Eight years since that Orange Bowl win. Eight years since he was the quarterback-maker and offensive mastermind.
Eight years since Petrino set the foundation for what Louisville is today -- safe, sound and prosperous in the ACC. Eight years since he wasn't exactly missed. Let's just say Petrino could be hard to work with.
"You change a lot," he told me.
While he was away -- quitting on the Falcons, resurrecting Arkansas, then cheating on his wife -- Louisville was slowly building toward this ACC moment.
That Petrino is here to nurture it is about the wackiest story of the offseason.
What exists is a huge dichotomy. For a guy who put his family and Arkansas through hell, Petrino has pretty much led a charmed life since then. Western Kentucky hired him eight months after he was fired at Arkansas.
A year after that Mack Brown stepped down, creating a void at Texas. When Charlie Strong filled it, Louisville AD Tom Jurich went no further than his iPhone contacts to get his next coach.
He re-hired the man who had signed combined deals at Louisville, Atlanta and Arkansas for 20 years totaling $64 million. Petrino actually fulfilled less than six years of those deals. You know why: He departed less than a year after signing a 10-year deal at Louisville for the Falcons. Following a 3-10 start, he left for Arkansas notifying players with notes left in their lockers.
Petrino was headed into his fifth season at Arkansas when he was fired.
How he got back to Louisville still seems incredulous. So does the fact that the school continues to seemingly leave a spot open for recruit Sharieff Rhaheed-Muhammad. The four-star Louisville recruit pleaded no contest in March to lewd and lascivious conduct.
The player was ordered to pay medical expenses to the 14-year-old girl he is accused of impregnating. Rhaheed-Muhammad was given probation and ordered to perform 50 hours of community service.
"I want you to know this," Petrino said. "He visited five great places [in recruiting], not one of us knew about this. To my mind, this was supposed to be a sealed case. Until it came out in an article, we didn't know anything about it."
Rhaheed-Muhammad was arrested Feb. 24, three weeks after Signing Day. Asked if the player could be with the Cardinals this season, Petrino responded, "There's a possibility. He's still working through it all."
That, of course, is disturbing for some. Of all the four-star linebackers in existence, Louisville doesn't have to stick by this one. But a lot about Petrino being back at Louisville doesn't make sense.
Jurich was upset at his old coach for what he had done. During the nine-hour interview for the job, the AD grilled Petrino. At one point, Becky herself told Jurich her husband was worth the risk.
Imagine that. The scorned wife stepping up for a previously philandering husband. Even with that, Louisville and Jurich took loads of crap for re-hiring Petrino. Eyes wide shut, they said. Given Petrino's history, the school deserved whatever it got. And based on that history, Petrino Part II wasn't going to end well.
"I'm a big believer you can come back from adversity," Jurich told reporters the day he re-introduced Petrino. "Has anybody come through more adversity than him? I can't imagine."
Adversity? Yes, but let's not forget Petrino created the situation for himself. Jurich took back a guy who secretly interviewed for the Auburn job while Tommy Tuberville was still the Tigers coach.
But Jurich didn't get to the top of his field being timid. He kept Louisville in the conference realignment conversation.
"I think there was a moment they were headed to the Big 12," Petrino said.
But when the Big 12 picked West Virginia and Big East football was disintegrating, Louisville's options were limited. The Big Ten grabbed Maryland in its rush to get to 14, allowing the Cardinals a (seemingly) permanent home.
That seems to be a theme.
"It's just a chance to go back home where all my kids consider home," Petrino said of Louisville.
I'm willing to accept the coach is a changed man. More importantly, the man is a changed man. It was a year ago during my visit to Western Kentucky that Petrino got emotional talking about his son, Nick. The kid had been mocked at times while he was on Arkansas' campus for what his dad had done. And that hurt Petrino. It should have hurt.
Nick will be graduating Saturday from Western Kentucky.
The proud dad smiled when he said that. You change a lot.
In his wake, this time, there is some good. Kolby Smith, the first recruit he ever called at Louisville, followed him from Western Kentucky as Cardinals running backs coach.
Hilltoppers AD Todd Stewart knew exactly what he was getting into. Petrino's contract was written so that the coach's buyout was more than he made in 2013. That's right, Western Kentucky made money off the deal.
Offensive coordinator Jeff Brohm stayed behind at Western Kentucky to become head coach. Running a program is something Petrino said the former Louisville quarterback never aspired to until now.
Who knows if Petrino Part II is going to work out at Louisville. The parties remarrying are acutely aware of each other's faults.
Meanwhile, there was another marriage on display here this week. Becky and Bobby Petrino were together.
Away from the business of football and the temptations of the world, that was something comforting.
These Jayhawks got a tremendous surprise they weren't expecting

Jovon Durante announced on Twitter he's headed to FAU

From Week 1 through the title game, everything runs through Atlanta this season
A concert is a nice way to break up preseason camp

Mills was arguably Georgia Tech's most important player coming into the season

Hugh Freeze's phone records reportedly show another troubling pattern for Ole Miss