Petrino betrayed his players by acting like one of them
There's a lot of misconduct to choose from out there. Who knew Petrino would go out this way?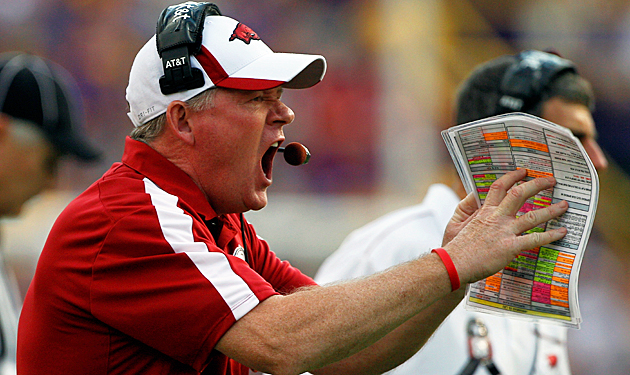 Petrino's entitlement proves to be his undoing, and may do the same to Arkansas' program. (Getty Images)
As you read this, the damage is now spreading out in waves.
From Bobby Petrino's entitled mind to a community that adores its Hogs to a state that does the same. The damage is significant and lasting and won't end with a Tuesday press conference announcing Petrino's firing.
Start with this unassailable fact: For most of its 20 years in the SEC, Arkansas has been a mid-level program. It scrapped and sweated and worked to be better. Most of the time it wasn't.
This was going to be the year. Look at the schedule and the talent. The program had momentum. Look at the coach. It was all in place.  
Petrino lit a match to the whole thing. His incredible selfishness and unmitigated entitlement will affect Arkansas for years to come. You think not? Name the Arkansas coach with the highest winning percentage since Frank Broyles. It was Ken Hatfield (55-17, 1984-89), the last Hog coach to win a conference title. In terms of that winning percentage, Petrino wasn't even Ken Hatfield.
The man who dared challenge the SEC elite and elevate Arkansas to something it has seldom been, also led the program through perhaps its most disgraceful week. If not for AD Jeff Long's for-the-ages presser we'd be picking through burning embers.
What we're left with is altered – perhaps shattered -- careers, hopes and dreams. Petrino spit in the faces of the players he promised to lead. It's their futures he discarded when he decided to lie to his superiors.

Who thought it would come to this? Petrino betrayed his players by acting like one of them.
The worst of them. We almost expect such conduct of binge-drinking receivers, arrest-resisting linebackers and cocky recruits. In some weird way we understand. They're knuckleheads, young nut jobs who don't know what they don't know.
Petrino should have known better. Do you have to be told? His collapse was so monumental that Jim Tressel is probably snickering at the moment. Petrino was making millions on the backs of unpaid labor. Those indentured student-athletes followed a false idol.

The man who asked that amateur labor to be loyal and give everything, took everything. All Tressel did was suppress damaging emails. You at least get his motivation, to keep a powerful football program on top.
Petrino had a shady track record – negotiating with Auburn while still at Louisville, walking out on the Falcons. Who knew, in this case, he would be thinking with something other than his brain?
There is hope at Arkansas. Just not today, or perhaps this season or for a period of years. In the best of times, Arkansas football is a piece of fragile porcelain. It doesn't have the history of Alabama or the local talent of LSU. Everything has to go right for a program that hasn't won a conference title since 1989. That's 23 years and two conferences (Southwest) ago.

Fragile? Who would be surprised if the NCAA now ruled that Arkansas players could transfer without sitting out? This is a unique case. 
There is no certainty right coach is going to come along to save this emotionally wounded program. Unless Gus Malzahn somehow extricates himself from Arkansas State, it looks like interim coach Taver Johnson will keep the job for 2012.
The talent's certainly in place for this season but Alabama and LSU – Arkansas' chief competition in the SEC West -- didn't get any worse on Tuesday. Going forward, Long knows he has to hit an absolute home run with the next hire to preserve what momentum there is.
"No single individual is bigger than the team," he said.
Arkansas is wishing, hoping that a throwaway cliché is a foundation for a football future.
Weinke was injured when Florida State lost to Tennessee in the 1999 BCS title game

It was one of the busiest offseasons for the assistant coaching ranks

Oliver's star has already been born, but 2018 is when it will truly be recognized
Craig Kuligowski is reportedly leaving Miami to take the same job with Alabama

BT Potter is about to be very popular in the Clemson locker room

McElwain will coach receivers and help coordinate the offense for the Wolverines