Petrino: 'I felt a lot of responsibility' for Arkansas' losing season
College football's most famous motorcycle man accepts some measure of blame in a radio interview -- and takes an indirect shot at Arkansas' facilities.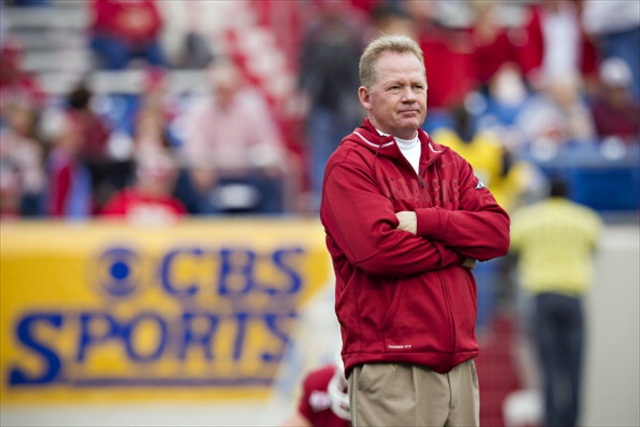 Bobby Petrino knows he wasn't blameless for his former program's slide to 4-8. (US Presswire)
Bobby Petrino has already apologized at length for his infamous motorcycle ride with Jessica Dorrell, and expressed his regret for his relationship with the now ex-Arkansas staffer, the process of her hiring within the football program, the cover-up of her presence at the site of the accident, etc. (Regrets: Petrino has more than a few.)
But he hadn't addressed as directly the fallout his subsequent firing had on his former football team -- a team it's fair to say he'd have preferred to continue coaching despite his missteps. That changed with a radio interview on Nashville's WGFX, one transcribed in part by Sports Radio Interviews. Asked if it was a struggle to spend a season outside of coaching, Petrino said this (emphasis added): 
"It was very, very difficult. It's always been a way of life for me, not necessarily a job. I grew up the son of a coach and it was just something you did every year, every fall. It was difficult, and then to watch [Arkansas] struggle and not play the way they played before, I felt a lot of responsibility for that."
It's not quite taking all the blame for the Razorbacks' disastrous 4-8 season -- one that's left the assistants Petrino left behind pointing the finger at the athletic director who elected to fire him --  but accepting even that measure of responsibility is a more adult move than some coaches might make.
Of course, even adults have to have some hard feelings about the former employer that fired them, which might explain this response to a question about new employer Western Kentucky's football facilities:
"[I]t's unbelievable the facilities we have at WKU. The weight room, training room and locker room are way off the charts, way better than what we had at Arkansas."
Obviously Petrino has plenty of motivation to talk up his current job, but did he have to do so at such vivid expense of his former one? Maybe it's just an off-the-cuff response, but regardless of how much responsiblity he's felt over the Razorbacks' 2012 swan dive, he apparently hasn't felt so much guilt he's ready to let them off the public-commentary hook completely.
HT: CFB Examiner
Let's pay some respect to a couple of overlooked teams in this week's college football ran...

Jones has been with the program since its inception for the 2009 season

SportsLine's computer model simulated every Week 13 rivalry weekend game 10,000 times with...
Mayfield grabbed his crotch and shouted expletives at Kansas on Saturday

The statue will go up in 2019 after Illinois completes its new football performance center

The junior injured his finger diving for the pylon late in the first quarter of the loss to...