Petrino to Western Kentucky makes sense
The worst scoundrel in the world is now the conquering hero in Bowling Green, Ky.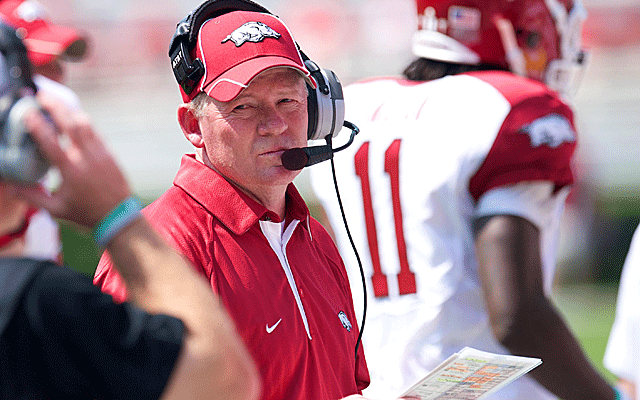 It took eight months for Bobby Petrino to go from a scoundrel to landing at Western Kentucky as a hero.
(US Presswire)
First, there was outrage. Then it made sense.
Bobby Petrino to Western Kentucky.
First, outrage. Then -- why not? Petrino needs a fresh start. Western Kentucky needs relevance.
Next question.
The worst that happens is Petrino is gone in two years and raises the school's profile enough that it is able to join Conference USA. The two sides shake hands and part friends. The best that can happen is ESPN picks up a couple of Western Kentucky nonconference games because of who is on the sideline.
You better bet AD Todd Stewart was thinking of that, too. Petrino comes cheap and, hopefully, contrite. I sure has hell believe in Petrino staying "clean" at WKU more than I do the ACC presidents statement of solidarity last week. 
Hide the student-athlete development coordinators and stow your indignation for a Sun Belt program that has been in FBS for exactly four years. You knew someone was going to hire him. It took exactly eight months for Petrino to go from being the worst scoundrel in the world to landing at Western Kentucky as a conquering hero.
That he was radioactive at the BCS level is understandable. Presidents who will sell their schools to the highest bidder in conference realignment weren't going to touch a philanderer with previous character issues.
Petrino said he canceled an interview with another school Sunday to continue the process with the Hilltoppers. We all thought he'd work again. But the time from motorcycle crash to Monday's conference call flew by.
"There were some days you thought, 'I'm going to get another shot, going to come quick.' Other days I didn't know what was going to happen," Petrino said. 
On Arkansas: "I felt bad for the players. ... I felt like that's my responsibility. I felt like I let them down." 
Petrino needed this interim job, that car wash to wipe away the grime. After Petrino burnishes his image in Bowling Green -- and he will, to some extent -- he'll be back at a BCS school just in time for the playoff era. Just a guess here, but Petrino stays on the straight and narrow and becomes more personable -- or at least as "more personable" as Petrino can become.
The word "jerk" -- or worse -- has come up in most every person I've talked to who has worked for him. Petrino wouldn't be the first. There are a lot of coaches who are hard on subordinates. Petrino just might be the King Grump of them all.
Stewart knows this. Less than 2 1/2 years ago, he was the school's sports information director. Now his career arc is a topic of BCS schools as well. This is his hire, his program, his career. The downside is huge. Petrino could do something incredibly Petrino again. There is that risk. Ask the Falcons and Arkansas.
But even in the worst-case scenario, Western Kentucky continues being Western Kentucky. Just another Sun Belt stepping-stone program. This one took a shot, a shot worth taking. TV will pay attention, sponsors will pay attention. Recruits will pay attention.
That's the other thing. The Hilltoppers will win. I guarantee it. What we forget in times like these is that Petrino can coach. He came up the hard way -- Carroll College to Weber State to Idaho to Arizona State before getting his first head coaching job at Utah State in 1995. His career took off from there and didn't crash until, well, he crashed.
So this isn't a Western Kentucky thing, this is a college football thing. This is Petrino as commodity. A coach able to produce TV inventory for a school and league that desperately needs it. It's programming, it's recruiting, it's high drama.
We'll all be watching. Now it's just a question of which BCS president is going to hire Petrino -- and how soon.
The worst scoundrel in the world just started career rehab.
Many NFL-eligible juniors ignore advice provided by the league and risk going undrafted each...

Snyder died in Manhattan, Kansas, on Wednesday

Locksley joined Alabama's staff in 2016
Saban reportedly wants to hire Freeze, but there may be things keeping that from happening

Florida State-Miami will be on Oct. 6, and the Seminoles will play Clemson on Oct. 27

Weis Jr. was an offensive assistant for the Atlanta Falcons in 2017