Phil Fulmer backs off of comments blasting former AD
Phil Fulmer says 'I know I had responsibility' for Tennessee's decline, after previously casting blame at former AD Mike Hamilton.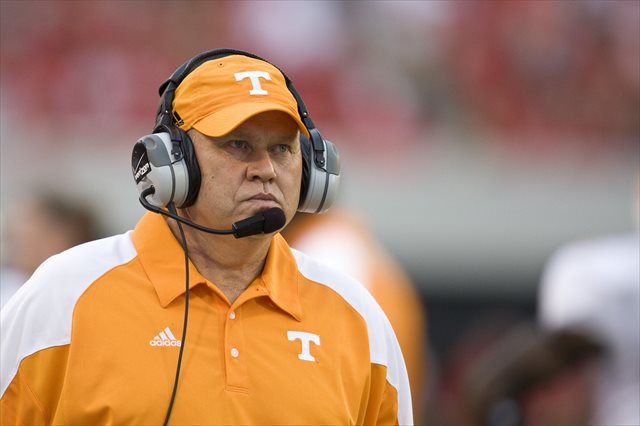 It's a college football tradition as time-honored as "dotting the i" or "Two Bits" or whatever tradition your school happens to embrace: a fired football coach insisting that he never would have been fired if not for some sort of circumstances beyond his control, and nevermind any kind of his own coaching failures.
Former Tennessee national-championship winner Phillip Fulmer wasn't exactly fired, but he was forced out in 2008 in the middle of a 5-7 season. And sure enough, his comments last weekend at the SEC BeachFest, reported by al.com, seemed to point the finger squarely at his superiors.
"What happened to us basically was our leadership. We had four presidents in six years. We ended up with an athletic director that wasn't prepared for the job," Fulmer said, referring to former Tennessee AD Mike Hamilton. "Not a terrible guy or anything like that. He got twisted like a pretzel by the middle management of the university ...

"When you have a great president and a great athletic director and you replace them with substandard people that have no idea, what do you expect is going to happen?"
I'm not sure, but what you could expect to happen in response to those comments certainly happened -- eyebrows were raised across Big Orange Nation, and Fulmer later backed down from them. 
"I understand it's been a topic of conversation in Knoxville," Fulmer said this week at a fund-raiser for the East Tennessee State football program he's been advising. "So let me clarify something. I know I was responsible for both the good and the bad because I was the head coach. I know I had responsibility.

"My point was that after President [Joe] Johnson and [former A.D.] Coach [Doug] Dickey retired, things were different. And [current AD] Dave Hart is still fighting some of those same battles."
The Chattanooga Times Free Press, which reported the fund-raiser comments, wrote that Fulmer having the comments was inevitable -- "you just don't blame the gradual but steady decline of the University of Tennessee football program you oversaw for 16 years on the school's presidents and athletic director and not expect questions to be asked."
But as long as coaches continue to be nudged out of their positions before they're ready, comments like Fulmer's will be inevitable, too, since the coach who looks back at his tenure and says "Boy, I sure messed that up, boy howdy. Got the support I needed from the administration and fans, great situation for me, but I just kept making mistakes left and right and lost a bunch of games I should have been capable of winning. Oh well. Could someone else hire me, please?" hasn't been unearthed yet.
To be fair to Fulmer, his overall Tennessee tenure was easily strong enough that he wouldn't be in position to say something quite like that ... but it still doesn't make calling his former bosses "substandard people" the classiest of moves, either.
Lane Kiffin turned around FAU remarkably fast and has the Owls in the C-USA title game

NCAA football scoreboard, highlights and updates from the biggest Week 12 games

The junior injured his finger diving for the pylon late in the first quarter of the loss to...
Projecting the changes in the new AP Top 25 poll college football rankings after Week 12

There's only one true Turnover Chain in college football, and it belongs to The U

The 72-yard punt return was perfectly executed by the Trojans