Phil Steele projects Tide, Buckeyes, Ducks as AP preseason top 3
Annual projections of what the AP voters will do show Alabama starting where they left off.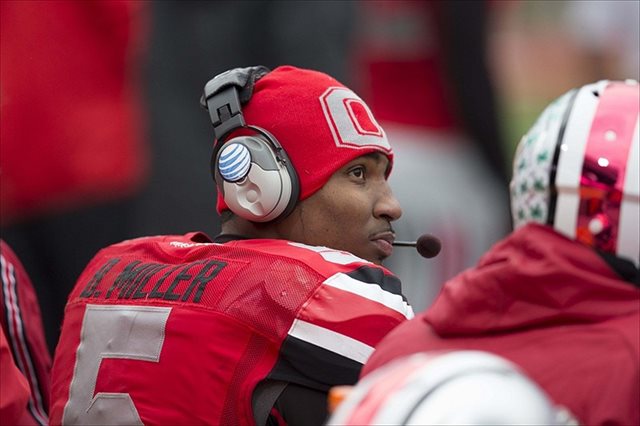 Every year, preview magazine guru Phil Steele issues his preseason top 25. But before that -- in April, as in right now -- he also issues what he projects will be the Associated Press' top 25, predictions that typically offer a glimpse at where college football's heaviest hitters can expect to begin the season when the actual preseason rankings are released in August.
So what does Steele expect from the AP voters? No surprises at the top, with defending national champion Alabama at No. 1. The more intriguing projection comes at the No. 2 spot, with Ohio State favored over Oregon. Steele writes the Ducks "would have probably been a slam dunk for the No. 2 spot" if Chip Kelly had remained in Eugene, but foresees a No. 3 ranking to start 2013 with Mark Helfrich at the helm.
As for the Buckeyes: 
First, they welcome back quarterback Braxton Miller who figures to be one of the Heisman favorites after a season in which he had 3,310 yards of total offense and will look to be improved in the passing game. He will have plenty of talent surrounding him as No. 2 rusher Carlos Hyde and their top two receivers Corey Brown and Devin Smith all return along with key offensive lineman Andrew Norwell and Jack Mewhort. The Buckeyes do have to replace their entire starting defensive line, but Meyer has done a great job of recruiting at that position in his short tenure while the D's other stars in linebacker Ryan Shazier and cornerback Bradley Roby should help fill the void as the young lineman mature.
It's worth noting at this juncture that unlike the college sport that decides its champion Monday night in Atlanta, in college football rankings do matter and preseason ones -- while more flexible than later editions -- arguably matter more than any other than the final few, since voters remain relatively resistant to leapfrogging teams over other teams that haven't lost. If Ohio State does start the season in second-place, and then runs the table against what appears to be a manageable schedule -- one where only a road date to archrivals Michigan will see the Buckeyes as anything but heavy favorites -- will any lower-ranked undefeated team be able to pass them? The Ducks might be able to with a series of emphatic victories, but for any team starting further back in the pack, it might be a hard row to hoe.
Of course, seasons with even two undefeated major-conference teams are becoming rare college football commodities, much less one with three; 2004 remains the only such season in the BCS era. But you can ask that Auburn team -- which never did break into the top-two slots occupied by preseason Nos. 1 and 2 USC and Oklahoma -- whether preseason rankings mean anything or not.
The whole of Steele's projected preseason AP top-26*:
Stanford
Texas A&M
Georgia
Notre Dame
Florida
South Carolina
Louisville
Clemson
LSU
Florida State
Oklahoma
TCU
Boise State
Nebraska
Texas
Michigan
Northwestern
Oregon State
Oklahoma State
UCLA
Wisconsin
USC
Kansas State*
* - "Because I feel one of the bottom 3-4 teams could slip due to injuries, suspensions, transfers or preseason magazine projections." 
Led by Heisman Trophy winner Baker Mayfield, the Big 12 finished with seven first-team sel...

Schiano would have made $4.4 million in Year 1 with annual raises as part of a six-year de...

Dykes spent this season as an offensive analyst at TCU
The 'Wyoming Wild Man' notched six tackles for loss as a junior in 2017

Zaycoven Henderson was charged with aggravated assault with a deadly weapon

Patterson is a former No. 1 recruit in the country