PHOTO: Are those Florida State players playing 'Hangman?'
Florida State players appear to be playing Hangman on a white board during the Seminoles 59-3 rout of Syracuse on Saturday.
• 1 min read
For the second week in a row, Florida State sent the starters to the bench in the second half as the Seminoles cruised to a 59-3 win against an ACC Atlantic Division opponent. Syracuse was held scoreless until finally mounting a scoring drive late in the fourth quarter; a credit to this tenacious Florida State defense.
Allow me to turn your attention to Florida State cornerback P.J. Williams and safety Terrence Brooks who apparently found some entertainment playing a game of "Hangman" on the white board during the blowout. This photo was dug up by Florida State fans, and SB Nation's Tomahawk Nation community is already trying to figure out what the word in question at the time. 
@TomahawkNation better quality pic.twitter.com/j0DuZwtHmw

— Jared Schrader (@jaredluke1234) November 17, 2013
And now, we zoom in. ENHANCE: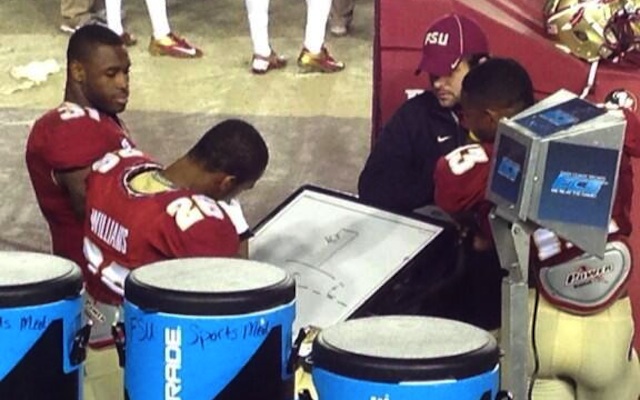 The Fighting Irish will be without some playmakers in 2018

It may have been impossible for Sumlin to meet the expectations set for him in College Sta...

Some players are more easily replaced than others
The 2017 season is in the books, and several big-name stars are jumping early to the NFL

Love was second in the nation in rushing with 2,118 yards in 2017

It looks like Jennings is slowly making his way back to the Vols after being dismissed last...