PHOTO: LeBron James is a big fan of Oregon's uniforms
NBA superstar LeBron James took a trip to Nike's world headquarters and couldn't help but tell the world that Oregon's flashy uniforms have his seal of approval.
To put it mildly, it has been a pretty good summer for LeBron James. The NBA superstar won his first league title with the Miami Heat in June and was named regular-season and Finals MVP to boot. He then hopped on a plane to London and helped Team USA to a gold medal at the Olympics in August.
Thanks to his accomplishments on the court this year and last, James was named Nike "Employee of the Year" by the apparel maker this year and took a trip to the company's headquarters in Beaverton, Ore., on Monday in a promotional stop for employees. While at Nike, the talented basketball player was given a chance to see the latest gear. That included some of the flashy Oregon uniforms that the company has produced. A former high school tight end -- who was actually offered a scholarship to play football by current Ohio State head coach Urban Meyer -- James naturally loved the look of the Ducks and tweeted out a photo of a helmet and gloves he received:
"S/O to Oregon for the fire!! Best unis in the Nation #Nike"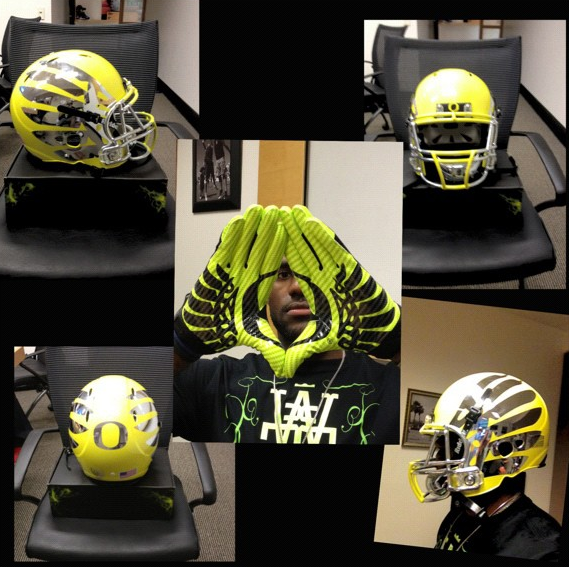 This isn't the only connection to the program that James has had recently. He was seen on the sidelines at Autzen Stadium for Oregon's loss to USC last season with several other NBA players. Regardless of what you think about the Ducks' crazy uniforms in recent years, at least they can say the king of the NBA is a fan.
The junior will take the snaps for the defending national champions in 2017

MetLife Stadium is about 10 miles away from where the World Trade Center buildings once st...

The Terps will wear these against Indiana on Oct. 28.
The coach of the Eagles isn't here for no science talk

These are the teams that are getting too much -- or too little -- love before the season

The Crimson Tide start atop the AP Top 25 poll for the second straight season