PHOTO: 'Maryland Pride' alternate helmets could return in 2012
According to a Facebook post from Hydro Graphics Inc., the "Maryland Pride" helmets worn by the Terps in 2011 will be available again.
• 1 min read
The Terps debuted the "Maryland Pride" uniforms in the season opener against Miami in 2011. (US Presswire)
Alternate uniforms and college football fashion have become one of the most debatable off-field aspects of the sport in recent years. With the help of Under Armour, Maryland stepped in the Oregon-level of alternate uniforms in 2011. The most talked about alternates were debuted in the Terps' 31-24 season opening win against Miami.

The "Maryland Pride" uniforms (seen above) are one of the most aggressive and obvious representations of a state flag on a uniform. The school released photos of a new home and away look for the team in 2012, but "Maryland Pride" uniforms were missing.

But that does not mean they will not be available in 2012. Hydro Graphics Inc. posted the photo below to their Facebook page, with the following message:


Back for more in 2012! Getting ready for the new season…MARYLAND PRIDE is alive and kicking…

Maryland had several combinations of Under Armour uniforms to choose from last year, and coach Randy Edsall left it to the captains to make the decision. While the school has not promoted the return of the tortoise helmets or matte black helmet - jersey combination, we at least can assume the Terps' will be wearing more than what was released earlier this month.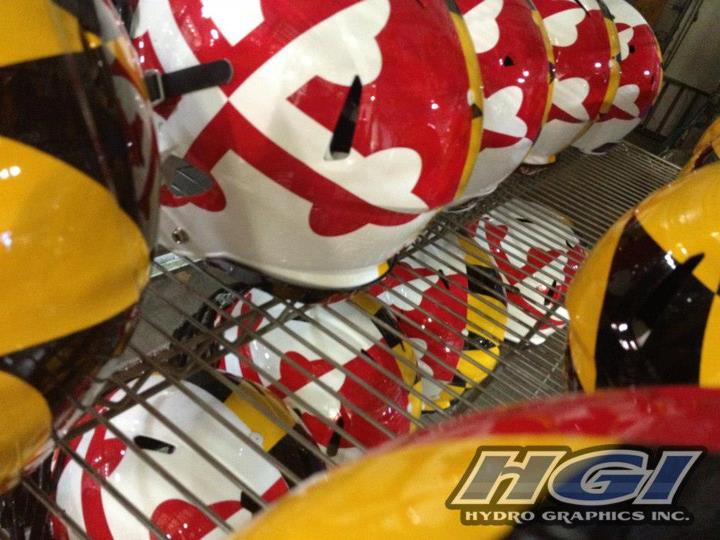 Keep up with the latest college football news from around the country. From the opening kick of the year all the way through the offseason, CBSSports.com has you covered with thisdaily newsletter. View apreview.

Get CBSSports.com College Football updates on Facebook
The Michigan coach had quite a few things to say on Monday after their visit to West Lafay...

Injuries are ravaging an LSU team that is searching for an identity

Jones started answering an injury question and then went off about 'fake news'
The full ranking of all 130 college football teams includes TCU up and a major drop for Florida...

The charges all stem from an investigation into improper debit card charges

LSU at Florida has been picked as the SEC on CBS Game of the Week