PHOTO: Maryland Under Armour football uniforms for 2012
The school previewed the home and away football uniforms for the 2012 Maryland Terrapins football team.
• 1 min read
Maryland previewed the 2012 home and away jerseys for local media on Monday. (WNST 1570/Twitter.com)
Maryland football has been striving for a new look since Randy Edsall's arrival in 2011, and with the assistance of Kevin Plank - Under Armour CEO and Maryland alumnus - the Terps have become fashion icons, of sorts, in college football.

The school dressed up a pair of mannequins in home and away uniforms to preview the 2012 look. The home (red) and away (white) jerseys are similar to two designs used in the 2011 season, with the only major change reportedly being that these two uniforms will include the players' names on the back. The "Maryland Pride" alternate uniforms, which made their famous/infamous debut against Miami on Labor Day in 2011, and the black alternates will not include the players' names.

Similar to the "Maryland Pride" alternate, the white helmet for both uniforms features a stylized version of Maryland's state flag. The 2012 design is a bit more subtle, but still delivers the message Edsall wants to convey to in-state recruits about the program.

What do you think of the new uniforms? Let us know in the comment section below or hit us up on Twitter @EyeOnCFB.

Images via @WNST
UPDATE: Official promo photos from Under Armour have been released.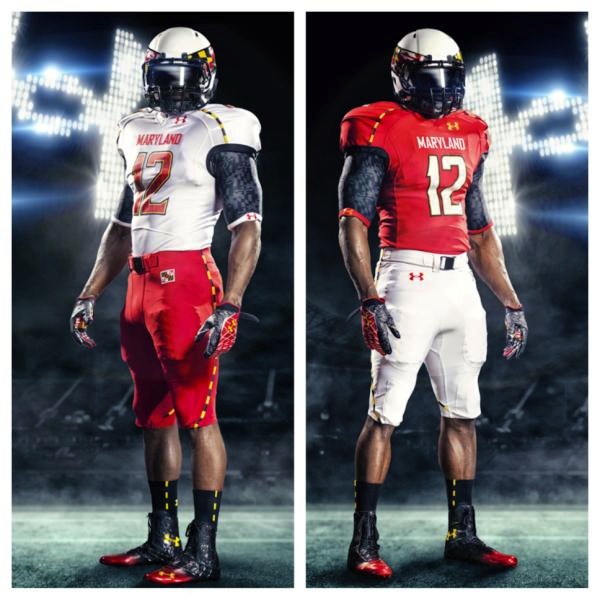 Keep up with the latest college football news from around the country. From the opening kick of the year all the way through the offseason, CBSSports.com has you covered with thisdaily newsletter. View apreview.

Get CBSSports.com College Football updates on Facebook
Kevin Sumlin addressed Texas A&M's decision to cancel a rally scheduled for Sept. 11

Expectations are high for Charlie Strong at South Florida, and Houston looks to take the next...

There are new names to learn every season, and here are five to keep an eye on from the AA...
Taking a close, detailed and opinionated look at the AAC a week before the start of the 2017...

These Jayhawks got a tremendous surprise they weren't expecting

Jovon Durante announced on Twitter he's headed to FAU