PHOTO: Syracuse players receive Big East championship rings
Orange coach Scott Shafer awarded Syracuse's football team with championship rings to commemorate last season's Big East title.
• 1 min read
Syracuse officially becomes a member of the ACC this offseason, but the Orange were able to claim a piece of Big East football history by earning a share of the conference's last football championship.
First-year head coach Scott Shafer presented championship rings to the Orange on Friday night at the annual team awards banquet. Shafer, the defensive coordinator from 2009-12 before his promotion to head coach, paid tribute to the senior class for its work in delivering the school's first conference title since 2004.
"These seniors took a program that was in the depths of NCAA football and brought us to a championship," Shafer said via Syracuse Post-Standard. "It is hard to be a champion. This senior class is full of champions. You believed when no one else believed. This group said, 'No more' and you turned it around. You taught us to fight when all we had was faith in one another. You pushed forward when everyone on the outside said, 'No way.' You played the game with great respect."
After a 2-4 start, Syracuse bounced back to win six of its final seven games. The road to a Big East title included knocking off then-undefeated Louisville, opening up the title race that eventually ended in a four-way tie between the Orange, Louisville, Rutgers and Cincinnati. 
After the banquet, several players shared pictures of their title rings on social media. Check out the ring given to senior wide receiver Jarrod West below. (via Instagram)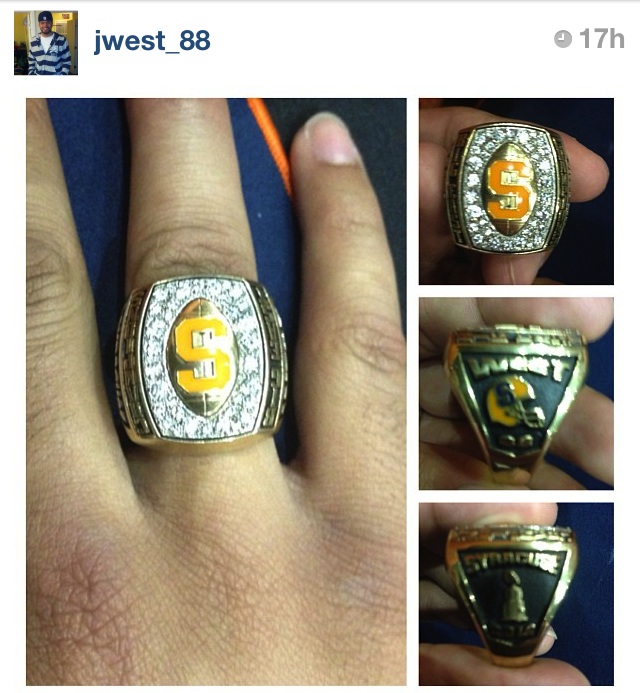 The Alabama QB has a new look after the Tide claimed another national title

Young was injured during Miami's Orange Bowl loss to Wisconsin

The movie will zero in on former Penn State coach Joe Paterno during the Jerry Sandusky sc...
Bidding for Salaam's trophy, which the auction house says was obtained legally, ends Satur...

Locksley has been the offensive coordinator at Illinois and Maryland during his coaching c...

Many NFL-eligible juniors ignore advice provided by the league and risk going undrafted each...