PHOTO: Texas Tech's 'Lone Survior' uniforms against Kansas State
Texas Tech will host over 400 Purple Heart recipients for the Kansas State game and wear special-edition uniforms to support the Lone Survivor Foundation.
• 1 min read
Texas Tech 's fashion has taken a turn since the arrival of first-year head coach Kliff Kingsbury, but the new look the Red Raiders will have on Nov. 9 against Kansas State will have a much more noble cause than looking awesome -- though these special-edition uniforms do look pretty cool. 
Under Armour released mock-ups of the "Lone Survivor" alternate uniforms on Monday, just one part of a celebration that will also include over 400 Purple Heart recipients in attendance and the auction of these uniforms to benefit The Lone Survivor Foundation. The gathering is expected to be the largest of Purple Heart recipients on American soil in history.
Tim Kingsbury (father of Kliff Kingsbury) and the late Guffrie Smith (father of head basketball coach Tubby Smith) will be among those honored in the ceremony. Kingsbury and Smith were both awarded Purple Hearts while serving in Vietnam and World War II, respectively.
The Lone Survivor Foundation was founded by retired Navy Seal Marcus Luttrell to support service members and their families. Below, you can see the foundation's motto, "never quit," on the back of the uniforms. Fans can purchase Under Armour Lone Survivor gear and replica jerseys at local retailers and 100 percent of the proceeds from auctioning the game-worn jerseys will go to the Lone Survivor Foundation.
"Texas Tech is honored to have Marcus Luttrell, the Lone Survivor Foundation, Purple Heart recipients and Gold Star families on our campus for a celebration of courage," Texas Tech athletic director Kirby Hocutt said in an official release. "The sacrifices of so many brave men and women, including Marcus, give all us all great reason to pause and reflect on their service in defense of our great nation. This game will be a great opportunity for Red Raider fans to show their admiration and respect for our veterans and active duty military personnel."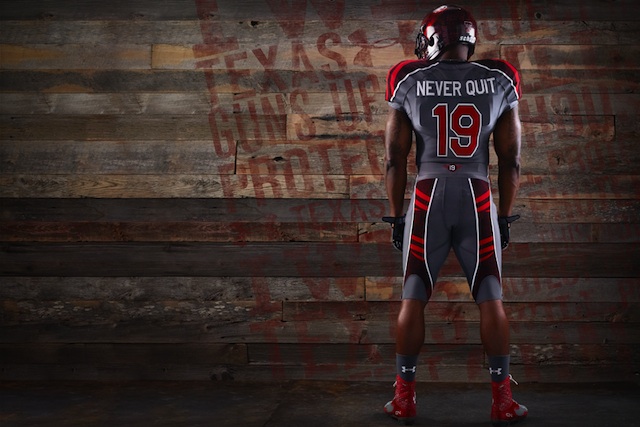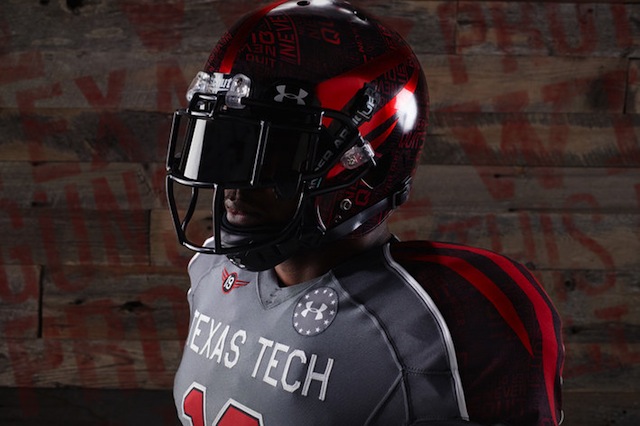 The Alabama QB has a new look after the Tide claimed another national title

Young was injured during Miami's Orange Bowl loss to Wisconsin

The movie will zero in on former Penn State coach Joe Paterno during the Jerry Sandusky sc...
Bidding for Salaam's trophy, which the auction house says was obtained legally, ends Satur...

Locksley has been the offensive coordinator at Illinois and Maryland during his coaching c...

Many NFL-eligible juniors ignore advice provided by the league and risk going undrafted each...