PHOTO: This pretzel proves Maryland is ready for the Big Ten
Maryland will sell a 24-ounce pretzel baked with crab dip and cheese at home games this season.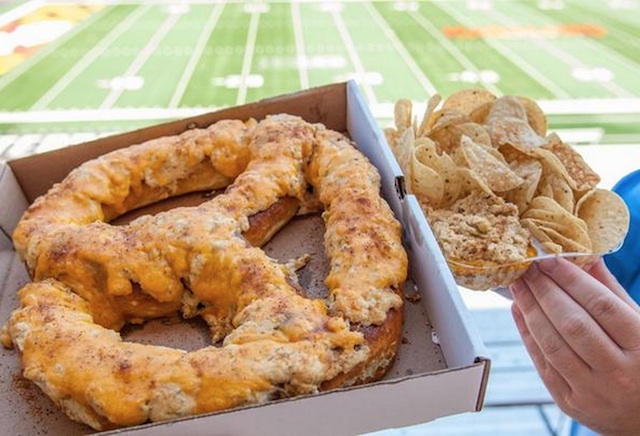 I know that it's going to take me some time to get used to the idea of Maryland and Rutgers being members of the Big Ten, but a trip to the concession stand at Maryland's Byrd Stadium will at least convince me that Maryland is ready to be a Big Ten school.
That's where I'll find this beauty.
New this season at Byrd Stadium: a melted-cheese-and-crab soft pretzel that weighs 1.5 pounds http://t.co/Jt7uFvMiw8 pic.twitter.com/wa3XsA2Qkd

— Dan Steinberg (@dcsportsbog) August 27, 2014
Yes, according to the Washington Post Maryland will be selling a 24-ounce pretzel smothered in crab dip and cheese and oh my god why am I so hungry now. Here's the official description of this new delicacy.
The 'Chessie,' named after the Loch Ness Monster's less famous Chesapeake Bay cousin, is a monster-sized 24-ounce hot soft pretzel smothered in back fin crab dip and melted cheddar cheese, then topped with a dusting of Old Bay for two to four hungry fans.
So, yeah, Maryland is officially a Big Ten school now as it has shown it has the artery-clogging capabilities that Midwesterners value so highly. Your move, Rutgers.
LSU at Florida has been picked as the SEC on CBS Game of the Week

The Michigan coach had quite a few things to say on Monday after their visit to West Lafay...

Injuries are ravaging an LSU team that is searching for an identity
Jones started answering an injury question and then went off about 'fake news'

The full ranking of all 130 college football teams includes TCU up and a major drop for Florida...

The charges all stem from an investigation into improper debit card charges