PHOTO: Under Armour reveals Texas Tech 'Lone Star Pride' uniforms for Texas game
Texas Tech will be wearing alternate "Lone Star Pride" themed uniforms for its in-state rivalry game against Texas on Saturday.
• 1 min read
Texas Tech will be wearing the "Lone Star Pride" uniforms for its Week 10 matchup with Texas. (Under Armour)
Texas Tech's 6-2 start and top-20 ranking has given the Red Raiders an argument as the best Texas team in 2012. With their shootout victory over TCU, Tommy Tuberville's squad needs wins over Texas and Baylor to make the Lone Star sweep in the Big 12.

The Longhorns will visit Lubbock on Saturday. In addition to bragging rights, the in-state rivals will be competing for a higher spot in the crowded Big 12 standings. Both teams have two losses in conference play and are battling with West Virginia and Oklahoma State for the next spot in line when it comes bowl selection time.  

Under Armour has provided Texas Tech with a new alternate uniform for the Texas game. Officially named the "Lone Star Pride" uniform (for obvious Texas flag-related reasons), these new alternates will be on display for the nationally televised showdown against the Longhorns.

What do you think of the look?  Let us know in the comment section below or cruise over to our Facebook page to join the conversation.  

(H/T: Football Scoop on the pics)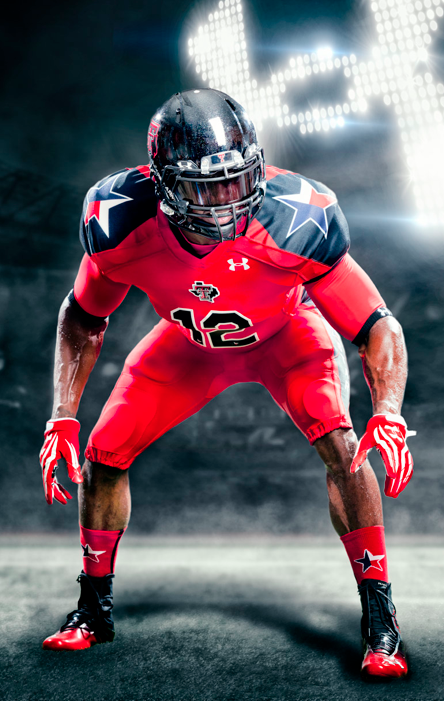 Keep up with the latest college football news from around the country. From the opening kick of the year all the way through the offseason, CBSSports.com has you covered with thisdaily newsletter. View apreview.

Get CBSSports.com College Football updates on Facebook
Lane Kiffin turned around FAU remarkably fast and has the Owls in the C-USA title game

NCAA football scoreboard, highlights and updates from the biggest Week 12 games

The junior injured his finger diving for the pylon late in the first quarter of the loss to...
Projecting the changes in the new AP Top 25 poll college football rankings after Week 12

There's only one true Turnover Chain in college football, and it belongs to The U

The 72-yard punt return was perfectly executed by the Trojans