PHOTOS: Northwestern unveils new Under Armour uniforms
Northwestern revealed photos and videos of the new Under Armour football uniforms for the Wildcats in 2012.
• 1 min read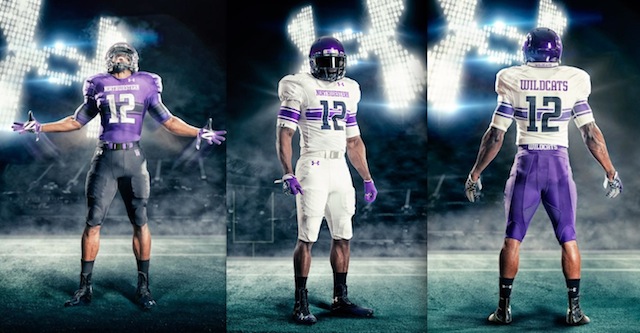 Northwestern has been teasing the release of their new Under Armour uniforms for most of the offseason, and the school has finally released the first promotional photos of the threads.

The Wildcats will debut the new look on Sept. 1 for the 2012 season-opener against Syracuse in the Carrier Dome.  The fans at Ryan Field will get to see the home uniforms for the first time the following week when Vanderbilt comes to town.

Northwestern's athletic department and Under Armour teamed up to develop a modern design that fit the school's identity.  An explanation of the heavily featured stripe, along with other design details, was included in the school's release.
The new Northwestern uniforms reflect a fusion of innovation and tradition, providing players with state-of-the-art technology while celebrating the University's football heritage. The focal point of the jersey is a prominent stripe, a symbol of the University's football legacy that recognizes the school as the originator of this design element. Known throughout the football community as the "Northwestern Stripe," this feature will be integrated throughout the entire athletic program, ensuring that each of the 19 sports teams has a unique look but is united by a common thread.

The uniforms incorporate a unique design aesthetic, taking inspiration from the different elements of the Northwestern campus, including the gothic-style architecture and intricate stonework. These details are strategically woven into the uniform through the font style and numeral design, adding intricate details to the prominent Northwestern stipe across the jersey. The uniforms will be complete with baselayer, gloves and footwear that all coordinate with the home and away uniforms.

Check out the video below describing the influences from around campus the designers put into the uniform, courtesy of NU Athletics.

What do you think of the new look?  Let us know in the comment section below or holler at us on Twitter @EyeOnCFB. 





Keep up with the latest college football news from around the country. From the opening kick of the year all the way through the offseason, CBSSports.com has you covered with thisdaily newsletter. View apreview.

Get CBSSports.com College Football updates on Facebook
These five teams have the best chance of being the Group of Five darling this coming year

Drevno had been running the Michigan offense for three seasons

Aaron was reportedly shot while trying to protect his girlfriend when a fight broke out at...
An assistant-by-assistant look at changes Saban made to the Tide's staff ahead of 2018

Find out when Nick Saban, Kirby Smart and the rest of the coaches will speak ahead of the...

It wasn't only the massive $75 million contract that got Fisher to depart for College Stat...