The long nightmare that has been the college football offseason is just about over. Before you know it, teams from all across the country will be lining up to play real life college football games.
College football games you can watch with your own eyes.
College football games you can bet on, if you so choose.
Here in my new weekly picks column, well, I'll be focusing on that latter activity. Each week in Pick Six, I will take a look at ... wait for it ... six different games ahead of the weekend and share my thought process for picking the lines I do.
And while I can't promise you that every single pick I make will be right, what I can guarantee is that I'll make you rich beyond your wildest dreams do everything I can to lead you in the right direction. That way, when I'm wrong, I'll just blame your inability to follow directions.
Games of the Week
No. 3 Alabama (-10.5) vs. No. 20 Wisconsin -- Arlington, Texas: There are a lot of unanswered questions about both of these teams heading into this opener, and honestly, the best pick of all might be to take the Under 50.5, because I'm just not sure you can rely on these teams to combine for a ton of points. In the end, though, what tilts me toward Alabama are the offensive lines of both teams.
Yes, both the Tide and Badgers are working in a lot of new starters on their O-lines, but Alabama's won't have to go against its own defensive front. Wisconsin's, on the other hand, will. So while I have no idea who Alabama's quarterback will be, I know the Tide still have Derrick Henry to rely on to help grind down the Wisconsin defense. Alabama 24, Wisconsin 10
No. 1 Ohio State (-11.5) at Virginia Tech: I don't care about the suspensions, or the fact this game is in Blacksburg. The more I look into it, the more reason I believe that Ohio State's going to cover this one with relative ease. The Hokies beat the Buckeyes last year in Columbus, but it was J.T. Barrett's second career start, and it came against a very talented and incredibly smart defense. This year, Barrett -- or Cardale Jones! or both! -- comes into the game with a lot more experience and plenty of options around them. 
And while there's some "hype" about Virginia Tech this season, this is still a Hokies team that is 8-16-1 against the spread at home since 2011. It's also still the same VT offense that managed to score a whopping 24.1 points per game last season ... except this year it has to replace three offensive linemen. I just don't see the Hokies being able to hang with the Buckeyes for 60 minutes. Ohio State 31, Virginia Tech 14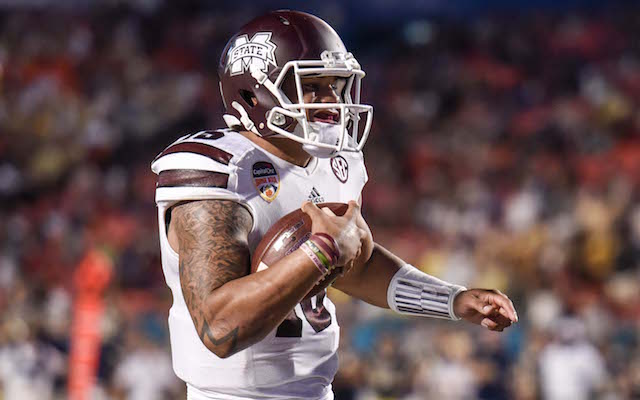 Lock of the Week
Mississippi State (-21) at Southern Mississippi: These teams met last year in Starkville with the Bulldogs winning 49-0, easily covering a 30-point spread. This year, the game is being played in Hattiesburg, and the spread is only 21 points. Well, let's see, is moving the game from Stark Vegas to Southern Miss really worth 28 points to you? Because it isn't to me, even with some of the Bulldogs' talent losses. Sorry, Golden Eagles. Mississippi State 42, Southern Mississippi 10
Underdog of the Week
No. 15 Arizona State (+3) vs. Texas A&M -- Houston, Texas: I know that this game is in Houston, but that doesn't really do anything to affect the way I feel about the Sun Devils -- either in this game, or in 2015. While I think Texas A&M is going to be a better team this year, and have a major say in who ends up winning the SEC West, I happen to think Arizona State is a legit playoff contender this season.
I also have serious reservations about a Texas A&M defense that did allow nearly 37 points per game (and nearly seven yards per play) against Power Five opponents last season. Yes, John Chavis will fix it. But in the first game? I don't think so. Arizona State 38, Texas A&M 30
Punt of the Week
Utah (-6) vs. Michigan: In case the title is not clear, I don't think this is a game you'll want to bet on, but that you should actually punt. Stay away. I don't care what feelings you have. This week, I'm choosing Utah-Michigan for this space because I just don't like the movement I saw on this line. Utah originally opened up at a three-point favorite, and the line has since grown to nearly a touchdown. That makes me want to fade the public quite a bit and go with Michigan, but there are just too many questions remaining about the Wolverines. I mean, Jim Harbaugh just listed four guys as his starting quarterback. I just can't get a clear read here. 
Hail Mary of the Week
Now this is one that needs an explanation. Think of it as a parlay of sorts.
Essentially, every week we're going to look for a lottery ticket. I'm going to pick three games at varying times (Thursday night, Saturday morning, Saturday night) for us to link together. 
We will place an original bet on the Thursday night game. If we win, we then bet those winnings on the Saturday morning game. Should we win there as well, we then let it all ride on the Saturday night game.
Now, we won't get all three games on a weekly basis, but when we do, the payoff will make the misses well worth it. Besides, even if you don't win, it makes things a bit more fun ... and isn't that what this is all about in the end?
So with that said, here's my Hail Mary play for this week:
Thursday night: TCU (-14.5) at Minnesota -->
Saturday morning: Stanford (-12) at Northwestern -->
Saturday night: Louisiana-Lafayette (+17) at Kentucky