Pick Six: Making tough calls on Notre Dame-Temple, Florida-Georgia
Every week, CBS Sports college football writer Tom Fornelli will make six picks for the upcoming weekend's college football games. He promises that these picks will make you rich beyond your wildest dreams.
Every week, CBS Sports college football writer Tom Fornelli will make six picks for the upcoming weekend's college football games. He promises that these picks will make you rich beyond your wildest dreams.
I was in for a rude surprise on Thursday morning when I went to take my dog to the park, like I do every morning. I opened that front door and was immediately accosted by a stiff wind to the face and cold temperatures I was just not ready to experience. I checked the weather app on my phone and saw that the temperature was 40 degrees with a wind chill of 28 degrees, which is just unacceptable for this time of year.
Kind of like my record in Pick Six the last two weeks. 
Like the weather, I've gone cold. After a 3-3 mark last week, I'm only 6-6 the last two weeks, and I'm not accepting these mediocre performances. As Stringer Bell once said in The Wire, that's too many 40-degree days, and nobody remembers 40-degree days.
So let's raise the temperature a bit this week, shall we?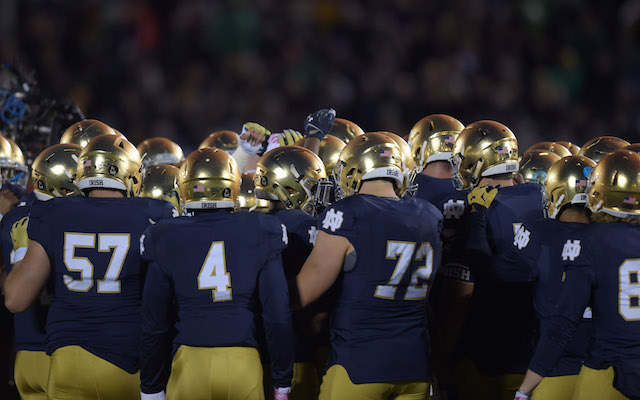 Games of the Week
No. 9 Notre Dame (-10.5) at No. 21 Temple: One of the Games of the Week features Temple. What a time to be alive, indeed. 
As for this game, listen, I think Temple is a good team. Actually, to be a bit more accurate, I think Temple has a good defense. That offense leaves a bit to be desired, though, and even the defense's success to this point could be skewed by its schedule to this point. Of all Temple's opponents, only Cincinnati (36.6 ppg) ranks among the top 60 FBS schools in scoring. The Irish offense will easily be the toughest test the Owls have faced all season, but even if Temple is able to slow Notre Dame down a bit, I just don't think its offense can keep up. Notre Dame 31, Temple 17
Check out the SportsLine pick and prediction for Fighting Irish-Owls

Georgia (+3) vs. No. 11 Florida (Jacksonville, Fla.): The World's Largest Outdoor Cocktail Party makes the cut this week simply because there are not a lot of monster matchups, and I am a good CBS employee. It's certainly not here because I have a good read on what's going to happen in this game.
Using pure logic, Florida should be the pick here. It's been the better team so far this season and is 5-2 against the spread, while Georgia is 2-5 ATS and dealing with injuries. But that's what this rivalry game wants you to think! Nothing ever goes to plan in this game. Not only does the underdog cover with alarming regularity, it wins straight up a lot of the time, too. Georgia 27, Florida 24
Check out the SportsLine pick and prediction for Gators-Bulldogs

Lock of the Week
Ball State (-2.5) vs. UMass: And so it has come to this. My Lock of the Week is taking a 2-6 team from the MAC, and picking it against the 1-6 team from the MAC. I do have a good reason for my pick, though, I swear. I'm just relying on the Minutemen being especially bad, particularly when they're on the road.
Not only has UMass gone 0-3 on the road this year, but it's lost those three games by an average of 31 points per game. As a result, UMass is 0-3 ATS on the road this season and 1-4 ATS as an underdog overall. So even though I don't think they're going to get blown out by Ball State, they aren't going to really threaten anything, either. Ball State 31, UMass 20
Check out the SportsLine pick and prediction for Minutemen-Cardinals

Underdog of the Week
Vanderbilt (+12.5) at Houston: First, I picked against Temple; now, I'm picking against Houston. I swear this isn't some kind of AAC Hate Fest. I think the AAC is great, I just also have a bit more respect for Vanderbilt -- particularly its defense -- than the betting public does. The Commodores just don't give up a lot of points, and they cover a lot of spreads because of it. They're 4-2-1 ATS this year, and that includes a mark of 4-1-1 as an underdog with covers against Georgia, Ole Miss and Missouri. Houston 24, Vanderbilt 17
Check out the SportsLine pick and prediction for Commodores-Cougars

Over/Under of the Week
Penn State vs. Illinois (Under 43): This is a low number set for the game, and it's low for a reason. Neither of these teams are known for lighting up scoreboards. In four conference games, Penn State has averaged 24.5 points, while Illinois is scoring 15.7 in three games. I don't expect either offense to do anything all that different against one another, as the defense have been the strengths of each team. Penn State 23, Illinois 14
Check out the SportsLine pick and prediction for Illini-Nittany Lions

Pick Six Records
Category
Record
Games of the Week
10-6
Lock of the Week
6-2
Underdog of the Week
6-2
Over/Under of the Week
5-3
Hail Mary Parlay
2-6
Overall:
29-19
Hail Mary of the Week
If you aren't familiar with the Hail Mary, here's how it works: It's essentially a three-game parlay, but you only bet one game at a time. If the first game wins, you use the winnings on the next game, and so on. It's a play that won't come through most of the time, but when it does, it pays off nicely.
And here's this week's play.
Friday night: Rice vs. Louisiana Tech (Over 61.5) -->
Saturday morning: Nebraska (-9) at Purdue -->
Saturday night: Stanford (-10.5) at Washington State
Bonus Picks of the Week
Because I love you, I've decided to start including bonus picks in the column each week. I won't be counting them against my record, but I assure you, I believe in these, too. 
Georgia Southern vs. Texas State (Over 68.5)
Auburn (+7.5) vs. No. 19 Ole Miss
Akron (+3.5) vs. Central Michigan
USC (-6) at California
Kansas (+40) vs. No. 14 Oklahoma
Arizona (+4.5) at Washington
CBS Sports HQ Daily Newsletter
Get the best highlights and stories - yeah, just the good stuff handpicked by our team to start your day.
Please check the opt-in box to acknowledge that you would like to subscribe.
Thanks for signing up!
Keep an eye on your inbox for the latest sports news.
Sorry!
There was an error processing your subscription.
Lewis had previously been arrested in February on a domestic violence charge

Both of the SEC West's premier coaches are now aligned on their scheduling preferences

Venables' five-year deal will be worth $11.6 million total
Tua or Jalen? Jalen or Tua? The fight will go on, but it may not be that contentious

The North Carolina coach believes changing the game will impact the country

Saban did little to quell the interest in college football's most interesting offseason st...