Picks: Gurley, Georgia primed to run wild against Martinez-less Nebraska
It's been a great year for Duke, but facing Texas A&M and Johnny Manziel, now healthy again, is a rough task. That bowl pick and others in the latest predictions blog.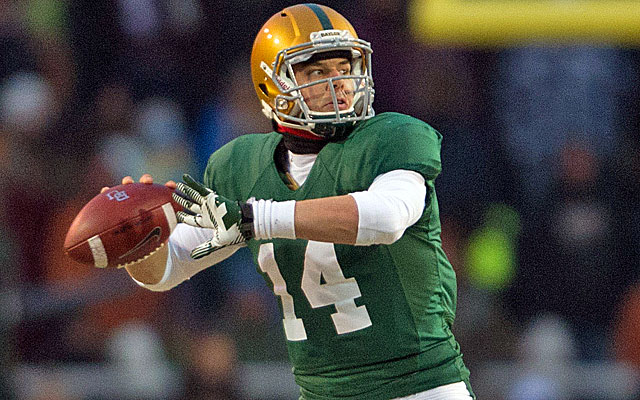 I was 3-1 against the number for Monday's bowl picks, putting me at six over .500 against the spread for the season. Here are the bowl picks for Dec. 31 and the Jan. 1 games:
Wednesday's games
Gator: Georgia 35, Nebraska 14: No Tyler Martinez for the Huskers, who have some talent but sputtered down the stretch. NU surrendered 79 points in home games against Michigan State and Iowa--teams with less talent than the Dawgs. The Dawgs' spectacular RB Todd Gurley, recovered from a flu bug, seems primed to kick off his 2014 Heisman campaign. This looks like a bad spot for the Big Ten. Result: Nebraska 24, Georgia 19
Dallas: North Texas 38, UNLV 27: Two programs that haven't been to a bowl in a very long time. The Rebels are back for the first time since 2000. UNT hasn't been in one since 2004. UNLV QB Caleb Herring provided a nice spark for the Rebels, but I'm going with the team who is practically playing a home game and has the much tougher D (No. 26 in the nation compared to UNLV's No. 100 unit.) Result: North Texas 36, UNLV 14
Outback: LSU 30, Iowa 14: No Zach Mettenberger for the Tigers, but I think Anthony Jennings should be just fine as long as he has the dynamic 1-2 punch on the outside with Odell Beckham Jr. and Jarvis Landry plus that deep group of RBs. The Hawkeyes have good LBs and they've faced some dynamic dual-threat QBs before in Braxton Miller and Devin Gardner, but neither of those guys had as much skill talent around them as Jennings does. Result: LSU 21, Iowa 14
Capital One: South Carolina 23, Wisconsin 17: Steve Spurrier's won his last two bowl games and my hunch is Jadeveon Clowney starts his drive to be the No. 1 pick in the draft right here. Result: South Carolina 34, Wisconsin 24
Rose: Stanford 10, Michigan State 3: I didn't think anyone would score a TD in this one, but changed my prediction on the score after the news that standout LB Max Bullough wasn't playing for the Spartans, who not only have to cope with a terrific O-line, but also Tyler Gaffney, a mobile QB (Kevin Hogan) and also Ty Montgomery without its defensive QB. Result: Michigan State 24, Stanford 20
Fiesta: Baylor 48, UCF 24: Two terrific QBs in Blake Bortles and Bryce Petty, but Baylor has the much better skill guys and more tempo. UCF is well-coached, but I don't buy that the AAC squad will be able to hang with Baylor for four quarters. Result: UCF 52, Baylor 42
Tuesday's games
V100: Arizona 24, Boston College 20: No game features a better match-up of running backs than this one. Expect both Ka'Deem Carey and Andre Williams to shine, but I give the edge to the Cats because of dual-threat QB B.J. Denker's ability to run their scheme and spread the ball around. | Result: Arizona 42, Boston College 19
Sun: UCLA 17, Va. Tech 7: The Hokies, for as stout as they can be, had fits dealing with a running QB (Maryland's C.J. Brown) and now they face an even more talented guy in Brett Hundley. Tech being down RB Trey Edmunds against an ultra athletic Bruin front seven also doesn't bode well for Logan Thomas and the Hokies either. Worse still, for VT, Frank Beamer's on his fourth kicker of the season. | Result: UCLA 42, Virginia Tech 12
Liberty: Mississippi State 20, Rice 13: The Bulldogs are a robust 5-1 in bowl games since 1999 and now they face an Owls team shooting for their first 11-win season in school history. MSU's opportunistic D has been pretty good down the stretch and gifted QB Dak Prescott is healthier now than he was late in the year. I'll go with the bigger, more physical team. | Result: Mississippi State 44, Rice 7
Chick-fil-A: Texas A&M 55, Duke 37: Johnny Manziel was more banged up in the final month of the season than a lot of people realized. He's healthy now and has looked extremely sharp in bowl practices. The move to Jake Spavital this month as OC/play-caller also will give the Aggies another jolt because they expect to get plays in even faster and should get even more into a rhythm. And with this being Manziel's last game as an Aggie, expect him to go out in style. | Result: Texas A&M 52, Duke 48
The movie will zero in on former Penn State coach Joe Paterno during the Jerry Sandusky sc...

Bidding for Salaam's trophy, which the auction house says was obtained legally, ends Satur...

Locksley has been the offensive coordinator at Illinois and Maryland during his coaching c...
Many NFL-eligible juniors ignore advice provided by the league and risk going undrafted each...

Snyder died in Manhattan, Kansas, on Wednesday

Locksley joined Alabama's staff in 2016