Pinkel says Franklin enters fall camp as Mizzou's No. 1 QB
The starting QB position at Missouri isn't James Franklin's just yet, but he'll start fall camp as the No. 1, Gary Pinkel confirmed on Tuesday at SEC Media Days.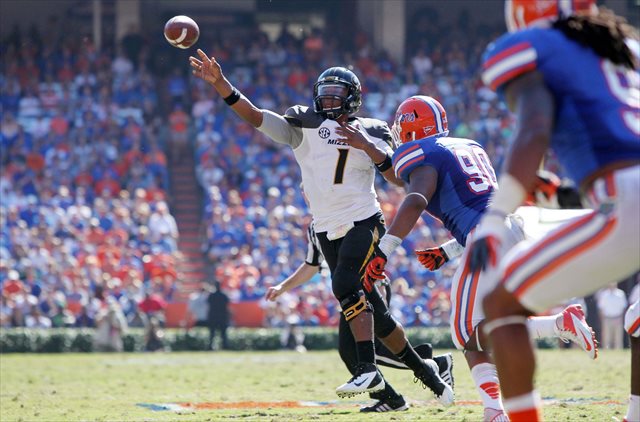 James Franklin didn't have much of a 2012 season, but he's still in the driver's seat when it comes to keeping his job for the 2013 season.
Before his appearance at SEC Media Days on Tuesday, Missouri coach Gary Pinkel confirmed to reporters that Franklin, a senior, will be the team's No. 1 quarterback entering fall camp. A final decision could be made in mid-August.
After spring, Pinkel suggested that Franklin might have had an edge but said he was happy to take the competition with sophomores Maty Mauk and Corbin Berkstresser into August. Though that competition will continue, with the majority of the offseason now behind the candidates, it's clear Mauk and Berkstresser have their work cut out for them to claim the job from Franklin before the season starts.
Pinkel added that he expected Franklin to bounce back from his injury-riddled 2012, saying per the Columbia Daily Tribune he had "never seen a guy go through" the kind of injury problems that Franklin did in 2012. As a result of the plague of injuries that struck the Tigers and hampered their SEC debut, Pinkel said the team would scale back their two-a-days in fall camp and "back off our hitting."
Those moves might help Franklin make the season opener against Murray State in one piece -- and if he does, clearly the odds are that he's going to take the Tigers' first snap of the season.
(And, oh, one other thing: via Dave Matter of the St. Louis Post-Dispatch, Franklin wore a bow tie to Media Days:
Nicely done, sir.
Ross Bowsher claims KSU was well aware of his certification status during his employment

Find out which of your favorite team's players are among the nation's best entering the 2017...

Rosen, a junior, will be eligible for the upcoming NFL draft
Texas A&M has to be better defensively to stand a chance in the SEC West

A letter indicated that there is a growing awareness of the persistent problem in college...

The series will follow the Navy football program throughout the 2017 season