Six things to know: Pitt upsets No. 2 Clemson on booming late field goal
The Panthers kicker, who missed an extra point earlier, hit a monster game-winner
• 4 min read
Chris Blewitt nailed it.
The Pitt kicker hit a 48-yard field goal with 12 seconds remaining to give his team a 43-42 upset victory on the road at No. 2 Clemson, effectively shaking up the College Football Playoff race.
The Panthers struck first and made it a game for an entire 60 minutes against the favored Tigers, who struggled to defend at home. Clemson gave up its highest point total of the year and 464 yards of offense, but offensive miscues contributed to the extra chances for Pitt as quarterback Deshaun Watson had three interceptions leading to a pair of Panthers touchdowns.
With the win, Pitt moves to 6-4 while Clemson drops to 9-1. Here are the important takeaways from Week 11's monumental upset.
1. Clemson has been playing dangerously all year, and this time it hurt them: The common comparison for Clemson this year has been 2014 Florida State. It's not a perfect comparison, but there are some similarities: specifically, all-world talent and coaching, but one too many close calls. The Tigers have flirted with disaster a few times, from the opening game against Auburn to near misses against Troy and NC State. However, Clemson always came out on top. Not this time.
Pitt may not not be an elite team, but it was probably a little better than 5-4 indicated. The Panthers lost three of their four games by a combined 11 points. If nothing else, they're used to playing in tight games and weren't rattled by the Clemson crowd. It's tough to win every game no matter how talented a team is or what division it plays in, and Clemson found that out on Saturday.
2. Part of the blame rests on coach Dabo Swinney: Look, he's an excellent coach. His record proves this. But he's made more than a few questionable calls this season dating back to clock mismanagement in Week 1 vs. Auburn. Against Pitt, Swinney opted to try to seal the game on fourth-and-1 from the Panthers 35-yard line with about a minute remaining. The decision itself wasn't bad -- get one yard and the game is over -- but the play call and execution was questionable at best. Giving the ball to running back Wayne Gallman was the correct move, but the toss sweep was not. Pitt was going to sell out to stop the run, but Swinney and Co. overthought the decision given the down and distance. In short: It's not the first time Swinney has messed up a critical call this year.
3. No game has embodied the enigmatic season of Watson more than this one: Watson entered the season as one of the top players in college football and a likely first-round pick in the 2017 draft. By many measures, he still is a top player and a likely top pick. However, Watson's three interceptions were mostly on him by way of poor decision making and ball placement. Watson is still incredibly valuable to his team's success and a playoff run depends in part on him (more on that in a minute), but this was his fourth multi-interception game of 2016. Watson simply hasn't played like the Heisman Trophy-caliber performer he was projected to be, despite setting an ACC record with 580 passing yards in the contest.
4. Blewitt redeemed himself: Pitt's kicker has the worst last name. Unfortunately for him, he lived up to it with a missed extra point in the first half of Saturday's game. While a missed PAT can come back to haunt a team later, it turned out to actually set up Blewitt's redemption kick. Without the missed PAT, Pitt never would have had to go for two in the fourth quarter, which it failed to convert. Without the failed conversion, Blewitt might not have had the opportunity he did. No head cases here for the Panthers.
5. Don't forget about James Conner: It will likely get lost in the myriad storylines, but don't forget about Pitt's star running back. The powerful Conner had 132 yards on the ground -- his second-highest total of the season -- and two total touchdowns. Conner's touchdown run pulled the Panthers to within two in the fourth quarter. As you may know, Conner came back this season after being diagnosed with cancer last year. He is, undoubtedly, one of college football's best stories.
6. Clemson's playoff hopes aren't remotely close to dead: Much will be written about this over the coming days, so let's lay it out simply now: Clemson is still on track to make the playoff. No team wants to make life harder for itself, but the reality is the Tigers are probably fine if they win their next two games against Wake Forest (which would seal the ACC Atlantic) and South Carolina. Sure, the loss creates fun playoff fodder -- for example, would a one-loss Michigan get into the final four over the Tigers? -- but we've seen nothing in the previous two years indicating a one-loss Power Five champion is in trouble against a non-divisional/conference winner.
CBS Sports HQ Daily Newsletter
Get the best highlights and stories - yeah, just the good stuff handpicked by our team to start your day.
Please check the opt-in box to acknowledge that you would like to subscribe.
Thanks for signing up!
Keep an eye on your inbox for the latest sports news.
Sorry!
There was an error processing your subscription.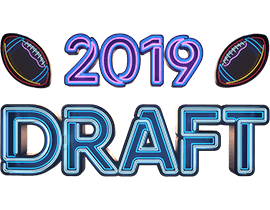 Get Live Coverage of Every Pick
It's the second time this week football has been mentioned

The CFP is holding its annual meeting this week in Irving, Texas

Plenty of mid-round picks become solid NFL players, and I think these could be the next se...
Ford played in nine games for the Bulldogs in 2018

If Hoffman files a different waiver, his path toward NCAA eligibility may be an easier one

Fisher expressed his commitment to Texas A&M after Scott Woodward's exit to LSU