Remember the bad old days when college athletes couldn't make ends meet?
Remember when that shortfall was blamed for everything from the Reggie Bush scandal at Southern California to Tattoogate at Ohio State?
"Now, there's no excuse for that type of behavior," said Doug Archie, Ohio State's compliance director.
Oh really?
The question for today's modern hand-to-mouth, poverty-stricken college athlete is ... Dude, where you been? There are more benefits in the system than ever. It's just a matter of taking advantage of them.
We are getting closer to the first days of the much-celebrated cost of attendance (COA). It goes into effect Aug. 1 and represents an unprecedented cash dump into the laps of athletes. COA is the calculated difference between the traditional scholarship (room, board, books, tuition) and other living expenses (clothing, laundry, insurance, even a one-time computer expense). The average student-athlete will receive $2,000-$5,000 extra per school year.
Each school has come up with a different COA number based on its interpretation of federal guidelines. That number can vary from athlete to athlete. It is permissive legislation meaning compliance is optional. But peer pressure and the tenor of the times will virtually guarantee that most every athlete in Division I will get something.
Some schools will be able offer total financial aid packages of $15,000-$20,000. Per year. Tax free. All of it before that scholarship money. Kansas State, for example, has calculated the four-year value of a scholarship plus COA at $182,000.
Is all of that enough to keep an A.J. Green from selling his bowl jersey for $1,000 or Ohio State players from selling their gear for tattoos? Is it enough to help someone like former Nebraska receiver Kenny Bell pay for his utilities?
We'll see.
"We already make a significant financial commitment to the talents of young people," Ohio State athletic director Gene Smith said. "I've always promoted cost of attendance because there is a certain part of our student-athlete population that [does] not have enough spending money."
With big money comes big responsibility. Players talented enough to play in the NFL will have to manage their funds enough to pay for rent, groceries and those utilities. A great player doesn't necessarily make a competent money manager.
It's a little bit like the Wild West out there right now. There's so much money in the system for athletes at the moment, administrators are beating themselves up over not promoting it.
An out-of-state athlete who lives off campus in Manhattan, Kan., earning a full Pell Grant (more on that below) will have available a financial aid package of more than $16,000. That includes $4,216 in COA, $6,100 in off-campus housing allowance and $5,800 for that max Pell.
"With this whole thing we've done horrible jobs as athletic directors and institutions explaining all the benefits athletes are currently getting," Kansas State AD John Currie said.
"Do people know?" BYU AD Tom Holmoe said. "The answer is, no. What people do know there is a lot of money [available] through athletics."
The average oboe player on a music scholarship doesn't have a $60,000 insurance premium available through the NCAA Student Assistance Fund. Jameis Winston did.
The next Wharton School of Business prodigy can't conceivably chow down on filet mignon at the training table. With loosened restrictions on meals, that's at least an option for the average major-college player.
Arkansas State AD Terry Mohajir wants to offer each of his rising seniors a study-abroad program worth about $3,000 per student. Mohajir quotes statistics that studying abroad gives an athlete a 90 percent better shot at graduating.
"We've done a poor job in our profession of describing all the benefits," he said. "I can pay for someone's [new set of] brakes."
He has paid $1,500 for dental crowns through that assistance fund.
If all of this smacks of crossing the line -- actually paying athletes -- some will argue that's exactly what's happening. Forget the semantics, "You're hitting on it. We're there," Smith said.
The world has changed. College athletics will change further if legal challenges succeed against the so-called collegiate model.
It got this way because the pot of unregulated cash got so big, pressure on the system had to be relieved some way. Enter the lawyers, courtroom battles, hurried NCAA reform legislation. The only question is whether reforms like COA are enough.
Cost of attendance was passed out of a sense of fairness, guilt and wariness over more of those courtroom battles. We're past the point of arguing whether the collegiate model has been bastardized. An unpaid labor force is helping make athletic departments billions in a tax-exempt economy that is anything but nonprofit.
"How much is enough?" countered UNLV AD Tina Kunzer-Murphy. "I think it's a gift to be on a scholarship."
The eternal argument continues: The value of that scholarship vs. fair compensation/benefits for services rendered. That scholarship value has long been conflicted because of health risks (i.e., concussions), commissioners making seven figures and media contracts worth 10 figures. Sometime in the past few years the national conversation changed. That scholarship simply wasn't enough.
The NCAA allows athletes to work but the time demands of their sports make that virtually impossible, even in their offseason.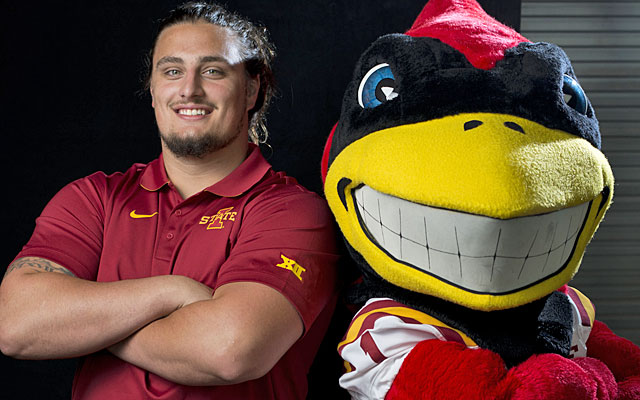 Former Iowa State center Tom Farniok wants to be a strength coach someday. Last year he worked 40 hours in an unpaid offseason internship. During the regular season, he would leave his house at 5:20 a.m. for conditioning before going to go class and practice. He was usually home by 9 p.m. -- to do homework.
"If you're making the school money they should make sure you have everything [you need]," Farniok said. "Free education? Yeah, but at what expense?
"Nothing is going to get fixed until the people that say we're just normal students realize that athletes aren't normal students. Some people think they should be compensated a ton. I think that's absurd. Just make it enough so if guys want to go to a nice restaurant they don't have to worry about, 'OK, where's this money going to come from?'"
A modest $2,000 COA was passed in 2011 but was overridden by the membership. That's when the power conferences got involved carving out a more autonomous voting structure. Autonomy essentially gives the Big 12, ACC, Big Ten, SEC and Pac-12 power to determine their own rules.
The latest COA proposal emerged as a result of those Power 5 schools uniting to cut through the old bureaucratic NCAA red tape. The priority, in general, these days is student-athlete welfare. If it's good for the player, it's good for college athletics.
Now it's a question of how to embrace that infusion of cash and benefits into the system.
• Currie estimates a total of $100 million in COA money being handed out by the 65 Power 5 schools. That works out to an average of $1.5 million per school.
"That's a huge move forward, a huge win for student-athletes," Currie said. "That's the largest increase, maybe ever, since 1975."
That was about the time the NCAA did away with the $15 monthly stipend typically called "laundry money." It paid for a lot of incidentals in mid-70s money. Then it was gone, seen as an extravagance.
• Coaches are already screaming recruiting advantage with COA.
In the Big Ten alone, Penn State leads the conference able to offer $5,748 per player according to this report. A Penn State official said the number will be more like $4,700-$4,800. According to the report, Purdue can offer only $1,900. More to the point, Ohio State can offer $3,128 compared to Michigan's $2,452. Would that $672 difference push a kid to become a Buckeye rather than a Wolverine?
It might. COA and recruiting is an issue yet to be worked out.
• Reacting quickly in early January, the NCAA allowed parents of players involved in the first College Football Playoff and this year's NCAA basketball tournament up to $4,000 in travel expenses.
• In April, schools were allowed to feed their players an unlimited training table. Finally. That players couldn't -- up until 2013 -- legally garnish a bagel with cream cheese for a "snack" showed the idiocy of the system.
• The federal Pell Grant allows for financial assistance capped at $5,800 per athlete per school year. The Pell is one of the longest-standing forms of financial aid. It typically goes to players who come from families with low incomes.
At one college town in the South, local restaurants, clothes stores and businesses know when those Pell checks are distributed, according to a school official. Those businesses are known to "adjust" their prices when players are suddenly flush with Pell money.
"What was happening is if you were Pell eligible and you got that big check, they were going to Nordstrom and buying a nice pair of shoes," said Smith, Ohio State's AD, not the official who offered the anecdote above.
"We have ratcheted up our education."
At Ohio State they call it "financial literacy." It emerged out of that Tattoogate scandal. Players can't buy a car or lease an apartment until they clear it with a position coach first. Athletes have to write out a budget and are responsible for balancing a checkbook.
During that scandal, former tailback Dan Herron was suspended twice by the NCAA for accepting improper benefits.
"He legitimately needed some money," Smith said. "That was a miss for us. We were teaching financial literacy but, still, how did that pass us? How did we not have a method for that young person to say, 'I am in dire straits?'."
• Players have long sent money home to assist their families. Now, there's so much money in the system that "some of our student-athletes walk away at the end of the semester and they've saved money," Currie said.
Can the need for financial advisors be far behind? If so, are those bad, old days finally over?