Playoff committee has first meeting; begins to grasp huge responsiblity
Tom Osborne and Archie Manning missing from group because of previous commitments. Committee begins overseeing the playoff in 2014.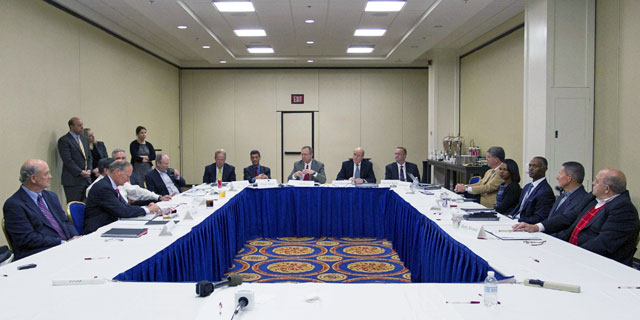 WASHINGTON -- College football's playoff selection committee met in person Monday for the first time.  There wasn't quite the fanfare of a certain British supergroup who first performed in the U.S. in this city five decades ago, but parallels could be drawn.
Just don't ask which one's Ringo.
"They're rock stars," committee chairman Jeff Long told CBSSports.com. "I don't know about this group."
The Fab 13 -- that sounds weird -- perhaps don't yet grasp their awesome responsibility. During a brief media availability, they were asked if anyone wanted to assess why, currently, a one-loss Stanford is ahead of undefeated Baylor in the BCS.
The room filled with laughter.
Translation: Nice try, loser. We're not going there.  
"That," Long added, "is not in our purview."
Not yet, but something like it will be when the playoff starts in 2014. If the committee's first season ended today, it probably would have to decide between Baylor and Stanford for that four-team playoff. As the BCS stands, No. 4 Stanford (8-1) would be in and No. 5 Baylor (8-0) would be out. Barely.
The Cardinal have both the most impressive win of the season over Oregon but also one of the most mystifying losses, at Utah. Meanwhile, Baylor has run the table impressively against -- until Thursday's win over Oklahoma -- less-than-stellar opposition.
Unlike the multi-dimensional BCS, the committee will be making those sorts of decisions alone. The future will be a lot less about the metrics -- Baylor is currently .0047 behind Stanford -- than about the human element.
It will be because the committee says so. The details will be in selling it to the public.
"I'm sure I have a full grasp of what it will entail," said Long, Arkansas' AD.
No one's going to say it but Long's swift definitive action in firing Bobby Petrino had to have something to do with his spot on the committee. How's that for multi-dimensional?
"I think there is going to be a lot of times there is more than one right answer," said former USA Today sportswriter Steve Wieberg. "It will be up to us to come up with the best right answer. And it will be defensible."
Two members -- Osborne and Archie Manning -- were not here Monday because of previous commitments. We did find out that the committee won't actually attend games in an official capacity. They all have day jobs, a lot of them at their schools.
Instead, they will receive condensed game film to evaluate. Four times during the season the committee will release a top 25 to show where their heads are at. They are expected to meet those four times, plus the weekend of college football's Selection Sunday.
It's clear in 2014, then, the nation's second-most popular sport will go to a whole new level in terms of interest, scrutiny and a certain political royalty.
"I think it's impossible having been appointed to the committee not to view football games differently," said former George W. Bush secretary of state Condoleezza Rice. "I probably look more closely. I try to watch more games which, in my case, is almost impossible since I already watch a lot of football."
It's pretty much a certainty that Rice is the only committee member with a chief of staff. That reminded Georgia Godfrey of a funny story. Rice and Godfrey – also a former Bush staffer -- were in the Mideast for a conference the day of the 2012 Stanford-Oregon game.
Rice is a former Stanford provost who still teaches at the school. During her time as provost, Rice oversaw the Stanford athletic department which obviously included football. As has been proven the last two years, the Cardinal beating the Ducks is a fairly big deal.
"It was Sunday morning in the United Emirates and we're waiting in the Dubai airport," Godfrey said. "We were watching the game on our iPhones and started screaming. All of the emirates and all the people in the airport were looking at us going, 'What the hell?' "
Besides that being the first time you've read the words "Dubai", "Stanford" and "Oregon" in the same sentence, the anecdote did reveal one truth that emerged from Monday.
The whole hand-in-the-dirt argument about certain members not being qualified for the committee -- ahem, Condi -- is ridiculous.
"I'm trying to choose my words properly here," said Long, Arkansas' AD. "I certainly don't think you have to have played college football to make a judgment of who the best teams are in college football. That is a very uninformed perspective, I think.
"We have many people who have made decisions and not have actively played the game or guided military forces or things like that."
That, from a Division III player at Ohio Wesleyan "who never played with my hand in the dirt. Most of the time my face was in the dirt."
This group is humbled by its responsibility. Most of the members are used to being public figures. Their service on the selection committee will be nothing new.
Membership ranges from former coaches Tom Osborne (Nebraska) Barry Alvarez (Wisconsin) and Ty Willingham (Notre Dame/Stanford) to the former No. 2 guy at the NCAA (Tom Jernstedt) to Wieberg. For 30 years, he was used to reporting the news, not making it.
"It's something we all recognize going in," Wieberg said. "[College Football Playoff executive director Bill Hancock] was pretty open with all of us going in with the scrutiny that we'll have, and the controversy that we generated and the pressure that we'll be under. I don't think anybody said, 'Yes,' without thinking about that on the front end."
It's strange how sometimes art imitates reality. The Big Ten Network is debuting a documentary this week that strangely parallels the selection committee's duty.
"Tiebreakers" recounts how the 1973 Rose Bowl berth came down to a vote of Big Ten athletic directors. In those days it was either the Rose or nothing for Big Ten members. No other bowls.
Ohio State and Michigan tied 10-10 in their game and for the conference title.
"I remember how disappointed I was to have other people make decisions for you," Dennis Franklin told CBSSports.com.
Franklin was the quarterback on that Michigan team. His shoulder injury was blamed for perhaps swinging the vote in Ohio State's favor. 
Because of that conference policy, Franklin never played in a bowl game. The stakes will be different in the playoff era but not unfamiliar with those who have been left out.
"I'm volunteering if you can get me on the selection committee," Franklin said. "Tell them I'm able and willing. I've got the time. I've got the experience."
Both Franklin and Ohio State legend Archie Griffin -- who also played in that '73 game -- were both interested in joining the committee. Franklin said he made a few calls but that his biggest ally -- the great Bo Schembechler -- is gone.
"Somebody is going to be unhappy," Griffin said of the playoff. "But I don't think there is a better way because you've got to have that human element. You can't do it strictly by computers because humans are the ones who see the football games, how people play."
Monday's get-together amounted to an orientation meeting. The committee will meet once again Tuesday morning before going their separate ways.
The reality is hitting them. Lives and college football will soon be changed.
"This is truly a historic day for college football, a signature moment for our game," Hancock said.
Yes, but what kind of history?
Memphis outscored Houston 42-21 in a wild second half win on the road

Scott leads the Spartans with 408 rushing yards

One of the finest restaurants in Columbia has a unique partnership with University of South...
While Mother Nature has wreaked havoc, some teams have been just plain bad so far this sea...

Bryce Love's video game season and early-season turnarounds lead our group

Trust the Process as Tom Fornelli leads you toward his best bets for Week 8 of the season