Playoff politics: Posturing kicks off among power conferences
The SEC, ACC, Big 12, Big Ten and Pac-12 are kicking off a long five months of College Football Playoff posturing. Here are the go-to statements for each.
• 6 min read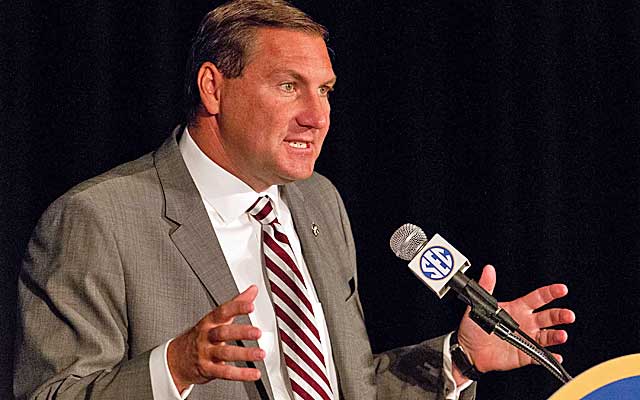 More college football: Jon Solomon | Dennis Dodd | Jeremy Fowler | Latest news
You are special. You are irresistible. People like you.
The College Football Playoff must think so...right?
Football conferences need to hear those words this time of year, and if they don't hear it from you, they'll just tell themselves directly.
The posturing and politicking are feeding the machine quite heartily the last two weeks as coaches and players defend their leagues at media days and kickoffs.
For the next four months, everyone will feel forced pump up their own, defend bad schedules and deflect any negative vibes about their conference.
That's not exactly a deviation from the BCS era, but the playoff's first year has coaches especially eager to revisit trusty buzzwords and talking points. This was fairly obvious at SEC and ACC media days the last week. The Big 12 and Pac-12 hold their events this week, and the Big Ten kicks off Monday.
Coaches are in sell mode in part because they have no idea what's going to happen.
"We don't know what the selection process will be," Mississippi State coach Dan Mullen said. "If you win your conference is that a knock-you-down or are you still one of the top teams in the country?"
To save you five months of sound bites and groveling, below are the predictable talking points for each conference about why they will belong in the playoff, written from the perspective of the conferences themselves.
This is a combination of answers given at recent media days or things the leagues would generally trumpet (with some creative license in spots).
Let's see how they stack up.
SEC
• We'd have eight straight titles if the FSU game were 59 minutes long instead of 60.
• Don't worry about our eight-game schedule. Base your judgments on the 12-game schedule. "Our schools have (future) scheduled games with Notre Dame, Michigan, Wisconsin, Oklahoma, Kansas State and Arizona, just to name a few," SEC commissioner Mike Slive said.
• In our league, former Big Ten champion coaches go 3-9 in year one.
• It's safe to say the SEC champion will be in the final four because "if you look at the last few years, numerous times there would be two teams from the SEC in the final four," Auburn's Gus Malzahn said.
• Don't worry about our 61 underclassmen lost to the last two NFL draft. "No league in the country reloads like the SEC," Mullen said.
• Our title game is basically a semifinal on its own, right? How you gonna leave that out?
• Well, we don't care what you think, because we want two teams per year, and darnit, if we don't get it, we're writing a harsh letter and threatening a Division-4 breakoff.
ACC
• Want to talk about depth? Eleven ACC teams had a winning record last year.  
• Can't knock us for our talent any longer. Forty-two draft picks in April! Forty-two draft picks in April! Forty-two draft picks in April!
• Our commissioner knows what he's talking about. He cites the league's nine games against teams from last year's final AP top 25. "The ACC arguably has played the toughest non-conference schedules, and looking ahead, this appears to hold true once again," John Swofford said.
• And, oh yeah, 24 non-conference opponents played in bowl games.
• We can't possibly be left out of the playoff because "(the ACC) is a league on the rise that doesn't take a backseat to anybody," Swinney said.
• For those saying our league is Florida State and the Other 13, Clemson has pumped out "three 10-plus-win seasons in a row," Swinney said. Virginia Tech and Miami and Louisville are top-30 national programs. We get Notre Dame five games a year. Duke is, like, really awesome now. UNC is still in the building.
• As Swinney and Jimbo Fisher both pointed out, selection committee members that know good football will understand the ACC. 
BIG 12
• One true champion, folks. It says so right here.
• We identify our best teams. Our champion has been decided "on the last day of the season for about five years," commissioner Bob Bowlsby said. This year, Oklahoma plays Oklahoma State and Baylor has Kansas State on the same day other leagues play a conference championship game.
• Check our crazy, insane depth. The team that survives that depth for nine games will be a 'one true champion' -- even though we sometimes deem teams co-champions.
• We spanked Bama. And the game 'wasn't fluky,' Bob Stoops told ESPN. All of Nick Saban's negativity has our man Stoops fired up. OU's won titles, just not lately, but that Sugar Bowl win wasn't a consolation for either team.
• As Baylor defensive end Shawn Oakman points out, "The SEC doesn't have to play each team in its conference." No it does not, Shawn.
• Tradition can carry us. Texas, Oklahoma, Oklahoma State -- all big-time brands.
• But arguably your best team doesn't have much tradition, you say? Well, Baylor's working on that. And they caught the committee's attention last year.
Pac-12
• Rip us for our lack of undefeated teams, but our nine-game conference schedule plus a championship game is something no other conference does right now.
• We got six teams into last season's final top 25, the most in league history.
• Go 31-6 out of conference and 6-3 in bowl games like us and then ask yourself whether you should be in the playoff. We play up. With that kind of balance, even a one-loss team will have a heckuva case.
• If the selection committee is objective, it will know "no one's got a tougher path than the Pac-12," Pac-12 commish Larry Scott said. We don't play SEC "cupcakes," as our staunch defender David Shaw likes to call them.
• And look at our non-conference games: Michigan, Notre Dame (twice), Texas, Michigan State. We don't hole up in the West Coast and hope for the best. We showcase our brand.
• We might be two knee injuries from having two national titles since 2007 (Dennis Dixon, Marcus Mariota). Oregon's too good a program not to be in your playoff.
Big Ten
• If <span data-shortcode= State" data-canon="Ohio Bobcats" data-type="SPORTS_OBJECT_TEAM" id="shortcode0"> had a better secondary, we were Pasadena-bound last year.
• You talk about scheduling intent...our schools move to a nine-game schedule in 2016 and are encouraged to avoid FCS schools. Wisconsin plays LSU, Michigan State plays Oregon. What more can we do?
• Don't knock us for being in the North while population in the South and West grow faster than us. Our coaches are recruiting like madmen to cherry-pick talent from all regions of the country.
• No championships lately? Well, consider the Big Ten sent two teams to BCS games 11 times in 16 years, including nine of the last 12 seasons. That would have been higher if you count Ohio State's Sugar Bowl win.
• Nine of our schools have played in BCS games. So what if Illinois is down? They've been to the Rose Bowl in the last decade. All our schools will be back.
• If you trust our most accomplished coach, the Big Ten is "coming." "Michigan State, Penn State coming off the sanctions, Wisconsin is a helluva football team," Urban Meyer said. "We were right there on the 35-yard line to beat Clemson."
Getting Leavitt back was obviously high on Cristobal's list of priorities

Cristobal's first game at Oregon ended the same way Chip Kelly's did

Conner Manning and the Panthers dominated the Hilltoppers in the Cure Bowl
You can only go to the well so often before it dries up

The Trojans beat LSU earlier in the year and now have their first 11-win season as a FBS t...

Saban has never been a fan of the early signing period and made it clear that hasn't chang...