Please, keep the NCAA out of the Jerry Sandusky affair
Pay no attention to those calls for Penn State to be hit with the "death penalty."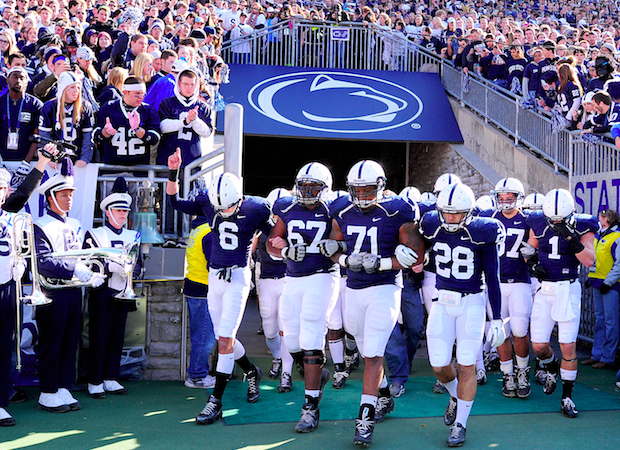 The NCAA has existed for a little over 100 years, and throughout that span has concerned itself with five main objectives:
1. Establishing and regulating minimum academic requirements for eligibility.
2. Regulating recruiting practices.
3. Maintaining some pretense of enforcing the increasingly archaic concept of "amateurism." 4a. Organizing championship tournaments in every sport except big-time football.
4b. Dishing out enough cash from its main revenue stream, the men's basketball tournament, to keep it from being wrestled away by schools and conferences that would just as soon organize it all themselves and leave the NCAA out of the cut, like the postseason in big-time football.
5. Keeping relevant congressmen convinced that it should not be paying taxes.
In 2003, the NCAA employed a dozen investigators to oversee more than 1,200 schools – more than 300 in Division I alone – of potential violations. In the last decade it's increased that number to a whopping 23 investigators. The former Marine it hired last year to beef up enforcement after a string of high-profile scandals just resigned after eight months on the job. Even when it comes to policing its own rulebook, the NCAA has always been a borderline Potemkin village.
The most recent edition of that rulebook runs some 426 pages, none of which say anything about sexual abuse, rape, pedophilia or actual criminal behavior of any sort, or lay out any guidelines for the NCAA's intervention in criminal cases. "Student-athletes" face legal issues on a daily basis; occasionally coaches do, too. It's just not something that ever occurred to anyone would fall within the organization's realm. Until Jerry Sandusky.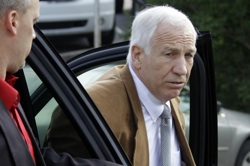 It's a testament to the heinous nature of Sandusky's crimes – and yes, of Penn State's inadequate response when confronted with those crimes – that the NCAA was ever mentioned in conjunction with the case against the former Nittany Lion defensive coordinator at all. President Mark Emmert personally launched an inquiry into "Penn State's exercise of institutional control" after the initial allegations against Sandusky were released last November, on the grounds that the most shocking scandal in the history of college sports demanded something from the governing body of college sports, even if Emmert himself seemed uncertain what that was supposed to be. Now that Sandusky has been found guilty on 45 counts of sexual abuse, three separate Southern columnists took the opportunity this weekend to offer the same advice: Give Penn State football the death penalty.
First up, there's Kevin Scarbinsky of the Birmingham News:
Sandusky may have coached his last season as Joe Paterno's long-­time defensive coordinator in 1999, but this isn't over for the school or its beloved football program.

Sand­usky should get life in prison.

Penn State could get the death penalty.

If not them, who?

If not now, when?
[…[
Were [Penn State officials] really trying to protect the program by protecting a child molester? If so, there's only one way to punish a program like that beyond the civil lawsuits the university itself is facing.

Shut it down.
Next, it's the Orlando Sentinel's George Diaz, channeling the righteous anger of a foster parent:
Jerry Sandusky deserves the death penalty.

So does Penn State.

Sandusky is a monster, a pedophile who preyed on the most innocent and vulnerable of children – many of them foster kids dealing with issues of self worth and trust in adults. He is a monster beyond repair, a waste of space in prison, a temporary pit stop before he rots in hell.

Penn State officials – including the dearly departed icon Joe Paterno – harbored the monster for years and years.
[…]
Doesn't the death penalty involve a lack of institutional control? What could be more obvious than this case? This is the most despicable crime in the history of college football. It doesn't get any worse than child molestation.

SMU got the death penalty [in 1987] because boosters threw cash money at players. That's a misdemeanor compared to this.
And then there's David Climer from the Nashville Tennessean:
Jerry Sandusky will spend the rest of his life in prison.

Now it's time for Penn State's football program to get the death penalty.

That's right: Shut it down for a season. Put the program on ice as acknowledgment that the university is guilty of allowing Jerry Sandusky's monstrous behavior to continue — often on campus.
The moral force behind all three arguments is undeniable; Climer gets extra credit on that front for urging Penn State to commit suicide, so to speak, by self-imposing the death penalty rather than have it handed down from on high. (That is a very different question.) But it does not change the fact that, as a matter of process, precedent or practicality, there is no basis for the NCAA to reach so far beyond the borders of its mission statement – this is, after all, an organization that barely treads water when it comes to sniffing out recruiting violations. The sinister crimes of a serial predator are not within its jurisdiction.
Which is not to say that Penn State's response doesn't matter. Of course it does, and both the university and football program have paid for their negligence so far with the terminations of the longtime university president, athletic director and head football coach, the angry backlash from alumni and the public ransacking of their reputations. Two former officials, AD Tim Curley and vice president for business and finance Gary Schultz, still face felony charges for failing to follow up on an eyewitness account of Sandusky sexually abusing a young boy in a locker room shower. The young assistant coach who reported that incident, Mike McQueary, has been placed on leave and will be extremely fortunate to coach football again. The rest of Paterno's insular, long-serving staff has been scattered to the wind.
Another reckoning awaits with the publication of the results of an independent investigation into the university's response by former FBI chief Louis Freeh. Many individuals have been and will continue to be held accountable in myriad ways for the negligence and ethical lapses that helped perpetuate so much human suffering.
But those lapses had nothing whatsoever to do with gaining an unfair advantage in football or complying with NCAA bylaws; the latter is so far afield that conflating it with actual justice almost threatens to diminish the severity of the former. The NCAA has more than enough on its plate to worry about how to go about toppling the last remaining pillar in a demolished mansion. Sometimes – not often, but occasionally – football is just beside the point.
Rutgers' offensive line challenged a local curling club to a match

These five teams have the best chance of being the Group of Five darling this coming year

Drevno had been running the Michigan offense for three seasons
Aaron was reportedly shot while trying to protect his girlfriend when a fight broke out at...

An assistant-by-assistant look at changes Saban made to the Tide's staff ahead of 2018

Find out when Nick Saban, Kirby Smart and the rest of the coaches will speak ahead of the...