Please, no outrage: Bill O'Brien left Penn State better than he found it
In two years, former Patriots assistant turned Happy Valley into a happy place again.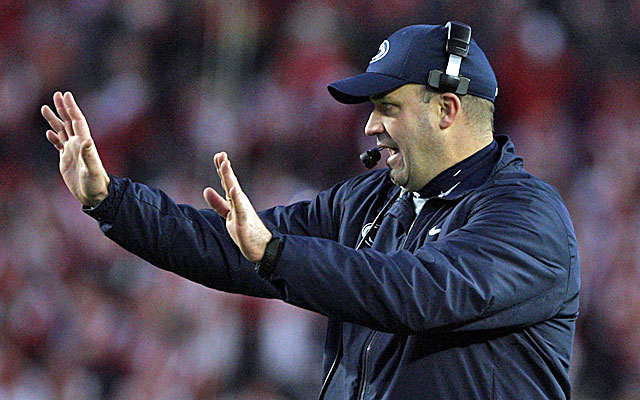 Let's hope there's no outrage this time.
The school, the fans, the groupthink don't do outrage well at Penn State . We know that now. The wounds are probably still open over the last time Nittany Nation felt this "wronged."
If that's even the emotion now. But no doubt there is some loon, somewhere upset that Bill O'Brien left for the NFL.
The last time a coach departed Penn State, Joe Paterno was fired slightly more than two years ago. Riots broke out. The next guy lasted two years as his successor. This time it was O'Brien's choice.
And if your first emotion this time isn't happiness -- for Penn State, for O'Brien, for what he did, with class, in the face of a horrible situation -- you don't understand what just happened.
O'Brien left Penn State better than he found it. He left for the NFL to improve his standing, his family's standard of living and his life.
Who among us wouldn't snatch such a life-changing opportunity? It was a promotion, pure and simple, something we can all relate to.
A former Brown linebacker, from Joe's alma mater gave his heart, soul and mind to Penn State in the short time he graced the campus. AD Dave Joyner always had to know Tuesday night's developments were imminent.
O'Brien never was going to be a long-term guy in Happy Valley. He was too young, too talented, had too much upside to continue digging through the muck at Penn State.
A year ago when the NFL rumors were circulating, O'Brien decided to stay. I texted him saying something simple like, "Congratulations." He hit me back, "I couldn't leave these guys after a year."
But after two years? Absolutely. And no one should be upset. O'Brien not only paid his dues, he paid back Penn State for giving him the opportunity. While he was there, Penn State won 15 games, somehow coached Matt McGloin to the NFL and developed Christian Hackenberg into a freshman All-American.
That's a short list of his accomplishments.
O'Brien's biggest legacy is that he has all but navigated Penn State through those crippling NCAA sanctions. There is hope now. Penn Staters can see sunlight and perhaps a Big Ten title in this decade. The program isn't going to be buried, it won't drop to FCS-like status as Barry Switzer suggested the week those NCAA sanctions came down.
The association already has given back some of the scholarships. Just a prediction, but look for the NCAA to back off on those two remaining years of bowl bans. O'Brien would deserve credit for that, too.
That might be the best part of the legacy. With him, this whole episode -- football-wise -- won't turn out to be that bad.
Without him, let's face it, the guy to follow Joe was never going to be there long enough to get a statue.
At Penn State, given recent history, those look like two huge positives.
There are a handful of conference championship games still to be determined

SportsLine's top college football expert, on a 30-18 run, locks in his top picks for a loaded...

Haynes was 14-45 in five years with the Golden Flashes
True romance isn't dead yet

The Egg bowl will be a Thanksgiving night treat for the college football world

Mayfield disappointed a lot of people with is most recent antics, NFL scouts among them