Please: Spare us your holier-than-thou Baker Mayfield outrage
Yes, Baker Mayfield messed up. He also apologized. It's way past time to move on.
Baker Mayfield will not start his final game at Owen Field due to a crotch grab.
That's not a sentence I anticipated typing this year. And judging by the reaction across the country to Mayfield's gesture, it's the most shocking and offensive action possible. After all, 48 hours after the incident, the outrage towards the overwhelming Heisman Trophy favorite remains very real. 
Mayfield has never been a bastion of sportsmanship. Until now, the media has celebrated that. Mayfield is a former walk-on QB who's challenged and shrugged off everyone in his path. He's gone from Texas Tech afterthought to starter, Oklahoma intramural football player to All-American and, most recently, from feel-good story to heel.
He's a quarterback with a self-described "boulder" on his shoulder, and most have delighted in watching Mayfield overcome the odds.
But now that Mayfield's had to apologize a third time in a calendar year, he's become a pariah?
Please, outrage machine, spare me your self-righteous thoughts.
This anger is both expected and ridiculous. We live in a society where the lens is forever magnified – how else would we even have a camera on Mayfield to capture this sideline incident? And too many media members are simply a shark in the water awaiting its hot take chum.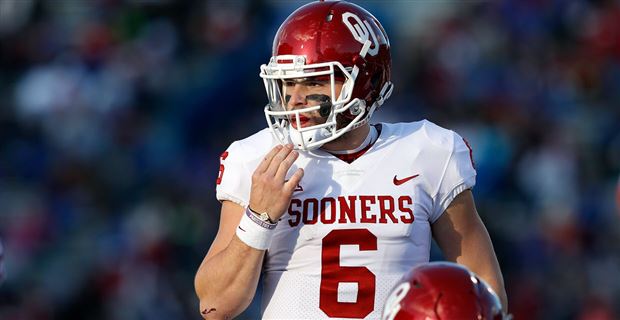 There's no doubt Mayfield's actions were inappropriate.
Nowhere in civil society is it OK to do what he did. But, remember, this is football. It's a sport where people suit up in armor from week to week and hit the crap out of each other. Emotions, both anger and joy, fuel this sport. It'd be silly to expect players to abandon those feelings when they reach the sidelines. Trash will continue to be talked and emotions will boil.
Things are done and said on a football field every week that wouldn't be proper for our normal consumption. Ever watch NFL Films or Hard Knocks? The language used there isn't exactly choir-boy clean. The process of the sausage getting made isn't always pretty. But because of whom Mayfield is, he was caught. He also apologized. Mayfield, emotional as always, released a lengthy statement on Twitter within an hour of the Kansas game ending.
November 19, 2017
That should've been the end of things.
Yet, the conversation continued because of Mayfield's status.
We have to bring up the infamous flag-planting incident in Columbus; never mind that was an act of passion done as a response, in large part, to Ohio State celebrating with gusto in Norman the year prior. We have to bring up Mayfield's offseason arrest; never mind that he's one of thousands of college kids every year to have one too many and get arrested for it.
Further still, we have to bring up the idea that Mayfield is supposed to be a "role model" to children and the idea you wouldn't want kids watching his actions. It's not up to me to say if Mayfield is or isn't a role model. But to act like a flare of competitive nature erodes his character is silly. Plus, there's way worse things out there that kids could be watching. 
And let's not forget this wouldn't be a story if Mayfield was just another player.
Remember the Troy player who gave the crowd in Baton Rouge both a crotch grab and extended middle finger salute after a Trojans win over LSU? Didn't think so. His name is Alvin Bryant, and he was disciplined with no fanfare nationally.
This is a story because of who Mayfield is and the headlines his celebrity status creates.
And honestly, that's just sad.
Mayfield clearly did something wrong, and he quickly apologized for it. He's being punished in a way Oklahoma head coach Lincoln Riley thought best. By the way, if you want to know what Mayfield means to the Sooners, look at the way Riley teared up in when announcing Mayfield's penance. In fact, read this story. Mayfield, the person who people attack for being a poor role model, is also the college student who will drive six hours to attend a birthday party for his high school coach's young son.
But forget all that.
Mayfield grabbed his crotch.
No crime could be more heinous in our society, right?
(Quickly checks the news). 
CBS Sports HQ Daily Newsletter
Get the best highlights and stories - yeah, just the good stuff handpicked by our team to start your day.
Please check the opt-in box to acknowledge that you would like to subscribe.
Thanks for signing up!
Keep an eye on your inbox for the latest sports news.
Sorry!
There was an error processing your subscription.
Hurts suffered the injury during his third-quarter touchdown run

These threads are, as they kids say, straight fire

SportsLine's advanced computer model simulated every Week 9 college
The SEC on CBS will have a doubleheader on Nov. 3, including Alabama-LSU in Death Valley at...

Turpin is a standout on the Horned Frogs

A look at who still has a playoff shot and other interesting things from the weekend that was...