Police place Montee Ball, Badger teammates at fight prior to 'unprovoked' assault
"We have also determined that Montee Ball was present at the location of that fight, but we have no information that leads us to believe that he had any involvement in that particular event."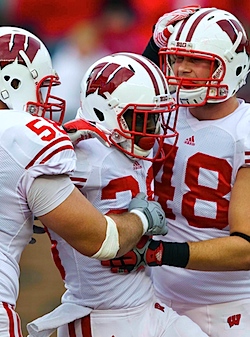 Initially, Madison, Wisc., police characterized the early morning incident that briefly hospitalized Wisconsin's All-American tailback, Montee Ball, earlier this week as "an unprovoked assault" by five unidentified attackers. As the layers of the onion are peeled back, though, it seems increasingly likely that Ball was targeted specifically in retaliation to a previous incident involving Badger players – if not necessarily involving Ball himself.
Today, in the wake of multiple reports that investigators were looking into an incident that may have provoked Wednesday's attack, the official incident report was updated to reflect that Ball was present at a party late last month where multiple Wisconsin players were involved in a fight that sent at least one person to the hospital (emphasis added):
UPDATE 8/4/2012 The Madison Police Department, through information developed by detectives, have determined that there was a fight that occurred Friday night (July 27th-28th) which involved UW students, members of the UW football team, and other individuals that were not affiliated with the University of Wisconsin's Athletics Department. We have also determined that Montee Ball was present at the location of that fight, but we have no information that leads us to believe that he had any involvement in that particular event.

There was one individual that did sustain an injury during the fight, and was subsequently treated at a local hospital for that injury. There is a potential for charges to be pursued, related to the investigated fight, but no charges have been filed. As this investigation is ongoing, specific details outlining the identities of either victims or involved parties are not being released.
Thursday, a Madison Police Capt. Carl Gloede said investigators believed the fight may have been the result of a "precipitating event," but were continuing to look into details and still had no evidence that Ball knew his attackers or provoked them. A student who reportedly witnessed the assault on Ball told the Wisconsin State Journal that he heard one of the attackers say "something along the lines of 'nine more football players to go.'" ("They said that two or three times and they just kept running. … But that line is what really stuck out to me.") No charges have been filed or arrests made against any football player or any of Ball's alleged assailants.
The updated incident report would seem to corroborate a report by the celebrity gossip site TMZ, which wrote Thursday that investigators were aware Ball had been at the site of a fight where police had been called and "are now looking into the possibility that Wednesday's attack on Ball was in retaliation for last week's incident." Ball immediately denied the TMZ report on his Twitter feed ("The report that I was involved in a fight is totally false.") and Gloede told the State Journal, "What they're describing is not what we're looking at." Friday, TMZ reported that police had identified a man who claimed he was hospitalized with injuries suffered at the hands of Ball and several other Wisconsin football players, but had not filed a police report and denied having anything to do with any retaliation.
Ball, a returning Heisman finalist who racked up 2,244 total yards and Big Ten-record 39 touchdowns during last year's Rose Bowl run, was hospitalized with a concussion immediately following the assault and will sit out the beginning of preseason practice while recovering. He is not expected to have any long-term health issues or miss any game time this season as a result.
Nick Saban reportedly wants to hire Freeze, but there may be things keeping that from happ...

Florida State-Miami will be on Oct. 6, and the Seminoles will play Clemson on Oct. 27

Weis Jr. was an offensive assistant for the Atlanta Falcons in 2017
Lott is joined by three current athletic directors and will serve a three-year term

These are the top guys every school is still chasing

College football lost a ton of star power, but these players are studs going into next fal...