Poll: Majority of ADs polled expect CFB playoff to expand by 2023
CBSSports.com polled nearly 30 FBS-level athletic directors, and 15 of them said the four-team College Football Playoff will expand to eight teams.
• 4 min read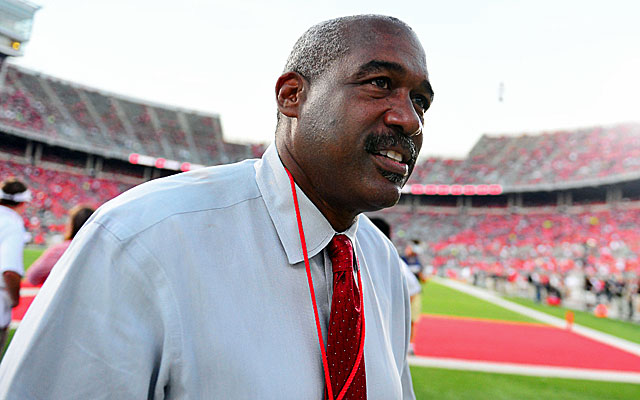 More college football: Dennis Dodd | Jeremy Fowler | Tony Barnhart | Latest news
LAS COLINAS, Texas -- College football leaders are meeting in Dallas this week to hash out details of a four-team playoff that's nearly eight months from launch.
Based on the reaction from officials around the country, those details won't hold up for the length of ESPN's 12-year, $5.6-billion deal for the rights to broadcast the playoff.
An informal CBSSports.com poll of 27 FBS-level athletic directors reveals 15 of them -- or 55.5 percent -- believe the playoff will expand to eight teams at some point in the next 10 years.
Ten of the athletic directors say the playoff will remain at four after 2023, and two said they didn't have a definitive opinion on the matter.
With ESPN's deal stretching to the 2025 regular season (after 2026 bowl games), an expansion before that year would force a pricey contract restructure.
The playoff folks say expansion isn't an option, but we've heard that before.
CBSSports.com reached out to 35 athletic directors in recent weeks, and 27 responded. All 10 FBS conferences are represented, including more than one from each of the five power conferences.
To be sure, commissioners drive the playoff agenda. But athletic directors have important insights into the process. Five sitting athletic directors are on the 13-person playoff selection committee. Select athletic directors will attend this week's meetings. Commissioners have been outspoken about ADs, as 'practitioners' in college athletics, having more influence on issues such as NCAA policy.
The poll used 10 years as a barometer because change within the first five years seemed premature.
Most ADs asked to remain anonymous in their voting because of the playoff's sensitive nature. Wisconsin's Barry Alvarez, who is on the selection committee, says he believes the playoff will not expand.
Ohio State's Gene Smith says he doesn't know.
"Too many moving parts to get past four, in my view," Smith said. "A lot has to change to the bowl system, and television partner relationships to protect the value of the regular season. Championships would be impacted, too."
Common themes emerged on both sides while conducting this poll.
Three reasons cited for expansion
Access: While many consider a 16-team model superfluous, eight seems clean and fair.
"I just think it gives more teams a chance to win it all," a power-conference AD said.
Access was the reason cited more than any other by the 15 pro-expansion officials. College football is the only playoff model among the four major sports that doesn't include at least eight teams.
The inevitable surplus of one-loss teams left out of future playoffs could push the powers-that-be to re-evaluate the system, ADs say.
Money: This is no secret. The new deal annually pays out about $290 million more than the BCS did, and though some of that might be driven by the market or inflation, it's clear playoff football is coveted.
The worth of seven playoff games instead of three is relatively easy math.
That math would be hard to ignore for all involved -- presidents, commissioners and especially the players.
One smaller-conference AD called the money potential "gargantuan."
Yes, conferences are getting billions for television rights. But as expenses rise because of player stipends, revised player benefits (including long-term health care) and potential lawsuit losses in amateurism cases (O'Bannon, Kessler, etc.), schools might start nudging for new dough.
Coach needs an extra mil on his deal, right?
Public pressure: The four-team lineup might be pretty clear-cut some years.
But the first time the fifth and sixth teams have playoff-worthy resumes and are shoved in an 'access' bowl, Contra laser beams will be fired from every angle.
"I am sure the media will create a lot of pressure publicly to change," one power-conference AD said.
The College Football Playoff and the playoff committee can survive a rough evaluation year or two. But what if, five years in, the clanging for more equity has become too loud?
Three reasons cited for non-expansion
Let the system develop: No one really knows how this will play out, whether the four-team model quells the concerns of the BCS era or mushrooms the upheaval.
The first year will undoubtedly elicit overreactions, but an effective system needs to showcase a healthy body of work before judgment.
In other words, exhale.
"I really think we need to see how the four-team playoff works and allow it to settle in, as it will be different for all concerned ... coaches, student-athletes and fans," a power-conference AD said.
Staying true to a natural business cycle: A smaller-conference AD brought up a good point -- notice how much conference expansion business was done in the two years before ESPN secured the playoff deal in late 2012.
Playoff money spurred action, the AD said. Bigger conferences grew their rosters and smaller conferences lobbied for the call-up, chasing a playoff setup that pays the Big 5 an average of nearly $90 million per year, compared to around $15 million annually for the smaller conferences.
In similar fashion, schools and conferences could plan for the 2026 push. The BCS, despite all its controversy, went for 16 years.
Presidents won't go for it: Presidents aren't exactly turning down the billions of television revenue, but they are more conditioned than most to worry about the academic schedules of athletes.
An eight-game model would create at least one more game for the top teams because, after all, schools have no plans to reduce the 12-game regular season. That means more time away from class. Other sports play the extra games and it's not an issue, but no matter.
"At some point we need to stop hurtling into a professional sports model," one power-conference AD said.
Schiano would have made $4.4 million in Year 1 with annual raises as part of a six-year de...

Dykes spent this season as an offensive analyst at TCU

The "Wyoming Wild Man" notched six tackles for loss as a junior in 2017
Zaycoven Henderson was charged with aggravated assault with a deadly weapon

Patterson is a former No. 1 recruit in the country

Baker Mayfield and two Sooner teammates made the first team