Post-spring Top 25: Welcome back to the top spot, Alabama
Riding a two-game skid doesn't make Nick Saban happy. Perhaps transfer QB Jacob Coker and T.J. Yeldon leading Alabama to No. 1 in this poll helps.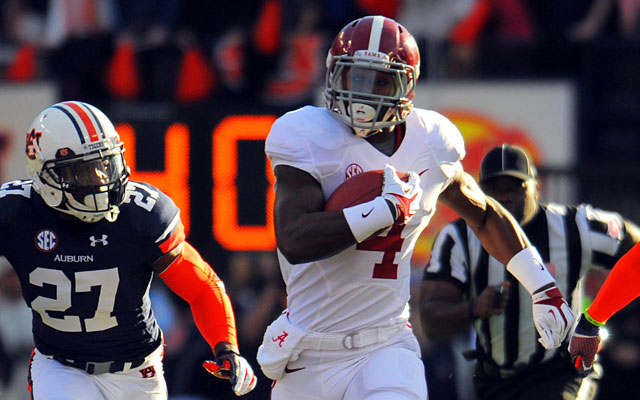 The last time this happened at Alabama, Nick Saban called his team everything but slackers.
The Tide in 2010 had the temerity to go 10-3 a year after winning it all in 2009. Properly scolded, Alabama then won two more titles in a row and were gunning for a third until Chris Davis decided to return that missed field goal on Nov. 30.
You can bet a two-game losing streak to end the season -- the first since 2008 at Bama (also under Saban) -- will not be tolerated. Welcome back, then, Tide. Welcome back -- at least in this modest space -- to the top of the post-spring top 25.
With the rest of the world talking about Gus' tempo, Stanford's physicality and Jameis' choice in seafood, we prefer to go with an old standard.
Never bet against a pissed-off Nick.

1. Alabama: The free-agent signing -- er -- transfer of Jacob Coker makes sure the circle will be unbroken for the Tide. They'll contend and possibly win it all. This may be Saban's best group of tailbacks -- T.J. Yeldon, Derrick Henry and Kenyan Drake. New offensive coordinator Lane Kiffin is in a perfect spot. He'll only call plays the head coach wants. That seems to have worked well in the past. Oh, yeah, and Auburn comes to T-Town.

2. Ohio State: Have we forgotten the Buckeyes are 24-2 in Urban Meyer's two seasons? Have we forgotten Ohio State is getting ready to run away and hide from the rest of the Big Ten? Call the Bucks The Team That America Forgot. Braxton Miller is a year older. Ohio State misses Wisconsin, Nebraska and Iowa out of the reconfigured West Division. Biggest issue: Will strength of schedule sting the Bucks? Not with the national championship field doubled to four. That gets them into the playoff. Meyer, Miller etc. take it from there.

3. Florida State: Mr. Shellfish went to the Crab 'N Go. Feel free to call the pun abuse hotline. It just seems to get worse and worse for Jameis "Alaskan King" Winston. A wonderful talent on the field, he's becoming a time bomb off of it. Yes, the Noles are absolutely loaded, but Winston's "youthful ignorance" (his words) is enough to keep them out of the top spot.

4. Oregon: There was too much scrutiny for a new coach (Mark Helfrich) who won 11 in his initial season. Helfrich will carry Chip Kelly's torch just fine. Marcus Mariota's return makes the Ducks a playoff contender. Watch tailback Byron Marshall (1,038 yards) and new defensive coordinator Don Pellum. Michigan State visits in the second week. Stanford visits Nov. 1. If the Ducks get past two of the more physical teams in the country, they'll be one of the best.

5. Oklahoma: It's amazing what a comeback against your in-state rival (Oklahoma State) and beating the King of Football (Saban) can do for the outlook. Bob Stoops believes he has a difference-making quarterback in Trevor Knight. Enough tailbacks to take pressure off Knight may be another thing. If you think Baylor, Kansas State and Oklahoma State are going to be Big 12 challengers, the road goes through Norman. All three play at OU.

6. Auburn: What does Gus Malzahn do for an encore? Probably compete for SEC titles for the next 10 years. Tre Mason and Greg Robinson are gone but there are eight returning starters on offense, including QB Nick Marshall. The schedule is brutal starting with a visit to Kansas State in Game 3. But this is the SEC, where 10-2 teams get every benefit of the doubt.

7. Michigan State: That was a defining moment in January when Kyler Elsworth stopped Stanford's Ryan Hewitt on fourth-on-1 in the Rose Bowl. There's still room in the game for smashmouth. The Spartans have won more games the past four years (42) than Ohio State and Wisconsin. Watch for Nov. 8 when Ohio State visits East Lansing.

8. South Carolina: Once upon a time, Steve Spurrier said he wouldn't coach this long. But the 69-year old Spur Dog has the Gamecocks challenging for the SEC East, even with the loss of Jadeveon Clowney and Connor Shaw. Three consecutive 11-win seasons, three consecutive top 10 finishes, a quarterback in his fifth year (Dylan Thompson). Yup, the Gamecocks could do it all again.

9. LSU: Les Miles has to replace an NFL quarterback (Zach Mettenberger) and two superb receivers (Odell Beckham Jr., Jarvis Landry), but at LSU they just keep pumping out NFL talent. A big, experienced offensive line will help Brandon Harris or Anthony Jennings take over for Mettenberger. It will be up to the rest of us to learn a whole new set of Tigers stars.

10. Stanford: There is no trickery with David Shaw. The Cardinal coach makes no apologies about lining up and beating your butt. This program could play in the SEC. It will settle for going to a third straight Rose Bowl. How much will the loss of defensive stars Shayne Skov and Trent Murphy hurt? DC Derek Mason also left for Vanderbilt.

11. Baylor: New stadium, brighter outlook. Pencil in quarterback Bryce Petty as a Heisman finalist. The fastest-playing team this side of Oregon will continue to scorch defenses. The question is whether 2013's sneaky-good defense can live up to expectations in '14.

12. UCLA: Jim Mora has success, security and a new football facility. He also has the goods to get double-digit wins at UCLA in consecutive seasons for the first time since 1998. The Bruins are dynamic with two-way Myles Jack and quarterback Brett Hundley. If Mariota isn't the best QB west of Winston, Hundley is.

13. Kansas State: The nation's oldest FBS coach (75 in October), Bill Snyder will be eligible for immediate inclusion into the College Football Hall of Fame in 2015. Snyder, though, doesn't look like he's slowing down. Jake Waters takes over full-time at quarterback.

14. Georgia: The past two years have been heartbreaking, whether it's been Alabama (2012) or Auburn (2013). Wouldn't it be ironic -- after Aaron Murray -- if Hutson Mason won the East. Todd Gurley gives the Dawgs a fighting, bashing, pounding chance.

15. Wisconsin: In Year Two, Gary Andersen is the new Bret Bielema, who was the old Barry Alvarez. The Badgers will continue to run it and try to squeeze out some quality quarterback play. We get a quick barometer in the opener against LSU in Houston.

16. USC: Steve Sarkisian's arrival wasn't met with overwhelming approval, but sometimes steady is good. Cody Kessler nailed down the quarterback job. There is loads of offensive talent around him.

17. Arizona State: How hot is Todd Graham? The Pac-12 coach of the year has made as much in incentives (nearly $800,000) than about a third of the FBS coaches. The Sun Devils are just as hot, having won 10 and hosted the Pac-12 title last season. Consecutive Pac-12 South tests against UCLA (Sept. 25) and USC (Oct. 4) will tell us a lot.

18. Nebraska: Bo Pelini has lightened up. Did you see him carry the cat out for the spring game? Perhaps the Huskers will relax along with him. Pelini has his leading rusher (Ameer Abdullah) and receiver (Kenny Bell) back. It would be nice to win more than nine.

19. Texas: Charlie Strong laid down the law in replacing Mack Brown. The Horns will be tougher, more disciplined. It would help further if the regents butt out and David Ash is a difference-making quarterback.

20. Notre Dame: Everett Golson got his groove back. A lot will be on the academically rehabbed quarterback. Brian Kelly lost both coordinators and a load of defensive talent.

21. Cincinnati: Gunner Kiel had to land somewhere. The former can't-miss (ahem) quarterback will be surrounded by 16 starters returning from a 9-4 team. We'll know about the Bearcats Cinderella status after a Sept. 27 trip to Ohio State.

22. Texas A&M: In the post-Manziel era, Kyle Allen and Kenny Hill will compete for the starting job. The defense can't be that bad again, can it? Things get started with a bang as the Aggies play at South Carolina on Aug. 28.

23. Iowa: Hawkeyes should be 6-1 -- at worst -- on Nov. 1. The problem is the schedule is backloaded with Northwestern, Minnesota, Wisconsin and Nebraska in the final month.

24. Duke: The biggest news of the offseason seemed to be quarterback Brandon Connette's transfer to Fresno State. Two-time 1,000-yard receiver Jamison Crowder returns, along with the guy who helped Connette make his decision -- Anthony Boone. A schedule that starts with Elon, Troy, Kansas and Tulane will allow the Blue Devils a quick start.

25. BYU: Life as an independent moves on for the Cougars. Still waiting for the big breakthrough. The entire backfield and offensive line return including 1,000-yard rushers Taysom Hill and Jamaal Williams.
Just outside the velvet rope: UCF, Florida, Houston, Louisville, Marshall, Michigan, Minnesota, Missouri, Northwestern, Oklahoma State, Ole Miss, Oregon State, Penn State, Washington.
Cristobal's first game at Oregon ended the same way Chip Kelly's did

Conner Manning and the Panthers dominated the Hilltoppers in the Cure Bowl

You can only go to the well so often before it dries up
The Trojans beat LSU earlier in the year and now have their first 11-win season as a FBS t...

Saban has never been a fan of the early signing period and made it clear that hasn't chang...

Paul Tyson is a three-star quarterback prospect for the 2019 recruiting class