Poverty, major injury couldn't stop Clemson's Deshaun Watson
Deshaun Watson has been through a lot in his life, overcoming poverty and a major ACL injury. Now he leads Clemson into the 2015 College Football Playoff.
As Clemson quarterback Deshaun Watson prepared for reconstructive knee surgery on his torn anterior cruciate ligament last December, he took comfort upon learning about Adrian Peterson's recovery. Watson watched a video and highlights on YouTube of the rehab done by Peterson, who overcame similar knee surgery in December 2011 to rush for 2,000 yards the next season and be named NFL MVP.
"He came back and he persevered through all the adversity in that season," Watson said. "He got the MVP and people doubted him and people didn't think he'd come back hard. I wanted to come back stronger. That gave me hope."
Hope? Watson's whole life has been about hope.
His mother, Deann, made the decision to find a better life for her three children away from their government-subsidized housing project at 815 Harrison Square in Gainesville, Georgia. That's where Deshaun spent the first 11 years of his life, an environment he says had drug dealers and was "just bad." Today, he wears a tattoo with "815" to remind him of where he started.
When Deshaun was 9, he went to a Halloween church function for underprivileged kids. Deann later searched her son's candy and found a pamphlet for Habitat for Humanity, the charity that provides affordable housing for those in need. Deann committed to about 300 hours of community service and Habitat for Humanity provided a home that was furnished by then-NFL star Warrick Dunn's foundation.
Hope? That's what Deshaun needed as a high school freshman in 2011 when Deann, then 41, revealed that the strep throat she thought she had instead was tongue cancer.
Surgeons at Emory University removed Deann's cancerous tongue and she underwent more than two years of chemotherapy and radiation. Today, her speech is difficult to understand and she must use a feeding tube for the rest of her life, but she's cancer free and able to see her son play football.
Hope? Deshaun tells his story about growing up in a Habitat to Humanity home to young kids in South Carolina. If he can accomplish something from a Habitat home, so can you, Deshaun tells kids. He has had such a profound impact on people that the Habitat for Humanity chapter in Greenville, South Carolina, plans to approach Deshaun after the season to expand their relationship.
"I had a chance to make something out of my life and blocked out all the distractions and have a home," Deshaun said. "People enjoy hearing it and I guess they get inspired by it."
What's a torn ACL when you're Deshaun Watson? Just another hurdle to climb and inspire people.
Beating South Carolina with torn ACL
Two days after Clemson defeated Florida State in early November to win the ACC Atlantic Division, Tigers co-offensive coordinator Jeff Scott couldn't stop raving about a fourth-quarter play by Watson with the game tied. Clemson called a bootleg to the field side, a play designed for Watson to throw the ball to wide receiver Artavis Scott. But nothing is ever fool-proof for Watson given his innate feel for the game.
Scott was covered so Watson started to run, but Seminoles defensive end DeMarcus Walker and linebacker Reggie Northup closed in on Watson. At the last second, with the 281-pound Walker in his face, Watson stopped on a dime and flipped the ball to a wide-open Scott for an 11-yard gain to move the chains.
"He's in the 95th percentile at making those quick decisions," Scott said. "It's really rare. That's why I tell my receivers you better run every route expecting the ball because however the defense changes and tilts and guys rotate, Deshaun's going to find where the right place is to go with the ball."
The play would have been remarkable no matter the player or situation. But how many players can do that less than one year after reconstructive knee surgery?
While becoming a Heisman Trophy finalist and leading Clemson to an undefeated regular season, Watson threw for 3,512 yards and 30 touchdowns; he also ran for 887 yards and 11 scores. If not for the brace on his left knee and occasional sluggish play early in the year, it would be easy to forget Watson tore his ACL.
The injury is forever part of Clemson lore. He hurt his knee on Nov. 15, 2014, in a game against Georgia Tech, but a day later Clemson said the injury was not considered major. The athletic department said Watson had a sprained lateral collateral ligament and a bone bruise.
Watson missed the following week's game against Georgia State and returned Nov. 29, 2014, with an inspired effort to help Clemson snap its five-game losing streak against rival South Carolina. Despite hobbling off the field several times, Watson completed 14-of-19 passes for 269 yards and two touchdowns, plus he ran for two scores. After the game, Clemson coach Dabo Swinney said Watson tore his ACL in practice the previous week -- two days before he sat out against Georgia State.
Why play with a torn ACL given Watson's potential NFL future? Watson said he and his family discussed the decision and he wanted to finish what had been an injury-riddled freshman season.
"There was nothing else worse that I could do to it and it was already torn," Watson said. "Doctors gave me approval and I'm old enough to make my own decisions. I just really wanted to play against South Carolina. I just love that game so much. I can't really control what happens in the future. I was in the moment. That's how I live every day."
Clemson head athletic trainer Danny Poole said Watson came to Swinney and told him he was comfortable playing with a brace.
"The brace was going to act as his ACL and would keep him from further injury," Poole said in response to emailed questions communicated through Clemson's media relations office. "Dabo told him he would have to see it to believe it in practice the week of the game. He proved it to him that he could operate effectively and that he would not (sustain) further injury with the brace."
Swinney said he assumed Watson's 2014 season was over until Watson and Poole tried to convince him the quarterback could play.
"I'm like, 'What do you mean you can play? You've got a torn ACL,'" Swinney said. "He said he didn't have any pain and he was adamant he could play. Heck, by a day or two later, I couldn't even tell he had anything wrong. In all my years, I've never seen anything like it."
After one darting run by Watson, "I thought we were going to need a stretcher to take him off the field," Swinney said. "It's one of the most incredible performances I've ever seen."
Thirteen days later, Watson underwent reconstructive knee surgery and skipped Clemson's bowl game against Oklahoma. Exactly one year after the surgery, Watson sat in New York at the Heisman Trophy ceremony.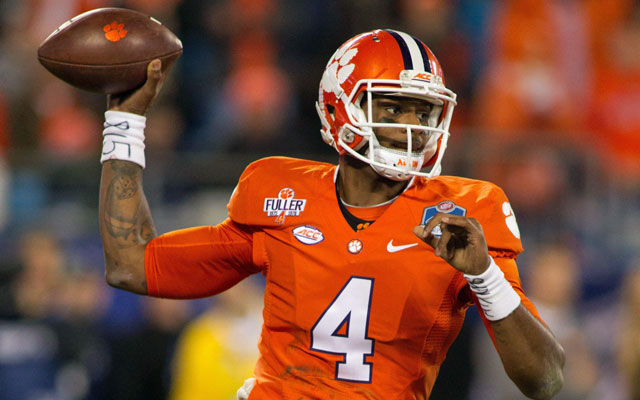 Watson's rehab was ahead of schedule
Not too long ago, a torn ACL meant a football player's career was over. As technology and medicine improved, a torn ACL evolved into an injury that a player could overcome but still meant he would probably be diminished on the field.
The American Journal of Sports Medicine collected ACL injury data on NFL running backs and wide receivers from 1998-2002 and found that 21 percent of the players with ACL injuries never returned to play. The remaining players saw their performance decrease by one-third. By 2013, the researchers reported that the number of NFL players who return to play after an ACL injury was 79 percent. NFL stars such as Tom Brady, Wes Welker and Peterson have shown it's possible to recover from torn knee ligaments and be as good, if not better, than ever.
Before surgery, Sonia Watson, Deshaun's aunt, found her nephew at peace in the hospital. He was determined to be a better player after the surgery.
"He wasn't no person that was sad. He wasn't saying, 'I'll never be able to recapture my past,'" Sonia said. "We knew he had to sit out and he'd come back next year, and boy, didn't he come back?"
Watson started working with weights a week or two after surgery. He began running and doing side-to-side movement within four or five months.
The early morning and late night rehab sessions were constant grinds while out of football for nine months. Rehab became a battle to balance precaution with ambition. Watson didn't want to overdo his recovery, but at the same time, he needed to put in the necessary work to get stronger.
"At times it was tough, especially when you first start it," Watson said. "People on the outside may think it's easy, but it's really not. There's a lot of blood, sweat and tears you put into it. After a while, you try to get that trust back in your knee and you want to just go out on the field and actually do work."
Clemson offensive lineman Eric Mac Lain said the only way he would see Watson during his recovery was by being in the training room or the film room. That's how often Watson lived in those rooms.
"The way he approached it was just really cool to watch, just to see his maturity," Mac Lain said. "Most guys when they get hurt, they walk away from things and they don't try as hard. He tried harder. I think he got a little bit bigger. He really approached it very systematically and smart."
Poole said that Watson was "ahead of schedule in all phases of his recovery because he is genetically gifted and he is a hard worker. He was not someone I had to stay on about showing up for rehab. … He was driven to come back and have a great year."
Watson appeared to be more of a pocket passer early this season. He averaged 9.3 rushes for 39 yards in Clemson's first six games, although that included a 16-carry, 93-yard game against Notre Dame. Watson insists his fewer carries were due to game situations and the effectiveness of Clemson running back Wayne Gallman, not any precaution with Watson's knee.
"The biggest thing he's learned is he's done a better job of protecting himself," Scott said. "I think his freshman year he saw some holes and just took off running, and he's going to be Cam Newton and jump over guys and do somersaults in the end zone and all that. I think now he has figured this is a long season and let's pick my spots."
He picked wisely. In the Tigers' final seven games, Watson averaged 15.3 carries for 93.3 yards. Clemson survived upset bids by South Carolina and North Carolina thanks in large part to Watson's 245 rushing yards and five scores on 45 carries over the two games. By next year, Clemson anticipates Watson won't need to wear the knee brace again.
"When you have an ACL injury, you never know when it's fully prepared so you have to go based off the preparation impact," Watson said. "My mentality is if it happens again, it happens again. I control what I can control."
Add another topic to Watson's growing list of stories that provide hope to others.
Follow and read more from Jon Solomon on Facebook and Twitter.
CBS Sports HQ Newsletter
We bring sports news that matters to your inbox, to help you stay informed and get a winning edge.
Please check the opt-in box to acknowledge that you would like to subscribe.
Thanks for signing up!
Keep an eye on your inbox for the latest sports news.
Sorry!
There was an error processing your subscription.
Kelly has the right perspective on college football's place amid the coronavirus pandemic sweeping...

I guess everyone is learning a new skill with more downtime on their hands

Orgeron got a second chance at coaching in the SEC, and that does not happen often
Sports activities across the nation have been halted due to the COVID-19 pandemic

Mississippi State players were among those responding to Leach's Tweet

The COVID-19 pandemic has caused administrators to think outside the box with an uncertain...
CBS Sports was with you all day covering National Signing Day as the Class of 2020 wrapped...

Complete analysis, highlights and coverage of the 2020 College Football Playoff National Championship

Live scores, highlights and updates from the Miami (OH) vs. Louisiana football game