Power 5 proposals change financial face of college sports
The Power 5 conferences -- whose No. 1 rule is keeping football viable -- are changing the face of college sports. To survive, plan on some schools cutting other sports to keep football afloat.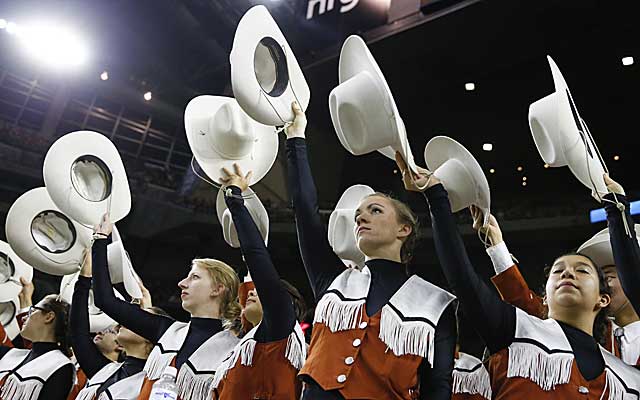 There was a time during the financial crisis that Bob Bowlsby had to consider the unthinkable.
Cutting sports at Stanford.
The academic and athletic flagship is a shining example of the collegiate model. It sponsors 36 sports, a daily reminder of that amateur ideal: Athletics are a valuable -- but not the only -- part of enhancing the educational experience.
After college athletics changed officially -- and radically -- over the weekend the Big 12 commissioner took stock of his time as the Cardinal AD (2006-12).
"We talked about it [cutting sports] at Stanford in '07 and '08 when the economy went in the dumper," Bowlsby said. "We paid $22 [million]-$23 million [per year] for scholarships. The endowment yield went way down. We had to find $7 million to keep from cutting sports."
The cuts never happened. But after a historic NCAA convention last week, the message is loud and clear: If it can happen at Stanford, it can happen anywhere. At stake is that collegiate model, that amateur ideal.
In ceding power to the Power 5 conferences (ACC, SEC, Big 12, ACC, Pac-12), the NCAA as a whole knows the collegiate model never will be the same. Those five conferences essentially will govern themselves.
The fallout isn't fully known. While Stanford and the rest of the Power 5 will likely survive intact, the remaining 296 Division schools -- in some form -- have questions.
Will the average fan care if players are 'paid'? A resounding no, at this point. Eleven tapirs could line up against each other in Nebraska and Oklahoma jerseys and the place would be packed.
The fact players are getting a few bucks for living expenses doesn't move Joe Tailgate's needle. In the future players may be able to bargain collectively for their names, image and likeness. Even then, as long as the game retains its innocence -- producing the undersized Doug Flutie, the humble Marcus Mariota, those last-minute finishes -- fans will remain loyal.
Average regular-season and bowl attendance is down but that is because of other factors. A stipend won't turn off fans. The money is meant to fill in gaps in the true cost of attendance.
Which leads to the next question ...
Can schools afford cost of attendance? The overwhelming majority will. It's the right thing to do. Players will now get $2,000-$5,000 per year just for being an athlete.
That stipend came after years of squabbling, voting and massaging of legislation. It is just and right. The plight of the unpaid labor force (players) became a much bigger issue than the free education they were receiving.
NCAA stakeholders had to do something. The pot of unregulated money became so big external forces got involved. The courts closed in. The players themselves were/are speaking out. The 80-member voting body of the Power 5 includes 15 athletes.
Reform is here, whether it comes from a slick attorney, a court decision, multiple lawsuits or outspoken athletes. The NCAA just hopes it is out front of all of them with its own version of reform. If not, the NCAA ceases to become the NCAA.
That begs the next question ...
Does the world really care if Georgia State drops track? It depends. By and large, ADs will have to raise more money to account for the COA or cut sports. It's virtually a certainty some schools will drop sports. Even some of the big boys will cut back on travel and schedule more locally in minor sports.
It's already been well documented that only about 20 athletic departments make money. FBS is a 128-school closed society ranging from Stanford to the likes of Texas-El Paso, which sponsors the NCAA minimum 18 sports.
For some, it's an unbroken circle of economic chasing-your-tail. Football -- and to a certain extent men's basketball -- produces the money to fund an entire athletic department.
"Everyone needs to understand there's not an unlimited source of revenue for anybody," MAC commissioner Jon Steinbrecher said. "The Power 5, even though they have a lot of money, they've already spent it."
Check the construction on some of these campuses. They say, "If you're not building, you're not moving forward." The growth in media rights has both filled the pot and caused the current reform backlash. A few years ago, major conferences were taking in approximately $6 million-$12 million per year in those rights. Now, for super powers such as the SEC and Big Ten that number is headed toward $40 million.
If the O'Bannon decision is upheld, schools could be on the hook for an additional $5,000 per athlete annually that would be put in a trust fund, collectable upon completion of eligibility.
The likes of Texas and Ohio State can afford it. The rest? Autonomy passed 79-1 over the weekend. The only "No" came from Boston College, which expressed concern that the legislation would create an elite student segregated from the general student population because he/she is getting paid.
BC added in a release, "the consequence of such legislation could ultimately hurt student-athletes if/when programs are cut."
The US Olympic Committee is on record with its concern about major colleges' shifting financial landscape. Minor collegiate sports -- swimming, wrestling, gymnastics -- help provide the backbone of some Olympic teams.
"Maybe they'll [public] care when we aren't able to compete as well at the Olympics," said Bowlsby, a USOC board member, "or their son or daughter don't have the opportunity to compete in college."
Because of Title IX concerns, Bowlsby said it may easiest to begin cutting men's sports first.
"You don't have to have too vivid of an imagination to foresee two men's sports and 8-10 women's sports," in an athletic department.
"I've never had to cut sports," added Bowlsby, also a former Iowa AD. "I've been close a few times. It's a very, very difficult way to save money. It's highly politically charged. There is parental and alumni involvement. In the end it's a very difficult way to save money. The residue from it is very long."
What does all of it mean for football? Probably nothing in the short term. Larger court battles loom that would strike down all NCAA restrictions creating an open market on player compensation.
For now, look for the sport to become bigger, broader and more extravagant. Did you even watch the first College Football Playoff?
In the worst of times, schools will do anything to protect football programs. Even at the lowest levels of FBS, football is the front porch of the university -- a sign that even recent FBS member Appalachian State is big time.
After the Alabama-Birmingham fiasco there is a feeling some administrators will ultimately use it as an excuse to cut football. However, at least one conference administrator disagrees.
"People that presumed this will start a real groundswell [to cut football], it will be the opposite," Steinbrecher said. "Very clearly [football] adds value to the institution."
Does autonomy accelerate separation of haves and have nots? As stated frequently in this space, we're already there. Financially, perceptively and realistically Ohio State and the University of Ohio have little in common.
However, both schools play under the Division I banner. Everyone seems to be OK with that as long as Ohio and it's Group of Five mates (Sun Belt, MAC, Mountain West, American, Conference USA) have access to annual NCAA payouts.
There is the lingering concern autonomy will organically lead to the Power 5 eventually splitting away and forming their own division. For now, there is still a tremendous benefit to playing the Group of Five in football and participating in the lucrative NCAA basketball tournament.
In the current climate, the fast break of questions won't stop.
CBS Sports HQ Daily Newsletter
Get the best highlights and stories - yeah, just the good stuff handpicked by our team to start your day.
Please check the opt-in box to acknowledge that you would like to subscribe.
Thanks for signing up!
Keep an eye on your inbox for the latest sports news.
Sorry!
There was an error processing your subscription.
These coaches do everything completely above board, according to their peers

A former mob boss explains how to influence a college football game's final score with relative...

These QBs could be 2018's 'Next Big Thing'
Urban Meyer has been on paid administrative leave since Aug. 1

Ohio State players broke up the monotony of fall camp in a big way

Olson is a redshirt junior for the Trojans