Power Poll: After rash of upsets, SEC's deck gets reshuffled
Four teams in the top 16 go down leaving 11 SEC teams with at least two losses. Florida State jumps to No. 3 and welcome to the top 10, Texas Tech.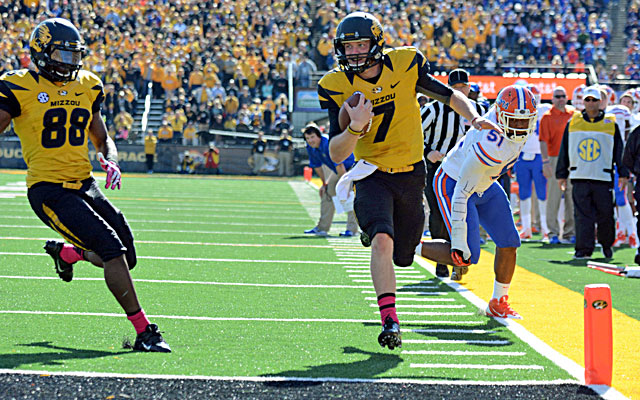 Call it the day the SEC fell to earth.
The net effect of a day of upsets in the nation's best conference is five name-brand ranked programs each suffered at least their second losses (Texas A&M, LSU, Georgia, South Carolina and Florida). Parity isn't necessarily a good thing when four top-16 teams in the Power Poll go down.
Eleven of the SEC's 14 teams now have at least two losses with six weeks to go. Championship depth in the Strength Everywhere Conference has become an issue. Bowl scouts are loving it. With the rash of upsets, it's now possible for 12 of 14 SEC teams to go bowling.
For now, consider the reshuffling of the SEC deck.
•It's suddenly a long way down from the top in the East Division where No. 5 Missouri is 7-0 and everyone else has at least two losses. Things have changed so rapidly that the Tigers could all but clinch the division this week with a win over No. 22 South Carolina.
•Apparently a lot of folks forgot Florida also was playing with a backup quarterback against Missouri. Tyler Murphy struggled as the Gators lost their third game. There are now profound offensive issues for an offense rated a somnambulant 94th.
•Georgia blew a 13-point fourth-quarter lead against longtime pushover Vanderbilt. There will be howls of protest in and around Athens but injuries -- and a horrific punt snap -- for Mark Richt have had a cumulative effect.
•No. 17 Texas A&M's horrid defense couldn't hold up against Nicky Football and Auburn. Watching Nick Marshall drive the Tigers down for the winning touchdown was like watching Johnny Manziel. If it's possible, Manziel is having to do too much. He can't throw for 454 yards and four touchdowns every game, can he?
•South Carolina lost quarterback Connor Shaw, and eventually the game to Tennessee. The Vols may have turned a corner under Butch Jones. The Gamecocks' season just about hangs in the balance this week at Missouri.
•We thought No. 19 LSU's defense had rehabbed itself in the Florida game. No such luck. Ole Miss blew an early 17-0 lead, as well as a pair of 10-point leads, then drove to the field to kick the winning field goal with two seconds left. The 27-24 loss comes close eliminating the Tigers from SEC West contention. LSU still has Alabama and A&M left on the schedule.
The strength of the SEC these past seven years has been having multiple championship contenders. Just past midway through October, the league is essentially down to two: The winner of Auburn-Alabama and Missouri.

1. Alabama (1): Someone in the league is playing up to expectations. Tide have scored 111 consecutive points against Arkansas.

2. Oregon (2): Tailback Byron Marshall is the star this week. On a roster filled with studs, Marshall breaks out with 192 yards on the ground against Washington State. De'Anthony Thomas sits again. Cougars' <player idref=iday threw a 89 times, completing 58.

3. Florida State (7): The question we didn't expect: Why was Jameis Winston still in the game in the fourth quarter? FSU established itself as a national championship contender all over the field against Clemson. Who knew the biggest ACC game in years would be decided by an All-American cornerback (Lamarcus Joyner, two forced fumbles, a pick)?

4. Ohio State (4): A win, is a win, is a win in the Big Ten? Not so much. Buckeyes struggled mightily with Iowa.

5. Missouri (8): One of the biggest wins in Mizzou history over Florida. Sets up a virtual SEC East-clinching game this week against South Carolina. Win it and Tigers can finish 6-2 in division and still have tiebreakers over Florida, Georgia and Gamecocks.

6. Baylor (10): Bears hang 71 on Iowa State and, yes, that is a top 25 defense on the other side of the ball.

7. Stanford (12): Kodi Whitfield's catch was the best this season in Cardinal rebound win over UCLA.

8. Miami (15): Down leading rusher (Duke Johnson) and leading receiver (Phillip Dorsett), Canes come back on the road at North Carolina. Never mind the NCAA, Miami hopes to hold onto Al Golden.

9. Virginia Tech (13): That's a good week off. The Hokies move up while waiting to face Duke next Saturday.

10. Texas Tech (19): Sure, we all expected Baylor and Texas Tech to be leading the Big 12 at this point. What is it about Kliff Kingsbury's magic with freshman quarterbacks? Davis Webb becomes first Tech quarterback to throw for 400-plus yards in first two starts in comeback at West Virginia.

11. Auburn (NR): How many guys have coached a Heisman winner as well as beaten one? Gus Malzahn returns War Eagle to the land of the living after upset of Texas A&M.

12. Clemson (3): Seminoles score the most points ever by an opponent in Death Valley. FSU's margin of victory was so profound it may have taken the ACC out of the running for a second BCS bowl. Are Jameis Winston and the Seminoles that good or is the Tigers' defense that bad?

13. Oklahoma (17): Bob Stoops is now 15-0 after Texas following clunky win over Kansas.

14. Oklahoma State (18): How bad was J.W. Walsh (two interceptions)? Clint Chelf replaced him and may have won the job after completing 10 of 25 against TCU.

15. UCLA (9): Another unbeaten goes down. Bruins and Brett Hundley get stifled by Stanford.

16. Fresno State (NR): Derek Carr helps Bulldogs to best start in four years after breaking school records for career completions and touchdowns passes in 24-point win over UNLV.

17. Texas A&M (5): Mike Evans catches four touchdown passes against Auburn but that's not the biggest story. Johnny Football hurts his throwing shoulder. Updates coming at the top of each hour.

18. Oregon State (25): Sean Mannion throws 481 yards in a laugher against Cal. Brandin Cooks catches 13 of Mannion's throws for 232 yards. Beavers now 4-0 in Pac-12 North.

19. LSU (6): Losing to Ole Miss is one thing, not giving yourself a chance is another. Les Miles waits to call a timeout with six seconds left in the 27-24 loss, thus assuring his team won't have a chance to make a comeback. "This one," said Miles, whose team came back from a 17-point deficit, "is on me."

20. Michigan State (24): Spartan Dawgs shut out Purdue. Michigan State atop Legends Division but toughest part of the schedule still to come.

21. North Dakota State (19): Sixteenth win in a row (vs. Southern Illinois) for defending FCS champions -- who just happen to be among best 25 in FBS.

22. South Carolina (11): Connor Shaw sprains his knee. Tennessee gets first win over a ranked opponent in almost four years.

23. Central Florida (NR): George O'Leary has built something special in Orlando. Where's the love for Blake Bortles who outplayed Teddy Bridgewater Friday night? Knights now have the inside track for the American title.

24. Michigan (22): If the Big Ten has any chance at a national championship, the Wolverines are doing little for Ohio State's schedule strength. (The teams play Nov. 30 in Ann Arbor.) Michigan gives up 572 yards in shootout win vs. Indiana. Devin Gardner accounts for 583 yards.

25. Louisville (14): Dropped like a stone after blowing three-touchdown lead at home to Central Florida. Gone: Cards' flickering national title hopes and Bridgewater's Heisman hopes.
Also receiving love: Wisconsin, Duke, Ball State, Northern Illinois, Notre Dame, Iowa State (make it sympathy, 71-7 to Baylor), Ole Miss, Cincinnati, East Carolina, Tennessee, Minnesota, Vanderbilt, Rice, Boise State, Buffalo, Duke, Houston, Arizona State, BYU.
The movie will zero in on former Penn State coach Joe Paterno during the Jerry Sandusky sc...

Bidding for Salaam's trophy, which the auction house says was obtained legally, ends Satur...

Locksley has been the offensive coordinator at Illinois and Maryland during his coaching c...
Many NFL-eligible juniors ignore advice provided by the league and risk going undrafted each...

Snyder died in Manhattan, Kansas, on Wednesday

Locksley joined Alabama's staff in 2016