Power Poll: BCS home stretch starts with (possibly) all-time Iron Bowl
The Iron Bowl heads BCS implications as the national-title clears -- slightly. But don't forget the Big Ten (um, Ohio State), Big 12 and even the ACC.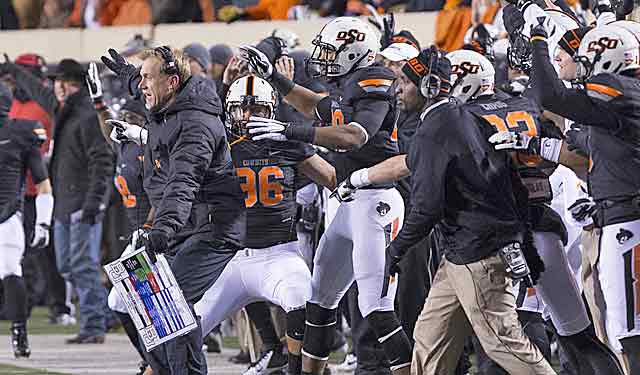 Heading into the second-to-last week of the season, this is what we know ...
Auburn-Alabama could play the biggest Iron Bowl ever. Two top 10 teams, the winner goes to the SEC championship game. The winner of that game at least has a chance to play for the SEC's eighth consecutive BCS title.
• No. 3 Ohio State has a BCS problem still languishing just outside the top two. Meanwhile, Michigan has an Ohio State problem going into The Game.
• No. 4 Oklahoma State stated its case as the nation's best one-loss team. That one loss, though, remains a head scratcher. Fifty-six days after losing at West Virginia, the Cowboys beat (as of Saturday) No. 3 Baylor.
A second Big 12 title in three years is one Bedlam victory away.
• The Pac-12's championship game is set. For the first time, it will not include a team from Los Angeles.
• ACC championship game is not set. We don't know exactly who it will include from the Coastal Division. Five teams from that division still have a chance to meet No. 2 Florida State on Dec. 7 in Charlotte.
The easy part: No. 24 Duke can nail down an ACC berth by beating North Carolina this week.
• Call it Heismania. No one seems to be out of it. Winston threw for four touchdowns against Idaho. Johnny Manziel had one of the worst games of his career. Meanwhile, Arizona's Ka'Deem Carey may have earned himself an invitation to New York.
And we sure as heck better start brushing up on Pitt lineman Aaron Donald.
Through it all, Alabama's AJ McCarron might emerge as the man. Of course, he's already that in T-Town.
Let's get on with the Power Poll:

1. Alabama (1): Let's see, where did I put the injury list after the Chattanooga game? Here it is, right here. McCarron? Mosley? Yeldon? All upright? Good. Let (perhaps) the greatest Iron Bowl week begin.

2. Florida State (2): If running up 80 on Idaho was meant to distract us from You Know What, it didn't quite work. Miles to go before football is the main focus, Jameis Winston wins a Heisman and/or Noles win it all.

3. Ohio State (4): Sure, the BCS is flawed but it sure helped Urban Meyer win two national championships at Florida. Bucks ease into Michigan week with a strafing of Indiana.

4. Oklahoma State (8): Top Chelf performance! Cowboys posted possibly the second-biggest win this season. Beat No. 3 Baylor by more than half the points (32) the Bears had been averaging (61). Need only to defeat Oklahoma to win second Big 12 title in three years.

5. Auburn (5): The RVs started arriving in the hay fields near Jordan-Hare on Saturday for this week's Iron Bowl with Alabama. I've heard of leaving early to beat traffic, but that's ridiculous.

6. Missouri (6): James Franklin returned and didn't throw an incompletion until the third quarter. Strong two-touchdown win at Ole Miss positions the Tigers for their first conference title shot in six years. Tigers now get wounded Texas A&M at home with a chance to clinch the SEC East. Not bad for their second year in the Strength Everywhere Conference. Remember when they said these Tigers were overmatched?

7. Clemson (9): Tigers go all-in on The Citadel, dressing in purple. Now time to go all-in on South Carolina.

8. Baylor (3): No telling what would have happened if Bryce Petty would have scored from 28 yards out in the first half. Instead the Bears' quarterback basically tripped over himself, fell at the 1. Two plays later Shock Linwood fumbled and Oklahoma State drove 99 yards for the game's first score. It was that kind of night. Orange Bowl still a possibility for Bears.

9. Michigan State (11): Starting to think Ohio State might have a struggle with Spartans in the Big Ten title game. Michigan State clinches the Legends with easy win over Northwestern.

10. Stanford (10): The Big Game isn't one as Cardinal roll Cal. By the end of the day Stanford found itself in Pac-12 championship game. The only question now is where it will be played -- Stanford or Tempe?

11. South Carolina (13): Gets scrimmage in with Coastal Carolina before state championship this week against Clemson. Still needs Missouri loss to win the SEC East.

12. Arizona State (20): It's been a lifetime in Todd Graham years -- two seasons! That's all it took the Sun Devils coach to get to the Pac-12 title game.

13. Fresno State (14): Obliteration of New Mexico keeps Bulldogs unbeaten. Sending a message to computers and voters or was it just -- playing New Mexico?

14. Wisconsin (15): Slow, deliberate axing of Minnesota. You would have thought Paul Bunyan was playing for the Badgers the way the Gophers were chopped down. Feel free to call the pun-abuse hotline. Badgers still attractive BCS bowl bait.

15. Oregon (7): Profound problems now in Eugene. Ducks officially eliminated from Pac-12 North after brutal loss at Arizona. Also pushed around by a physical Pac-12 team for the second time. For a team I once called the best in Oregon history, this downturn has to be a concern.

16. Oklahoma (18): Once Mike Stoops got Tyler Lockett figured out (278 receiving yards, three touchdowns for K-State), the Sooners cruised in Manhattan. Bedlam next.

17. North Dakota State (17): On Senior Day, No. 1 Bison (in FCS) complete first undefeated regular season since 1990. South Dakota goes down 42-0.

17. Central Florida (19): Knights inch closer to BCS bowl berth with thrashing of Rutgers. Come to think of it, who doesn't thrash Rutgers these days?

19. LSU (21): Zach Football? Mettenberger becomes the first -- and probably only -- college quarterback to defeat Manziel twice.

20. Northern Illinois (22): More MACtion success. Huskies clinch MAC West title. Is Detroit really a reward?

21. Southern California (24): Trojans played in snow for the first time since '57 while hanging 47 on Colorado. Battle of LA next vs. UCLA.

22. Texas A&M (14): The end of Johnny Football's back-to-back Heisman effort? The end of Kevin Sumlin at A&M? USC remains open.

23. Louisville (NR): In his final home game, Teddy Bridgewater throws for 222 yards and a touchdown against Memphis.

24. Duke (25): Call them the Code Blue Devils. Duke had to rally from 14-0 down to Wake Forest to win 28-21. Beat North Carolina and Duke wins Coastal. If not, it gets really weird. (See above.)

25. UCLA (16): Playing at home (Rose Bowl) with a chance to play at home (the Rose Bowl), the Bruins came up flat. Arizona State scored four touchdowns in the final 16 minutes of the first half. UCLA scores late to make it cosmetic in a 38-33 loss.
Also receiving love: Arizona, Georgia Southern, Washington State (bowl eligible in Mike Leach's second season), Nebraska, Utah State, Vanderbilt, Aaron Murray, Cincinnati.
CBS Sports HQ Daily Newsletter
Get the best highlights and stories - yeah, just the good stuff handpicked by our team to start your day.
Please check the opt-in box to acknowledge that you would like to subscribe.
Thanks for signing up!
Keep an eye on your inbox for the latest sports news.
Sorry!
There was an error processing your subscription.
The lawsuit claimed Colorado officials failed to properly address domestic violence claims...

The cupboard isn't bare in Tuscaloosa

Media members are now on the record for their picks for the 2018 season
Bubba Cunningham believes his coach's remarks were 'poorly communicated'

Ball is still life for Malzahn, but he now has some space to be himself as he leads the Ti...

Swinney is happy to have his current quarterback situation