Power Poll: Championship picture is now crystal clear -- it's Bama-FSU
With Oregon's loss to Stanford and Alabama's disposal of LSU, the path to the BCS title game has been cleared for the No. 1 Crimson Tide and the No. 2 Seminoles.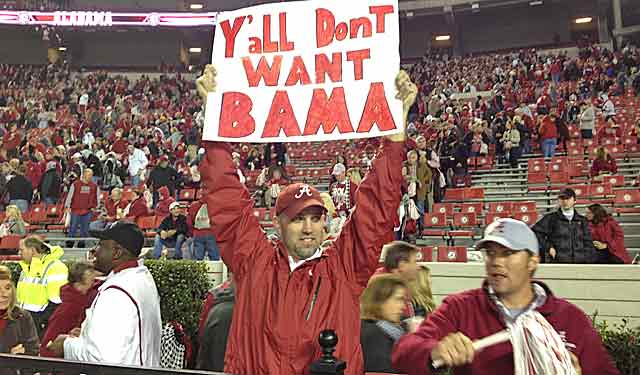 Clarity wears Garnet, Gold, Crimson and White.
It's simple now. Alabama vs. Florida State.
If the Crimson Tide and Seminoles win out, we've got our national championship game. Power Poll No. 1 Bama has a tougher road remaining than No. 2 FSU, but you wouldn't have known it Saturday night.
Oregon's Thursday loss to Stanford and Bama's beating of LSU clears the way. If the top two slip up -- and they shouldn't at all -- we're talking about a championship picture that includes No. 3 Baylor, No. 4 Ohio State and the No. 5 Cardinal.
That makes it way too complicated to consider. The Tide and Noles have taken the drama out of 2013. As we enter Week 12, consider clarity easier.

1. Alabama Crimson Tide (1): Even Phil Knight has switched sides. Two days after watching his Ducks fly out of the picture, King Nike was on the Bama sideline. Hey, winners flock together. LSU held the Tide's attention for a while before a 21-0 second-half blitz. Final three scoring drives came within 15-minute span in third and fourth quarters and accounted for 228 total yards.

2. Florida State Seminoles (3): Did we mention clarity? FSU had six interceptions. Wake Forest had seven completions. Famous Jameis didn't make another Heisman statement, but does it matter? The Noles will play for the national championship if they beat Idaho, Syracuse, Florida and the Coastal Division champion.

3. Baylor Bears (5): Shock (Linwood) and awe for the Bears against Oklahoma. So your question was, who has Baylor beaten? Won't be an issue if the Bears keep winning. No. 12 Sooners, followed by Texas Tech, No. 10 Oklahoma State and No. 25 Texas.

4. Ohio State Buckeyes (4): Let's start the drumbeat for the Buckeyes bye. Should (one-loss) Stanford Cardinal jump the unbeaten Buckeyes during their bye week? For now the Power Poll says no. Ohio State was helpless this week to argue against a Cardinal schedule that includes wins over No. 2 Oregon, No. 16 UCLA and No. 23 Arizona State. (Rankings as of last week.)

5. Stanford Cardinal (6): Nerds unite! Cardinal smothers Ducks for second straight year, this time with 42 minutes of possession time. That just happens to be the most significant win of the season for any team. How the heck did Stanford lose to Utah?

6. Missouri Tigers (7): After a slow start, the Tigers smack down Kentucky. Dorial Green-Beckham had a nice month on Saturday, catching four touchdown passes from Maty Mauk . Bye coming up before a closing stretch against Ole Miss and Texas A&M. No big deal, only the SEC East is at stake.

7. Oregon Ducks (2): The Ducks should score 40? That's what De'Anthony Thomas said. He didn't take into account what it looks like to have a Heisman favorite injured. Marcus Mariota -- six rushes, minus-16 yards. We bid a fond farewell to the Ducks until next year and the playoff era.

8. Auburn Tigers (9): Nick Saban may have a competitor for SEC coach of the year. Gus Malzahn has taken a winless team in the SEC and somehow churned out nine wins with essentially the same roster. The 444 rushing yards against Tennessee were the second-most in the SEC in a decade.

9. Clemson Tigers (8): Bye before Thursday meeting with Georgia Tech. BCS bowl still a distinct possibility.

10. Oklahoma State Cowboys (11): Routine win over the hapless Jayhawks. Five in a row now since weird loss at West Virginia. Texas next.

11. Texas A&M Aggies (12): In Johnny Football's last football game at Kyle Field -- c'mon, who are we kidding? -- the defending Heisman winner put up 446 yards and five passing touchdowns against Mississippi State. Crowd chanted "one more year." Don't count on it. There's too many autographs out there to sign.

12. South Carolina Gamecocks (14): About to post a low number and head for the clubhouse. Bye this week before hosting Florida. Beat the Gators and Missouri still has to win out to clinch the East.

13. Michigan State Spartans (15): Bye. Headed to Nebraska for a Legends Division showdown with the nation's best defense. The unit formerly known as the Blackshirts is jealous.

14. Fresno State Bulldogs (17): Derek Carr has gone 228 throws without an interception. Bulldogs have gone all season without a defeat. Only four other teams can say that.

15. Wisconsin Badgers (20): Badgers slowed the nation's fastest (plays per game) team, 27-17. Linebacker Chris Borland comes back from an injured hammy getting 13 tackles, including two sacks against BYU.

16. North Dakota State (18): Brock Jensen throws three more touchdown passes for the Bison's 18th straight win. Illinois State pays, 28-10.

17. UCLA Bruins (21): Linebacker Miles Jack -- yes, linebacker -- rushed for 120 yards against Arizona. "I thought they [coaching staff] were kidding about it," Jack said.

18. Oklahoma Sooners (11): Bob Stoops has quarterback problems. OU also has Baylor problems after winning 21 of the previous 22 against the Bears.

19. UCF Knights (22): Not only do the Knights control their destiny in the American, they can start printing BCS bowl tickets, already owning wins over Louisville and, Saturday, Houston.

20. Arizona State Sun Devils (24): Sun Devils rally for 13 fourth-quarter points to beat Utah. ASU still leading South Division with Oregon State next.

21. LSU Tigers (13): Not quite a game of the century. Zach Mettenberger battled mightily against Alabama but you can't throw sitting on the sidelines. Alabama's three second-half scoring drives totaled 32 plays and 17:34 of possession tie. Mettenberger did become the first LSU quarterback to pass for 2,500 yards in back-to-back seasons but the Tigers drop out of BCS bowl competition.

22. Miami (Fla.) Hurricanes (16): Is it possible Florida State can beat the Hurricanes twice? It sure means Virginia Tech beat Miami on Saturday. Virginia Tech's Logan Thomas posted his second consecutive 300-plus yard passing game. This time without the massive turnovers. Canes loss opens the Coastal Division to, perhaps, Duke?

23. Northern Illinois Huskies (25): Bye. MACtion game of the year Wednesday vs. Ball State. At stake, well, everything. NIU needs a big-time statement to catch Fresno for an at-large BCS bowl.

24. Minnesota Golden Gophers (NR): Gophers are becoming one of the best stories of the season. Minnesota is now 4-1 since Jerry Kill's latest seizure, 8-2 overall, after slamming Penn State.

25. Texas Longhorns (NR): Horns won't go away in the Big 12 moving to 6-0 with an overtime win at West Virginia. There are 10 teams undefeated in conference play. Texas is one of them. Your call, Steve Patterson.
Also receiving love: USC, Kansas State, Cincinnati, Vanderbilt, USC, Nebraska, Duke, Buffalo.
These Jayhawks got a tremendous surprise they weren't expecting

Jovon Durante announced on Twitter he's headed to FAU

From Week 1 through the title game, everything runs through Atlanta this season
A concert is a nice way to break up preseason camp

Mills was arguably Georgia Tech's most important player coming into the season

Hugh Freeze's phone records reportedly show another troubling pattern for Ole Miss