Power Poll: Ohio State on top, but NDSU, FCS are gaining ground
North Dakota State and coach Craig Bohl are flying high after upsetting Kansas State, but the Bison, and everyone else, trail Urban Meyer's Buckeyes in this week's Power Poll.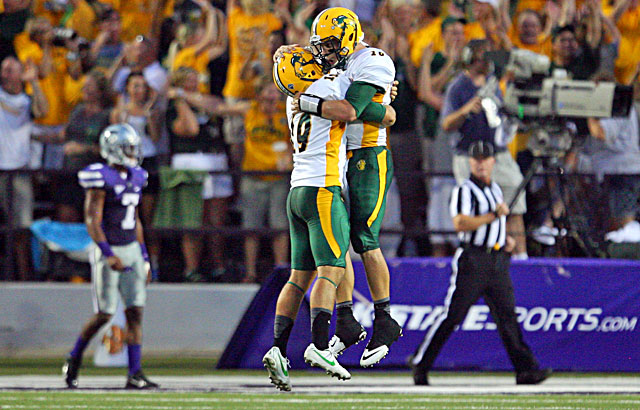 A week in, a coach of the year favorite is a 55-year old bald native of Nebraska, a former Husker who was fired at his alma mater.
But these are high times for Craig Bohl. North Dakota State's coach is the toast of Division I. That's all of Division I -- 240-plus football-playing schools -- which has been sliced, diced, divided and renamed over the years to make you think one set of multimillion dollar programs is better than the likes of NDSU.
Nothing could be further from the truth after Week 1. Bohl's Bison led the hit parade of Football Championship Subdivision's bum rush on the mighty Football Bowl Subdivision. Eight FCS inhabitants beat FBS schools, most notably North Dakota State -- debuting at No. 15 in the Power Poll -- knocking off defending Big 12 co-champ Kansas State.
Not just beat the Wildcats but using the last 8 1/2 minutes to drive 80 yards for the winning touchdown with 28 seconds left. There were warning flags going in -- the Bison are two-time defending FCS champs, K-State lost a load of talent -- but certainly not enough to concern the Miracle in Manhattan built by Bill Snyder.
"Now will you believe me when I say we're not very good?" Kansas State's coach asked the media after his first season-opening loss since 1989.
We found out in 2007 when Appalachian State won at Michigan that FCS schools can receive votes in the AP top 25 FBS poll. The humble Power Poll isn't going to stand on ceremony this week ranking three FCS programs.
As for Bohl, success has come in reverse. He played and coached under Tom Osborne at Nebraska. The end in Lincoln came agonizingly. Bohl was the defensive coordinator for the infamous 62-36 loss to Colorado in 2001 that laid both he and the BCS open for criticism. Despite the loss, Nebraska still went to the BCS title game that year where Miami went for 472 yards against Bohl's defense.
The next year, Kansas State ran up 415 rushing yards on Bohl's defense. Bohl was gone after the 2002 season. The classy, quiet Lincoln native remade himself in Fargo. North Dakota State moved to FCS in 2004. Since then the Bison are 81-29 -- having beaten Minnesota and Kansas along the way.
If FCS can be ranked in the Power Poll then why can't Craig Bohl be the hottest coach in all of Division I? If that turned into an FBS job in 2014, well, how would that be for success in reverse?

1. <span data-shortcode=" data-canon="Ohio State Buckeyes" data-type="SPORTS_OBJECT_TEAM" id="shortcode0"> (1): Urb set the tone for the season by going for two after the first two scores against Buffalo.

2. Alabama (2): Only in T-town is a 25-point win against a program that was won at least a share of seven conference titles since 1996 cause for concern.

3. Oregon (4): In Mark Helfrich's head-coaching debut, the Ducks cut and pasted Chip Kelly's blueprint.

4. Stanford (3): Call it a bye in Week 1 as Cardinal open this week against San Jose State.

5. Clemson (12): OK, great job against Georgia. Now, is the annual Clemson Hiccup looming somewhere down the line?

6. Louisville (10): Like a Bridgewater over troubled Bobcats, as Louisville has an easy go of it in the opener.

7. South Carolina (7): I'm totally buying Jadeveon Clowney's stomach bug last week. Look out Georgia.

8. Florida State (13): So refreshing to have a freshman Heisman candidate (Jameis Winston) without ... issues.

9. Texas A&M (6): If it all goes to hell for Johnny Football, Matt Joeckel doesn't look like a bad fallback.

10. LSU (9): Cam Cameron Effect: 448 yards, 26 first downs against quality TCU defense.

11. Florida (8): 2012 repeat? Defense, awesome. Offense, clunky. Matt Jones returns this week against Miami.

12. Georgia (5): Mark Richt thinking of banning touchdown celebrations after Malcolm Mitchell went down.

13. Oklahoma (15): First shutout since 2010 after giving up 189 points in last five games of 2012.

14. Notre Dame (11): (No) Turnover Tommy (Rees) threw for 346 yards in a romp over Temple.

15. North Dakota State (NR): Schedule suddenly gets tougher with home opener against Ferris State.

16. UCLA (17): Forty-one points in the second half against a quality Nevada team has the Bruins off to a good start.

17. Texas (19): Everything you'd want in a debut out of the program with the most returning starters -- and most money -- in the country.

18. Michigan (23): Will this turn out to be the last Notre Dame visit to the Big House in ... forever?

19. Northwestern (21): Collin Ellis tied for fifth nationally in scoring. Not bad for a linebacker (two pick sixes).

20. Nebraska (20): Might as well retire the Blackshirts. Forever. Wyoming gained 602 in the opener. Only four other FBS teams gave up more yards in Week 1.

21. Arizona State (22): No FCS issues here. Sun Devils will roll over Sac State. Wisconsin next.

22. Eastern Washington (NR): On the road, at a Pac-12 venue, Eagles scored on every possession but one against Oregon State.

23. Northern Illinois (25): Jordan Lynch's Heisman campaign gets off to fine start against Iowa, 331 yards in total offense.

24. Baylor (24): Look out for Buffalo's Khalil Mack this week, one of the best defenders you don't know.

25. McNeese State (NR): Flat-out embarrassed South Florida. Fifty-three points were the most ever scored at home on the Bulls.
Also receiving love: Towson, Southern Utah, Eastern Illinois, Northern Iowa, Washington, Fresno State. 
The movie will zero in on former Penn State coach Joe Paterno during the Jerry Sandusky sc...

Bidding for Salaam's trophy, which the auction house says was obtained legally, ends Satur...

Locksley has been the offensive coordinator at Illinois and Maryland during his coaching c...
Many NFL-eligible juniors ignore advice provided by the league and risk going undrafted each...

Snyder died in Manhattan, Kansas, on Wednesday

Locksley joined Alabama's staff in 2016