Power Poll: One-loss Auburn No. 2; can Tigers jump Ohio State in BCS?
Auburn (11-1), not 12-0 Ohio State, is the No. 2 here with a week before the final BCS standings. But in BCS history, no one-loss team has jumped an unbeaten this late.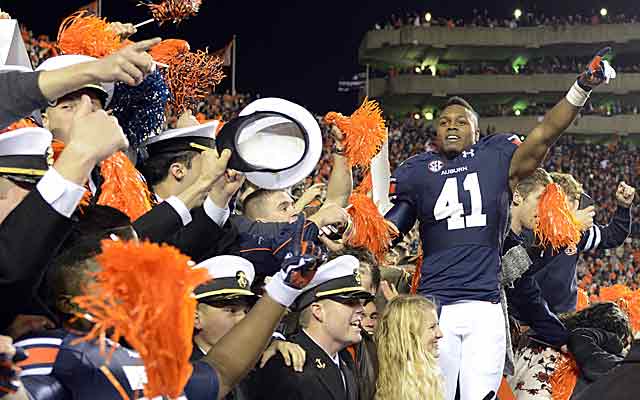 Before you ask, it's never happened.
That is, a major-college undefeated team being jumped by another major-college team with one loss in the final BCS standings.
But we have a whole week to analyze, discuss and dissect, the chances of Ohio State being jumped by what most likely would be the SEC champion for the BCS title game.
Something like it happened in Week 4 of the BCS (Nov. 10). One-loss Stanford was ahead of undefeated Baylor. That curiosity was removed the next week when Stanford lost for the second time.
It's already happened here in the second-last week of the Power Poll. Auburn jumped from No. 5 to No. 2 after that Iron Bowl for the ages. Meanwhile, Ohio State dropped from No. 3 to No. 5 after giving up 603 yards in a closer-than-expected win over Michigan.
The Power Poll essentially reflects what a large part of the country is thinking this week. Win or lose in the Big Ten title game, Ohio State should be passed for No. 2 in the final BCS.
But CBSSports.com's Jerry Palm reminded us late Saturday that there has never been such an occurrence in the 16-year history of the BCS.
It would most likely take a mass movement by the 131 coaches' and Harris poll voters to favor the SEC champion (Missouri or Auburn) over a 13-0 Ohio State.
For the system that gave us so many unintended consequences, is this the final one?
• Ohio State's best win during its 24-game winning streak had been then-No. 16 Northwestern. The Wildcats then proceeded to lose seven in a row.
Then it became Wisconsin, No. 15 in the BCS before the Badgers lost to, ugh, Penn State. Verdict: Wisconsin remains the only currently ranked team beaten by the Bucks.
Schedule strength: 61st in Sagarin.
Worth noting: Ohio State dropped from 12th to 30th in total defense after giving up 603 yards to Michigan. The Wolverines had gained less than 275 yards, total, in three of the previous four games.
• In this scenario, the winner of the SEC title game would move to No. 2.
Missouri (11-1) will have played, at most, three currently ranked teams (South Carolina, Georgia, Texas A&M). The Gamecocks dealt Gary Pinkel his only loss.
Schedule strength: 41st, Sagarin.
Worth nothing: The Tigers got to the SEC title game in their second season in the conference. The last time the conference expanded, it took Arkansas took four years to get that far. South Carolina took 18.
• The narrative is that Auburn (11-1) has the better chance of passing Ohio State because of schedule strength. It addition to taking down No. 1 Alabama, the Tigers won at Texas A&M. Their only loss was to three-loss LSU.
Schedule strength: 26th, Sagarin.
Worth nothing: Auburn is 70th this week in total defense. That would be the lowest rank for any BCS champ game participant. Auburn's defense in 2010 was 60th.
And there's still a week of analyzing, discussing and dissecting to go. Hey, it wouldn't be the BCS without its own special brand of Armageddon.
The Power Poll with a week to go ...

1. Florida State (2): All that stands between the Seminoles and a title shot is the best team in Duke history. It felt strange just to write that sentence. Blue Devils are four-touchdown underdogs.

2. Auburn (5): Lost in Lightning Strikes Twice is Tre Mason's 164 rushing yards, Steven Clark's two punts downed at the 1, Chris Davis' 10 tackles and an average drive time of less than 2 minutes, 37 seconds -- second-fastest this season.

3. Alabama (1): If Nick Saban wasn't outcoached, then maybe he over-thought things. What if that one second doesn't remain? What if two Bama kickers don't miss four combined field goals? What if those lumbering Tide lineman cover Chris Davis' field goal return? Gus Malzahn's tempo was a big factor too. Ultimately, Bama didn't have an answer.

4. Missouri (6): Who would have thought that Johnny Manziel's last regular-season game would be an afterthought? Speaking of afterthoughts, the Tigers aren't one in their second SEC season after clinching the East. Gary Pinkel ties Don Faurot for most wins (101) in school history.

5. Ohio State (3): After 24 in a row, Buckeyes face two big questions -- 1) are they the best in the Big Ten; 2) If so, do they deserve a BCS title shot? Michigan State will help answer both.

6. Oklahoma State (4): Bye. Bedlam Big 12 clinching party Saturday against Oklahoma? Could be a Big 12 changing of the guard with Cowboys winning two titles in three years.

7. Baylor (8): TCU's Gary Patterson takes the shine off Baylor's 10th win by ripping Art Briles and safety Ahmad Dixon.

8. Michigan State (9): All that's at stake is Spartans' first Rose Bowl berth in 26 years. Win over Minnesota gets Michigan State to Big Ten title game.

9. Stanford (10): There's something called the Legends Trophy and Stanford won it. Cardinal in line for second consecutive Rose Bowl and Pac-12 title after beating Notre Dame 27-20.

10. South Carolina (11): So that's what Steve Spurrier looks like with his hair all wet. Gatorade bath salutes Clemson win and Gamecocks' fourth straight season of at least nine wins (10-2).

11. Arizona State (12): If we didn't know better, it looked like Todd Graham was campaigning for something more than home-field advantage in the Pac-12 title game. Sun Devils run up 58 on Arizona.

12. Oregon (15): The look on Mike Riley's face said it all. Marcus Mariota threw the winning touchdown pass with 29 seconds left in the Civil War. Now it's time to figure out why Oregon could miss a BCS bowl for the first time in five years.

13. Clemson (7): Tajh Boyd goes 0 for 4 against South Carolina in his career. In those games he threw five interceptions and was sacked 19 times.

14. Oklahoma (16): Bye. Big 12 title will be riding on Saturday's Bedlam game at Oklahoma State. Cowboys clinch with a win. Baylor can grab it if it beats Texas and Sooners win.

15. Central Florida (18): The road to a BCS bowl will be littered with five turnovers against South Florida. If that's as bad as it gets, then the Knights are going to -- most likely -- the Sugar Bowl. All that stands in the way is a regular-season finale against SMU.

16. Fresno State (13): Any team that scores 52, gets six touchdown passes from its quarterback and loses deserves to get knocked out of BCS consideration. San Jose State does the honors with its first win over a ranked team in 13 years.

17. LSU (19): Crazy Cam Cameron doesn't sound right so we'll once again salute Crazy Les Miles in the win over Arkansas. Of course backup quarterback Anthony Jennings threw a perfect strike to Travin Dural with 75 seconds left to beat the Hogs. Crazy Les gave credit to Crazy Cam (offensive coordinator) so maybe there is credit to spread around.

18. North Dakota State (17): First-round FCS playoff bye. Top-seeded Bison face Furman in second-round game on Saturday going for three-peat.

19. Duke (24): Ten wins, two quarterbacks and one (deserving) national coach of the year. David Cutcliffe leads the Blue Devils to their best season ever and the ACC title game with win over North Carolina.

20. Northern Illinois (20): Jordan Lynch tuned up for the MAC title game with an FBS quarterback record 321 rushing yards vs. Western Michigan. Bowling Green next with a second-consecutive BCS bowl on the line.

21. UCLA (25): Jim Mora after beating USC: "We own L.A." Linebacker Anthony Barr after defeating Trojans for the second year in a row: "It's our city and it will be that way for a while." OK, we get it.

22. Wisconsin (14): Badgers may cost Ohio State some BCS love. Wisconsin had become the Buckeyes' best win prior to upset loss at home to Penn State.

23. Louisville (23): Bye. Hoping for Central Florida loss to SMU. Short of that, Cardinals can clinch 11-win season -- but not American -- with win over Cincinnati.

24. Texas (NR): If this was Mack Brown's final home game, he went out with his head held high. Convincing win over Texas Tech on Thanksgiving.
25. Bowling Green (NR): Falcons win four in a row to end the season and clinch MAC title game berth against Northern Illinois. Credit coach Dave Clawson's "Clawffense" which scored 31 or more seven times.
Also receiving love: Marshall, Rice, Ball State.
Freeman will not play in the New Mexico Bowl on Saturday

SportsLine simulated every bowl game 10,000 times for pick'em leagues and confidence pools

Grier will return to West Virginia for the 2018 season instead of entering the NFL Draft
The Chick-fil-A Peach Bowl just got spicy

Anderson had been under investigation for an incident at a bar in Cleveland County, Oklaho...

Between Arizona State and Tennessee, no one would have guessed how this coaching cycle turned...