Power Poll: Top 4 firm as stretch run for unbeatens begins
Alabama's a solid No. 1, so remaining strength of schedule is key for those after the No. 2 BCS slot. No. 3 Florida State (7-0) must top unbeaten Miami to stay in the hunt.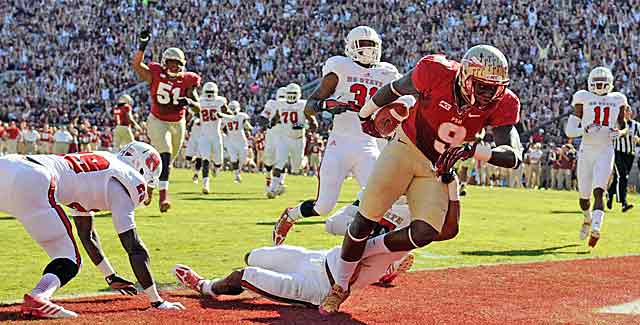 If you're going to assume No. 1 Alabama wins the rest of its games, then it comes down to a fashion show for the other championship spot during the final six weeks.
Power Poll No. 2 Oregon, No. 3 Florida State, No. 4 Ohio State and No. 5 Baylor all took care of business on Saturday by a combined score of 213-59.
A quick look down the stretch:
(Yes, I do understand there are eight unbeaten teams. In the interest of brevity and reality, we'll limit it to these four.)
Oregon. Games remaining: Stanford, Utah, Arizona, Oregon State. Conclusion: That's three above-.500 opponents. One (Stanford) is ranked. Two games in the division. Possible rematch vs. UCLA in Pac-12 championship game.
Florida State. Games remaining: Miami, Wake Forest, Syracuse, Idaho, Florida. Conclusion: Noles will get schedule strength with wins over Canes and Gators. Rest of the schedule drags them down.
Ohio State. Games remaining: Purdue, Illinois, Indiana, Michigan. Conclusion: Not counting Wolverines, Ohio State's other opponents have a combined 7-14 record. Not good. Ohio State essentially has to hope Michigan runs the table before Nov. 30 meeting.
Baylor. Games remaining: Oklahoma, Texas Tech, Oklahoma State, TCU, Texas. Conclusion: Going to need some help but the remaining schedule strength is impressive. In a 16-day November period, the Bears play the Nos. 11, 12 and 13 teams in the Power Poll. (Oklahoma, Texas Tech, Oklahoma State.)
Power Poll game of the week: Not necessarily because there are eight undefeated teams remaining. Not necessarily because that total will decrease by one with Miami traveling to Florida State. It's that in the "biggest" game of the day, the Noles are early three-touchdown favorites.

1. Alabama Crimson Tide (1): I'm not going to say there's a big drop-off after Bama in the SEC, but there's a big drop off after Bama in the SEC. The Tide had scored 104 consecutive points before Tennessee somehow crossed the goal line in the third quarter. Since 2002, one team not named Alabama has averaged fewer than double digits in scoring defense (USC in 2008). Bama currently No. 1 at 9.8 points allowed per game.

2. Oregon Ducks (2): UCLA gets some small solace. Bruins hold Ducks to their lowest-scoring game this season. Oregon led only 21-14 in the fourth quarter. Then they reeled three fourth-quarter touchdowns to cruise, 42-14.

3. Florida State Seminoles (3): No post-Clemson hangover here. Bobby Bowden plants the spear. Noles nuke NC State.

4. Ohio State Buckeyes (4): Penn State gives up its most points in 114 years. Bucks don't give up of playing for a championship. But they might have to win every remaining game 63-14.

5. Baylor Bears (6): "We had to get in synch," said tailback Lache Seastrunk whose team led 38-0 at halftime over Kansas. So what does it look like when the Bears are 'N Sync?

6. Stanford Cardinal (7): Chalk one up for Cardinal's D. Oregon State was throwing into the end zone, down by eight, with one second left Saturday night. Kevin Hogan completes only 8 of 18. Stanford is limited to 276 yards. Now comes The Wait for Oregon on Nov. 7.

7. Miami (Fla.) Hurricanes (8): "I'm not going to lie to you, just an emotional week," said coach Al Golden, speaking of the long-awaited end of NCAA's probe of his school. "Now we can breathe and move forward. I was more worried than ever this week, just because nobody was really talking about Wake. Everybody was talking about the NCAA ... I was hoping we'd have enough in the tank." Just barely. Canes set up Florida State having to come from behind twice in fourth quarter against Wake Forest to win 24-21.

8. Missouri Tigers (5): Two big obstruction plays in state of Missouri. Allen Craig at third base in the World Series and left upright getting in the way of Andrew Baggett 's overtime kick vs. South Carolina.

9. Clemson Tigers (12): Post-FSU hangover. Tigers struggle for three quarters with a Maryland team down a two-deep to injury (24 players).

10. Auburn Tigers (11): <player idref= all leaves because of a shoulder injury against Florida Atlantic. Jeremy Johnson throws two touchdown passes against Owls. Starting job up in the air for this week's game against Arkansas.

11. Oklahoma Sooners (13): Now this is more like it in the Big 12: OU wins good, old-fashioned shootout, 38-30 against Texas Tech. "You need to get some chunks," Bob Stoops said. Sooners off until Nov. 7 showdown at Baylor.

12. Oklahoma State Cowboys (14): All kinds of quarterback issues for Mike Gundy. All kinds of rushing yards (342) in win over Iowa State.

13. Texas Tech Red Raiders (10): Kliff Kingsbury suffers the first loss of his career, 38-30 to Oklahoma. GQ still interested in photo shoot.

14. Texas A&M Aggies (17): The kid won't go away will he? Manziel is the man again throwing for three touchdowns in less than three quarters against Vanderbilt. Didn't know if he would be able to go with injured shoulder until shortly before game time.

15. LSU Tigers (19): Wake-up call left for Tigers at halftime against Furman. LSU goes on 28-0 second-half run to crush the Paladins 48-16.

16. South Carolina Gamecocks (22): The best player on the field, Connor Shaw , didn't get in until halfway through the third quarter. In a comeback for the ages, Shaw completes 20 of 29 to rally Gamecocks back from 17-0 deficit on the road at Missouri.

17. Fresno State Bulldogs (16): It took overtime but the Bulldogs remain BCS non-AQ favorites, at least in this Power Poll, with a 35-28 win over San Diego State.

18. Michigan State Spartans (20): Someone is still playing defense. After Spartans stomp Illinois 42-3, they are in the top five in seven NCAA defensive categories.

19. North Dakota State (21): Bison get four touchdowns on returns, rout Indiana State 56-10.

20. UCLA Bruins (15): So much for the Burma Road of playing Stanford and Oregon in back-to-back weeks. Bruins are outscored by a cumulative 66-24 by Cardinal and Ducks. Arizona State now in control in Pac-12 South.

21. Virginia Tech Hokies (9): We all get that David Cutcliffe is doing great things at Duke, but this is simply unacceptable. The Hokies lost 13-10 at home to a team that was 0 for 11 on third downs, got outgained by 189 yards and held the ball for only 20½ minutes. Blue Devils get their first victory against Tech since 1981.

22. UCF Knights (23): Blake Bortles throws four touchdown passes in Saturday scrimmage. Wait, what? That was UConn? Really?

23. Louisville Cardinals (25): After downer against Central Florida, Teddy Bridgewater rebounds -- 25 of 29 in easy win against South Florida.

24. Brigham Young Cougars (NR): Cougars have to fight complacency after accepting Fight Hunger Bowl bid Friday following win over Boise.

25. Northern Illinois Huskies (NR): If there is a Heisman god in heaven, Jordan Lynch will get an invite to New York. Huskies' quarterback catches his first career touchdown pass against Eastern Michigan.
Also receiving love: Texas, Rice, Duke, Michigan, Minnesota, Notre Dame, Oregon State, Ball State, Iowa, Buffalo, Tulane, Houston.
Tua got plenty of action in the second half of Alabama's win at Vanderbilt

Mayfield gave Baylor a piece of his mind during warmups on Saturday

An early-season Big 12 game already has major conference and national implications
Stay with us all day Saturday for updates and highlights from Week 4 of the 2017 season

Just bros being bros out on the football field

The battle of the Bulldogs will take place Saturday night between the hedges