Power Poll: Top four remain steady, setting up Football Four for the ages
Alabama, Florida State, Baylor and Ohio State control their fates to remain unbeaten while Auburn's win sets up an Iron Bowl for the ages.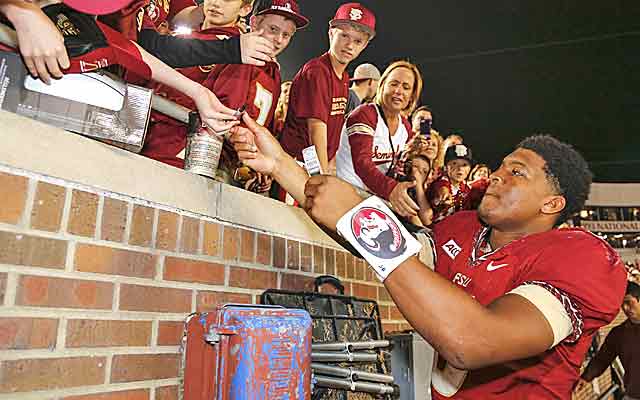 It would make a heck of a Final Four -- or Football Four since the NCAA has trademarked the former.
But this is college football and a frantic finish to Year 16 of the BCS. Six undefeated teams are left but only four that matter -- sorry Fresno and Northern Illinois -- all from power conferences, all at the top of the Power Poll.
If this was only 2014.
If it was, we'd have a Football Four for the ages. Alabama, Florida State, Baylor and Ohio State all from different BCS conferences, all controlling their own fate for unbeaten seasons.
But this being the BCS, at this point it seems a couple of teams are going to be left out. Fresno knows the feeling. NIU at least made the Orange Bowl last season. 
There was some frightful jockeying in the Football Four's games but in the end nothing changed. The Crimson Tide, Seminoles, Bears and Buckeyes remained in that order.
Of the four, mighty Alabama struggled the mightiest getting past stubborn Mississippi State. The next three won by a combined 182-72.
We can dream can't we? If the playoff started this year, we'd be looking at Ohio State-Alabama and Baylor-Florida State in the semifinals. A couple of national championship games themselves.
But if you only paid attention to the top you missed it. Down below, careers and seasons were altered on Saturday.
•No. 24 USC's Ed Orgeron has gone from position coach to national coach of the year candidate in six weeks.
•No. 10 Stanford once again had some weird play calling down near the goal line.
•No. 15 Wisconsin rushed for almost a third of a mile.
•Temple missed a chance for its first win over a ranked team (No. 19 Central Florida) in 15 years.
•No. 5 Auburn set up an Iron Bowl for the ages.
•No. 25 Duke is setting up its presence in an ACC championship for the first time.

1. Alabama (1): C.J. Mosley solidified his campaign for Nagurski/Bednarik awards (nation's best defender) -- team-leading eight tackles, one forced fumble against Bulldogs.

2. Florida State (2): Have no idea how investigation is going to turn out, but Jameis Winston seems impervious to distraction -- 19 of 21, 277 yards, two touchdowns vs. Syracuse.

3. Baylor (3): Shock and awe. For the second straight game, Art Briles' third-string tailback stars. (Shock) Linwood rushes for 187 yards in comeback win over Texas Tech.

4. Ohio State (4): And you are ...? Oh, yeah, the Buckeyes who won their 22nd in a row, scoring 60 and beating Illinois by 25. Playoff can't get here fast enough for Big Ten, Urban Meyer.

5. Auburn (8): Updating: Georgia was beaten by the nation's 50th-rated passer (Nick Marshall), guiding the nation's 104th-best passing offense. Not that it needs to hurt any more, Dawgs.

6. Missouri (6): Bye. No excuses for Tigers down the stretch. Beat Ole Miss and Texas A&M and they win SEC East in only their second year in the league. That would be one of the most amazing stories of 2013.

7. Oregon (7): Look who's back in control of the Pac-12 North. These are the Ducks we remember -- before Stanford. A healthy Marcus Mariota throws for 288 yards in rout of Utah.

8. Oklahoma State (10): Cowboys set up Big 12 game of the year Saturday against Baylor with win over Texas. How in the holy heck did Oklahoma State lose to West Virginia? That lone loss is becoming the Iowa State of 2011 for the Cowboys. It may be all that separates Mike Gundy from a championship shot.

9. Clemson (9): Waaaay back on Thursday, Tigers ran over Georgia Tech to stay in BCS bowl contention.

10. Stanford (5): Buried in a disappointing loss to USC is this disappointing nugget for Larry Scott -- Pac-12 is all but out of the national championship race.

11. Michigan State (13): Spartan Dawgs force five turnovers against Nebraska. Supposedly suspect offense has scored at least 29 in four of past five games. Michigan State clinched at least a share of Legends Division title. Big Ten title game is getting juicy.

12. Texas A&M (11): Bye. Johnny Football's back-to-back Heisman campaign continues at LSU. This is becoming doable, people.

13. South Carolina (12): Surprisingly pesky Gators eventually become victims of Gamecocks' 16th consecutive home win. Is 6-2 good enough to win the SEC East?

14. Fresno State (14): Bye. Bulldogs can clinch Mountain West West with win over New Mexico this week. Yes, Mountain West West.

15. Wisconsin (15): Not many rushing performances measured by drag strips. Wisconsin's 554 yards against Indiana has nothing on the quarter mile. Badgers ran for a third of a mile or, 18 percent of their season rushing total in one game.

16. UCLA (17): The last Bruin to rush for four touchdowns was Maurice Jones-Drew. Yeah, but Mojo couldn't play linebacker like Myles Jack.

17. North Dakota State (16): No. 1 Bison (FCS) nail down third consecutive Missouri Valley title and 19th consecutive win with victory over Youngstown State. Power Poll ranking looking more solid all the time with Kansas State having won four in a row.

18. Oklahoma (18): Bob Stoops ties Barry Switzer's school record for wins (157) with laugher over Iowa State. "Coach Switzer is the best," Stoops said.

19. Central Florida (19): J.J. Worton made the best catch ever against Temple. I will fight you in the street to defend that statement. Knights keep BCS bowl hopes more than alive.

20. Arizona State (20): Sun Devils knock off Oregon State to set up Pac-12 South showdown with UCLA. "Everything we've worked for is in the 60 minutes of this next game," ASU coach Todd Graham said. "I ain't going to lie to them."

21. LSU (21): Bye. Best three-loss team in the country about to face off against Johnny Football. Heisman history may be coming to Baton Rouge.

22. Northern Illinois (23): Huskies pulled away late against Ball State to keep fading BCS bowl hopes alive. Fresno State all but controls own destiny for at-large BCS berth.

23. Minnesota (24): Bye. Brick By Brick continues this week as Wisconsin comes to town. The whole Jerry Kill-in-press box thing has worked out well. Gophers have won four in a row.

24. Southern California (NR): The case for Coach O -- Trojans won at Oregon State for the first time in a decade, beat Stanford for the first time in five years. The case against? Not much, really. Sometimes the best hire is the one you don't make. "We want to run through a brick wall for him," linebacker Hayes Pullard said after Stanford win.

25. Duke (NR): Words we thought we'd never read -- Blue Devils take over first in ACC Coastal and control their destiny for conference championship game. Time for Cutcliffeville?
Also receiving love: Kansas (first Big 12 win in three years), Kansas State, Cincinnati, Vanderbilt, Buffalo, Andre Williams (ACC-record 339 rushing yards against N.C. State), East Carolina, Louisville, Rice, Colorado State (bowl eligible under good-guy Jim McElwain), Bowling Green, Marshall.
Expert picks for the top games during Week 8 of the 2017 NCAA football season

Leach wants a rally outside Texas Tech's stadium for $2.5 million he believes he is owed

It's the beginning of the end for a number of teams with College Football Playoff hopes
Every season has early surprises, but which ones are most capable of finishing the job?

Our computer model simulated every Week 8 college football game 10,000 times with surprising...

The bye weeks means there's more time for Smart to hit the recruiting trail