Power Poll: We've seen this before, but Georgia rockets to top
Georgia roughs up Clemson and leaps to the head of the class. Auburn isn't far behind, but Alabama takes a tumble.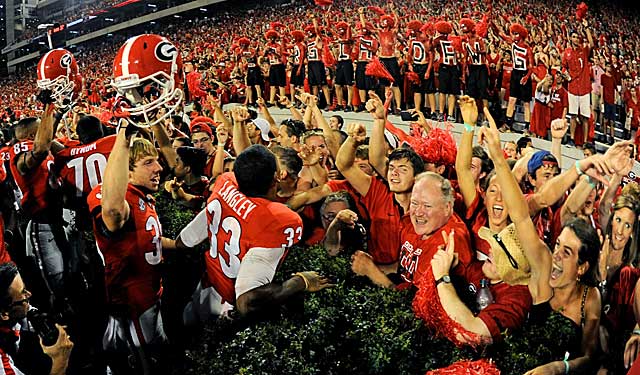 Suddenly, South Carolina looks vulnerable. Todd Gurley looks invincible. Florida is just looking to play. Hey, and how about those Temple Owls?
To assemble the first regular-season Power Poll this particular human selection committee (of one) didn't get fancy. It sequestered itself in a back room of Waco's famous George's and ordered the Club Tacos. That'll expand your mind.
New this year -- a weekly look at how the New Year's Six bowls would line up based on the ol' PP.
National semifinals
Suger Bowl: No. 4 Oregon vs. No. 1 Georgia
Rose Bowl: No. 3 Michigan State vs. No. 2 Auburn
The Other Bowls
Orange: Florida State vs. LSU
Fiesta: Stanford vs. Ohio State
Cotton: Baylor vs. Texas A&M
Peach: Marshall vs. Oklahoma

1. Georgia (12): Face it, the Dawgs look like the class of the SEC after Week 1. But Georgia has been The Big Tease before. We won't have to wait long to find out. The wounded Gamecocks await on Sept. 13.

2. Auburn (7): The SEC just got (even more) interesting. With Georgia and Auburn the two best teams, we have to reassess our perception. Here's an obvious one: Tigers have the best quarterback situation in the state of Alabama.

3. Michigan State (3): Big Ten soars or falls this week with the Spartans traveling to Eugene. Call it Blur vs. Brawn. Didn't learn much in a drubbing of Jacksonville State.

4. Oregon (4): Marcus Mariota gets a huge test this week against the Spartan Dawgs. A piece of advice, Marcus: Think twice about breaking the pocket against Michigan State's defense.

5. Oklahoma (10): During an opening week when some super powers sputtered, the Sooners were solid. Trevor Knight threw for 253. Running game went for 183. That's balance. That's also one week against Louisiana Tech.

6. Florida State (2): A case of Attention Deficit Disorder for the Noles. Up 17-0 against Oklahoma State, they let the Cowboys hang around way too long. FSU's still powerful but playing against itself now in quest for repeat.

7. LSU (11): One of the more significant comebacks of the Miles era. Down 24-7 to Wisconsin, the Tigers stormed back to win by four. Forty-six game regular-season nonconference winning streak expected to reach 48 in next two weeks (Sam Houston State, Louisiana-Monroe).

8. Texas A&M (NR): Another year, another Heisman Trophy candidate. Kenny Hill was barely touched in throwing for 500-plus at South Carolina. Aggies suddenly a factor in SEC West.

9. Baylor (14): Bryce Petty is day-to-day because of a bad back. It doesn't look like an injury that will linger. It also doesn't look like it will matter this week against Northwestern State. Shutout of SMU was first over an FBS opponent in 19 years.

10. Stanford (13): "Our opponents are nameless and faceless," according to Ty Montgomery. Not this week. Those are real live Trojans coming to Palo Alto this week. You might say there's bad blood.

11. Ohio State (6): It could have been worse. The Buckeyes did give up 370 rushing yards but found some playmakers. They also may have found themselves. The J.T. Barrett thing just might work out.

12. Alabama (1): "Tide Wins With Lane Kiffin At The Controls." Think how mind-blowing that headline would have looked a year ago. The issue isn't so much an offense finding itself, it's a suddenly questionable D.

13. USC (20): Josh who? Trojans destroyed the hopes and dreams of New Year's Six hopeful Fresno State. Have we been sleeping on Cody Kessler? Up next: Stanford, which has has won four of the past five and five of past seven.

14. UCLA (9): Issues, issues and more issues. The offensive line can't protect. Virginia hung around too long. But, hey, this is Cali. No worries, dude. "First games are always a crapshoot," Jim Mora Jr. said.

15. Notre Dame (NR): In his first game in 19 months, Everett Golson accounted for five touchdowns and looked like a Heisman candidate. A lot of us were looking for vulnerability against Rice. A lot of us were wrong.

16. Kansas State (16): Bill Snyder and Iowa State's Paul Rhoads can meet at midfield this week to commiserate. Both have lost to North Dakota State -- Snyder last year, Rhoads last week.

17. Nebraska (22): Ameer Abdullah coming off career game vs. Florida Atlantic. The nation's leading returning rusher went for 232 yards in 2½ quarters. More stat-padding ahead against McNeese State.

18. Marshall (8): If the Herd are going to stay in this particular top 25, they're going to have to start blowing people out. Rakeem Cato threw a touchdown pass in his 33rd consecutive game in a closer-than-expected victory against Miami (Ohio).

19. Texas (19): Devastating news about David Ash. Just when the defense was looking Strong. The offense will also have to deal with the loss of center Dom Espinosa.

20. Ole Miss (NR): Clunky for three quarters against Boise, then a blowout. Watch for Colorado State's Dee Hart this week. The former Alabama five-star back is coming off a breakout game against Colorado.

21. Arizona State (21): Way back on Thursday night, D.J. Foster ran for three touchdowns against Weber State. Must stay focused until UCLA on Sept. 25.

22. South Carolina (5): Gotta get the secondary fixed. First, gotta get the front seven fixed. Kenny Hill was barely touched. Mike Davis (ribs) just has to get fixed. Don't sleep on East Carolina.

23. Iowa (23): Iowa almost lost to a region of Iowa (Northern Iowa). Now comes the annual threat (or two) of a MAC upset of the Big Ten (Ball State). Cardinals' Pete Lembo is 2-2 vs. Power 5, 2-0 against the Big Ten. Gulp!

24. BYU (NR): It was only UConn, but last year it was only Virginia in the opener and the Cougars were upset. A season-defining trip to Texas awaits. Ash's injury makes the prospects a bit brighter.

25. Temple (NR): Could have been North Carolina State in this spot. Could have been East Carolina. We'll go with the Owls to bring up the rear, walking into Vandy and beating the Commodores by 30. Only SEC non-con loss of the first week.
>> Want more college football? Week 1 lessons
Getting Leavitt back was obviously high on Cristobal's list of priorities

Cristobal's first game at Oregon ended the same way Chip Kelly's did

Conner Manning and the Panthers dominated the Hilltoppers in the Cure Bowl
You can only go to the well so often before it dries up

The Trojans beat LSU earlier in the year and now have their first 11-win season as a FBS t...

Saban has never been a fan of the early signing period and made it clear that hasn't chang...