PredictionMachine.com projects USC to take BCS title over Alabama
After 50,000 computerized simulations of the season, PredictionMachine.com projects USC to knock off Alabama for the national title. Simulation designer Paul Bessire explains why.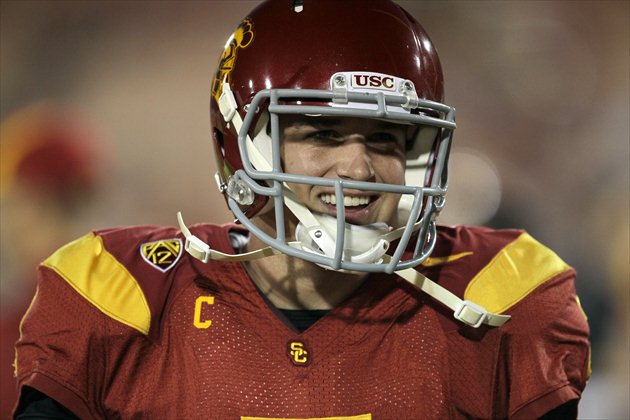 Matt Barkley and Co. have a championship smile at the end of their 2012 season? (Getty Images)
There's never any shortage of preseason computer projections at this time of year, and not all of them stick to the script--the Eye on College Football's initial simulated spin through NCAA Football '13, for instance, gave us a national championship showdown between Arkansas and Kansas State.
But "The Machine" at PredictionMachine.com has come up with a final BCS projection that comes much closer to what most college football pundits and fans are expecting. According to designer Paul Bessire, its 50,000 simulations of the season name USC vs. Alabama the most likely BCS national championship game, with the Trojans coming out on top due to "matchup advantages" by an average score of 26.5 to 20.2.
That's despite Alabama being the No. 1 team in the Machine's "power rankings" and the best team in the nation's most powerful conference. Even if USC is more likely than any single SEC team to make it to Miami, thanks to the number of legitimate SEC contenders, that depth also means, per Bessire, that "the SEC this year is as close to a lock as we have ever seen to put at least one team into the BCS title game."
Other BCS teams, according to the "Machine," include Michigan and Oregon in the Rose Bowl, LSU and West Virginia in the Sugar, Florida State and Louisville in the Orange, and Oklahoma and Wisconsin in the Fiesta.
We asked Bessire a few questions about his predictions and he responded:
You mention that Alabama ranks higher in the Machine's "Power Rankings" but loses out head-to-head due to "matchup advantages." What kind of advantages is the Machine seeing for the Trojans in this matchup? 
"USC wins over Alabama in that specific matchup in a similar way that many teams that lack the overall strength and depth in a matchup can win, with passing and pace. We would expect USC to push the tempo and to succeed in doing so, while exploiting the weakest area of Alabama's defense (if the Crimson Tide has one)--its inexperienced (as starters at least) secondary.
"Recent SEC teams have rarely faced excellent deep passing teams that can spread the ball around the field well (without using gimmicks) and no team will have faced a passing offense with a quarterback and wide receiving corps this strong. That seems to be the Trojans' advantage in this matchup even though Alabama's roster is better and deeper."
Even most SEC fans might be surprised at having three of the league's teams in the FBS top four, as you project. Why does the Machine like the SEC so much?
"It's not necessarily that the numbers love the SEC; it's that the Predictalator loves the teams in the SEC and, more importantly, the consistently high level of talent, depth and coaching that makes up those teams. The machine does not know that the SEC has won seven consecutive BCS Championships, but it can tell from evaluating the rosters that these teams are better than most others not in the SEC. For this season, the average SEC team returns 14 starters and the teams that experience the greatest turnover (like Alabama and LSU) are littered with tremendous recruits and previous experience against elite opponents.
"An important clarification to make about our power rankings is that, with those rankings, we are not attempting to project where we expect teams will finish in the final BCS standings. We want to know who are the best teams. To do this, we simulate all 124 teams against each other and rank in order by the winning percentages of the teams that win the highest percentage of those games. Right now USC is the most likely team in FBS to go undefeated. If Alabama, LSU or Georgia were in any other conference, they would likely hold that distinction."
The Machine seems to stick somewhat closely to the current preseason consensus--USC and Alabama as BCS favorites, Wisconsin and Michigan on top of the Big Ten, Oregon, Oklahoma, West Virginia all having good seasons. Is there a team or two that didn't quite make the BCS projections the Machine might tab as a potential sleeper? 
"Technically we have <span data-shortcode= State" data-canon="Ohio Bobcats" data-type="SPORTS_OBJECT_TEAM" id="shortcode0"> winning the most games of any team in the Big Ten, but the Buckeyes are not eligible for a BCS bowl (or even the Big Ten Championship game). We do not have a single non-BCS team in our Top 25 overall (and UCF, which ranks No. 30 and projects to have the best non-BCS record is not eligible for a bowl), so any sleeper would have to come from a BCS conference.
"The teams in each league that fall just short of a BCS bowl in our analysis are: Clemson (ACC, 9 projected wins), Texas (Big 12, 9 wins), USF (Big East, 8 wins), Nebraska/Michigan State (Big Ten, 8 wins), Utah (Pac-12, 8 wins), and Georgia (SEC, 11 wins).
"That being said, I recently was asked to select sleeper teams in each conference that we projected to have breakout seasons relative to public opinion. These are the teams in each BCS conference that I chose based on our numbers: North Carolina (ACC, 8 projected wins), Texas Tech (Big 12, 7 wins), Louisville (Big East, 9 wins), Minnesota (Big Ten, 6 wins), UCLA (Pac-12, 7 wins), Tennessee (SEC, 8 wins)."
Oliver's star has already been born, but 2018 is when it will truly be recognized

Craig Kuligowski is reportedly leaving Miami to take the same job with Alabama

BT Potter is about to be very popular in the Clemson locker room
McElwain will coach receivers and help coordinate the offense for the Wolverines

Nathaniel Watson Jr. was involved in a car accident that injured a passenger in early Febr...

The honorable Tom Fornelli presides over the ASU vs. UM case