Princeton's Epperly makes a run at Payton Award
Quinn Epperly ended up losing a scholarship to Texas A&M star Johnny Manziel, but the Princeton Tigers sure are glad to have him as the QB makes a run at becoming the first Ivy Leaguer to win the Walter Payton Award as the top FCS player in the country.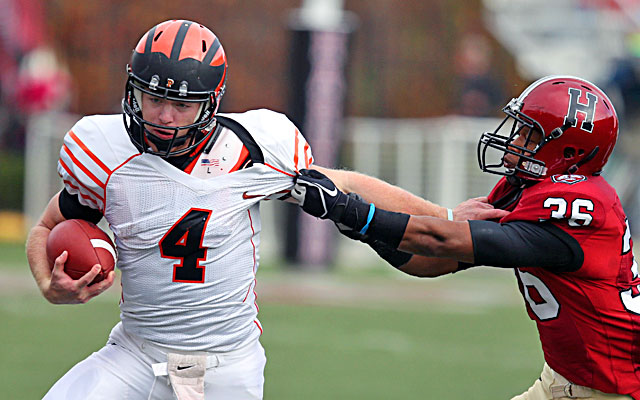 Think the Heisman race is tough to get a read on? Try the chase for the Walter Payton Award, honoring the top FCS player. There's a bunch of familiar names among the 20 finalists: Southeastern Louisiana's Bryan Bennett, the former Oregon QB; Alabama State's Isaiah Crowell, the former Georgia tailback; Eastern Illinois' QB Jimmy Garoppolo, the guy who has NFL scouts buzzing. Then, there's Princeton QB Quinn Epperly, a dual-threat guy who has helped spark a stunning resurgence in the Tigers program since he left Knoxville for the Ivy League.
Epperly is the brother-in-law of Texas A&M director of football operations Gary Reynolds, a guy who spent 15 years as an NFL front office man. The two-time all-state QB was on the Aggies recruiting board after impressing Mike Sherman's staff at one of their summer camps. A&M, which was only going to sign one quarterback that season, was pursuing a few other QBs higher on their board. About a month into the football season, the Aggies ended up taking a commitment from an in-state dual-threat kid. His name: Johnny Manziel.
Epperly bypassed the opportunity to walk-on at A&M. His other options were Princeton, New Hampshire and Austin Peay. He opted for the Ivy League, joining a program that had just gone 1-9.
"I didn't want to walk-on at a bigger Division I school," he said Tuesday. "I think walk-ons often don't have a fair shot at playing."
The 6-1, 220-pounder, who threw for almost 6,000 yards and 61 touchdowns in his final two years of high school, says he suspects some FBS programs didn't offer him because they were skeptical of his arm strength. However, Epperly's diligence refining his throwing mechanics sure seem to have paid off for Princeton, which runs a spread scheme the QB says is similar to Oregon's in style. This season, Epperly had a 25-3 TD-INT ratio to go with a 68 percent completion rate. He also ran for 18 TDs.
Epperly's stock has taken off since a game earlier this month against Cornell and its own touted pro QB prospect Jeff Mathews. The Tigers won 53-20 behind Epperly's six TD performance -- three passing and three rushing -- on a 32-35 passing day. There were 12 NFL scouts in attendance. He also set a school record with 31 straight completions over a two-game stretch. (The week before, Epperly threw an Ivy League-record six TD passes to beat Harvard 51-48 to snap the Crimson's 15-game home winning streak.)
The Tigers bid for an outright Ivy League title though, was derailed when they stumbled against Dartmouth, 28-24 in the season finale last Saturday. Still, the Princeton program that was picked to finish fifth in the conference in the preseason, went 8-2 this year to claim a share of the Ivy League title.
"I thought it was a great season as far as all we accomplished even though it was a little disappointing to lose that last game," he said, noting the program went from 1-9 in 2011 to .500 last season. "We ended up sharing the (Ivy League) title. It was still an awesome year."
It'd have an even better ending if he can become the first Ivy Leaguer to win the Payton Award.
"It'd be an awesome honor," said Epperly. "It's just a huge honor to even be considered for it."
Oliver's star has already been born, but 2018 is when it will truly be recognized

Craig Kuligowski is reportedly leaving Miami to take the same job with Alabama

BT Potter is about to be very popular in the Clemson locker room
McElwain will coach receivers and help coordinate the offense for the Wolverines

Nathaniel Watson Jr. was involved in a car accident that injured a passenger in early Febr...

The honorable Tom Fornelli presides over the ASU vs. UM case