Proposed NCAA rule would ban Boise all-blue home uniform
The Broncos have gotten the OK from the Mountain West to wear their all-blue uniforms on the Smurf Turf. But it looks like the NCAA will step in, anyway.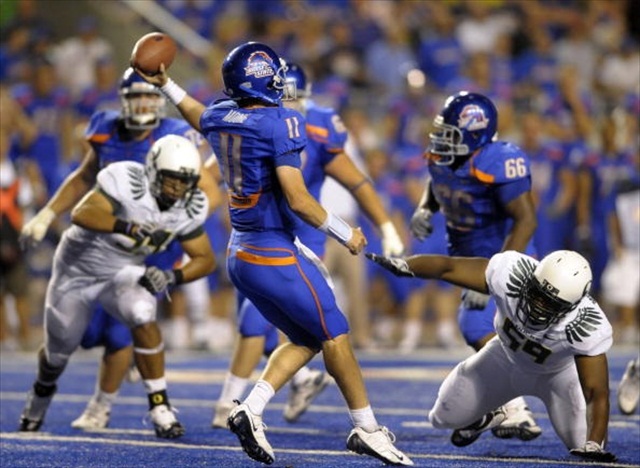 A potentially endangered sight: all-blue uniforms on the Boise Smurf Turf. (US Presswire)
Boise State's all-blue uniforms can't catch a break.
First, rivals like San Diego State coach Rocky Long called them unfair, helping lead to a Mountain West conference ban on them on the Broncos' famed Smurf Turf. Things looked like they'd turned around for the uniforms when Boise bolted for the Big East and got even better when the Mountain West agreed to waive the ban as part of the Broncos' readmittance to the MW.
But the recommended changes announced Wednesday by the NCAA Rules Committee would see the Bronco all-blues re-consigned to the college football fashion history books, at least where Boise's home games are concerned. Though the proposal to eject players flagged for targeting defenseless players drew most of the announcement's attention, the following section was also included in a list of other proposals:
To require teams to have either their jersey or pants contrast in color to the playing field.
Boise won't be the only team potentially affected by the change; teams like Oregon or Michigan State would no longer be permitted to wear all-green uniforms (or so it would appear), Eastern Washington couldn't go all-red, and maybe Central Arkansas won't be able to wear uniforms with alternating gray and purple stripes.
But, of course, none of those uniforms has been called an unfair advantage by opposing coaches or been banned by their teams' respective conferences -- which is why the loudest, longest opposition to the recommendation (which isn't official yet) is likely to come from Boise.
Locksley joined Alabama's staff in 2016

Saban reportedly wants to hire Freeze, but there may be things keeping that from happening

Florida State-Miami will be on Oct. 6, and the Seminoles will play Clemson on Oct. 27
Weis Jr. was an offensive assistant for the Atlanta Falcons in 2017

Lott is joined by three current athletic directors and will serve a three-year term

These are the top guys every school is still chasing