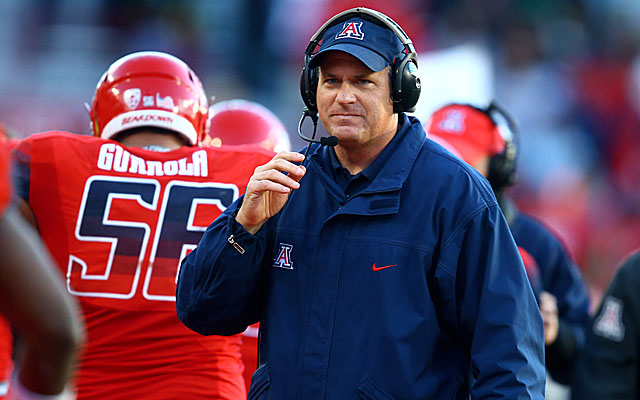 In the space of three days, it has become personal -- really personal -- this defensive substitution proposal. It is now a national story pitting coach vs. coach, conference vs. conference and football principles against each other.
"There seems to be a line drawn along the philosophy of how you like to play the game," Duke's David Cutcliffe said.
The NCAA rules committee proposed Wednesday a 10-second wait before each play so defenses can substitute. While it sounds really inside baseball, for now it has forced the sport to take sides.
Finesse vs. brawn. Traditional vs. new wave. Hurry-up vs. wait-and-see.
Arizona's Rich Rodriguez is one of the godfathers of the scheme that is at the heart of the argument -- the zone read spread hurry-up offense. He sees the proposal as a loaded gun aimed at the heart of what he does. His ability to run his offense effectively, he says, would be severely impacted if the NCAA rules committee proposal goes through.
"It's obvious where it's coming from," Rodriguez said. "The [coaches] that don't want to go against [hurry-up offenses]. They're trying to eliminate it from the game. The reason given is player safety. C'mon, you think their guys aren't getting hurt going against the power [offense] in practice?"
More than that, he says there is an "agenda" disguised in the proposal against so-called hurry-up coaches. USA Today first reported Thursday that Arkansas' Bret Bielema and Alabama's Nick Saban were in Indianapolis for the NCAA rules committee meetings.
Bielema is listed as chairman of the AFCA rules committee, which acts in an advisory role to the NCAA rules committee. SI.com reported Saban spoke during a 1 1/2-hour open "rules discussion".  Both have been outspoken opponents to hurry-up offenses citing player safety.
"I don't say they're behind it but did they influence the [NCAA rules] committee?" Rodriguez asked. "If they went and talked to some of them ... they obviously did. They've been outspoken on the pace of play."
Neither Bielema nor Saban responded to requests for comment.
What we have going forward is quite a tiff among college football's Millionaire's Club. OK, we're talking the Football Bowl Subdivision coaches -- average salary approaching $2 million. That's a fairly upscale club, but a line has been drawn, a subdivision of beliefs created.
Among the pace-of-play proponents, the proposal is considered a blow against the hurry-up empire. Especially since the rationale is player safety, essentially to protect dog-tired defenders from being injured.
"[Don't change] a fundamental rule that's been in football for 100 years," Rodriguez said, sarcasm dripping. "If you want to talk about safety, it's probably not safe to have double teams. You better not gang tackle, two guys hitting a guy is more dangerous than one."
Secretary-rules editor Rogers Redding already has admitted there is little "hard data" to support the player-safety angle. Rodriguez gladly referenced the site cfbmatrix.com, which has measured pace of play vs. injuries. The site is run by Dave Bartoo, a 42-year old who works in bank and credit union mergers.
According to his data:
• The Big 12 is the lightest (combined players' weights) among the five BCS leagues (Pac-12, SEC, Big Ten, ACC are the others). Its players have participated in the most plays among BCS conferences from 2009-2012. Lightest teams running the most plays. Bartoo found the conference is last among those five leagues in starts lost to injury.
• From 2010-2012, Alabama was in the bottom 10 among BCS conference teams in plays per game. Saban lost a total of 30 starts to injury, 21 of those came against the bottom five teams in pace of play.
• Everyone agrees Oregon is one of the quickest-playing teams in the country. In four seasons from 2009-2012, the Ducks lost 18 total starts on offense.
• In 2012, the 15 fastest teams (plays per game) ran 2,700 more plays overall than the slowest 15 teams. The combined starts lost to injury of the 15 fastest teams were eight fewer than the slowest 15.
So much for those big, bad hurry-up offenses that endanger the health of our youth.
Several coaches took to Twitter this week to express their displeasure. They gladly picked up the phone to speak to inquiring reporters. For the love of Rockne, Cutcliffe even held a media conference call Friday afternoon to discuss the subject. Cut was among several coaches who said the subject was not the comprehensive agenda of the annual FBS head coaches meeting last month at the AFCA convention.
"All the coaches that I have spoken with, we felt blindsided by this," he said. "I had no idea this was on the table."
The subject was discussed in front of that AFCA rules committee according to CBSSports.com's Jeremy Fowler.
Now those coaches caught by surprise are in scramble mode. Oklahoma State's Mike Gundy went on what can only be described as a Twitter rant this week.
"Why change our sport at the peak of its popularity?" he tweeted.
Helluva question.
Why screw with a good thing? The game has never been more entertaining or popular or controversial. As more than one media consultant has stated, sports is the ultimate reality television. If that's true, college football is reality TV in warp drive -- making "Housewives of Beverly Hills" seem like C-Span.
That's why a mere proposal to adjust substitutions has caused such a freak out. Among the reactions gleaned from radio, TV, internet and the street:
• If this is such a player-safety issue, why now? Up-tempo offenses have been around for at least a decade.
• Offenses have taken over. This can be interpreted as a thinly disguised attempt to reel in those runaway scoring machines -- get back to good, ol' meat-and-potatoes football. The top six teams in 2013 total offense have combined for eight outright conference titles, seven BCS bowls, a Heisman and a national championship ... in the last four years. (Baylor, Oregon, Fresno State, Texas A&M, Northern Illinois, Florida State).
• The ultimate irony of the proposal: Offenses would be penalized for delay of game for trying to speed up the game. (Snapping the ball within the first 10 seconds.)
Think of this brain teaser: The defense jumps offside within the first 10 seconds of the play clock. The offense then snaps the ball, as it should, figuring it has a free play.
Who gets penalized? Defense? Offense? Offsetting?
• If the proposal passes, hurry-up offenses couldn't hurry up. Defenses would be able to time the snap to some degree because play couldn't start until there are 29 seconds left on the 40-second clock.
And what about the team down by two touchdowns with six minutes left? The art of the comeback would be altered with offenses having to wait those 10 seconds on each play. (The rule would not be in effect during the final two minutes.)
Now the issue is in front of the Playing Rules Oversight Panel for final approval. The panel has been around since at least 1996 and oversees several sports, not just football. Only four of the 11 members come from FBS football conferences/schools. (See the entire roster here.)
Still, coaches are becoming aware that the panel includes no BCS coaches. In fact, the only members with BCS affiliation are Pac-12 commissioner Larry Scott and Michigan State senior women's administrator Shelley Appelbaum.
(To be fair, some of that is because of the required composition of the panel.)
"It's crazy it's now to the point, it's in front of an oversight panel," Rodriguez said. "How many of those folks understand football? It makes you nervous they could pass a rule that, to me, is a fundamental mistake."
After a comment period, the panel is due to meet by conference call March 6 to decide what is -- as of now -- the biggest issue of the offseason.