PSU's James Franklin unafraid to upset a few coaches on way to success
James Franklin considered the the SEC coaches' problems with his satellite camp in Atlanta a good thing for Penn State, which means he's not trying to placate his peers.
• 3 min read
More college football: Jon Solomon | Dennis Dodd | Jeremy Fowler | Latest news
James Franklin might as well thank all those SEC coaches for the name-dropping in Destin a few months ago.
The most talked about coach at SEC spring meetings wasn't even there. It was Franklin, whose Penn State staffers worked as guest coaches for a Georgia State camp this off-season. This method prompted SEC coaches -- who can't hold camps outside a 50-mile radius per league rules -- to speak out on the issue and press the league to loosen its stance.
How could Franklin have the Nittany Lions come into the SEC's fruitful Atlanta area as a Big Ten coach?
For the same reason Franklin, first day on the job, announced his plans to "dominate" the Northeast region in recruiting. And the same reason why he'll treat Monday's Big Ten media days session in Chicago like a stop on a Penn State campaign trail.
He's not trying to placate his coaching peers.
"Whatever I can do to make Penn State competitive nationally, that's good for Penn State as a whole," Franklin, the former Vanderbilt coach, told CBSSports.com last week about the satellite camps. "I was surprised [by the backlash] because I didn't know where it was coming from. People have been doing that a long time. But the attention wasn't a bad thing for us at all."
Franklin is taking the well-worn path of Urban Meyer, Nick Saban and others who've aimed for results without fear of losing points in the coaching community or the need to foster some beloved persona.
Better win. Better recruit. Being friendly only goes so far when pumping out 7-5 seasons.
So, yeah, there's zero chance Franklin is about to backtrack on his Atlanta trip.
"We all would love to do your job and keep everybody happy, but that's not going to happen," Franklin said. "I support best practices. We're about working within [the rules] to give us the best chance to improve."
So the choice seems easy for Franklin: Do everything aggressively. That starts with recruiting, the area where Franklin can give his biggest jolt to the Big Ten.
Though Franklin's first recruiting class fell short of powers Ohio State and Michigan in the 2014 rankings, he has pushed the Lions to a No. 6 national ranking thus far in the 2015 chase.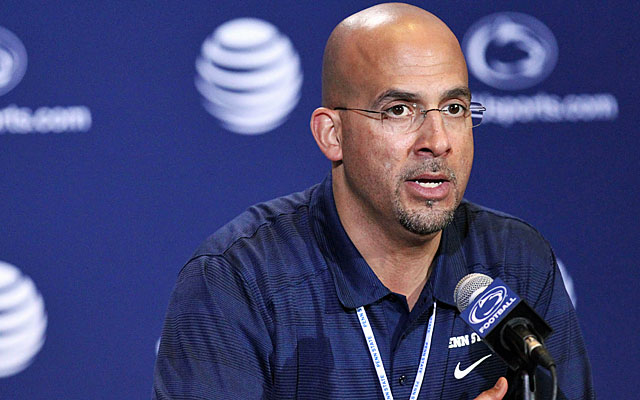 For a lasting effect, Franklin's efforts must persist beyond good-on-paper teams and slick press conferences and sweeping statements. Penn State's too important.
Whether Franklin succeeds or busts, he's going to do so as a sniper. He'll get players, and he'll get numbers in Beaver Stadium. He'll cast a wide net nationally and relish head-to-head recruiting.
That perceived gentlemen's agreement in the Big Ten? That hasn't stopped Meyer, and it probably won't stop Franklin.
"We just can't allow other schools to cherry-pick our region," Franklin said. "We need it where within six hours of campus we're a problem. In the mid-'80s, how many prospects in our region was Penn State losing?"
This ain't the mid-1980s in State College. Unless the NCAA feels generous, Franklin's team won't go bowling for another two seasons. Former PSU coach Bill O'Brien went 8-4 and 7-5 in two seasons but was praised for holding together a fractured program.
There's hardly a guarantee Franklin and newly hired athletic director Sandy Barbour will get the same grace period. The Sandusky scandal is almost three years old. A true transition seems attainable now.
Having arguably the Big Ten's most talented quarterback not named Braxton helps matters. Christian Hackenberg could have a beastly year.
If Penn State adopts the same edge that Franklin used to irritate SEC coaches, the teams up North will be just as annoyed soon enough.
"They believe right now we could beat the Green Bay Packers," Franklin said about his team's off-season enthusiasm.
The Tigers are going worldwide for their next punter

Led by Heisman Trophy winner Baker Mayfield, the Big 12 finished with seven first-team sel...

Schiano would have made $4.4 million in Year 1 with annual raises as part of a six-year de...
Dykes spent this season as an offensive analyst at TCU

The 'Wyoming Wild Man' notched six tackles for loss as a junior in 2017

Zaycoven Henderson was charged with aggravated assault with a deadly weapon