Purdue QB Rob Henry apologizes, quits Twitter after loss
Purdue quarterback Rob Henry apologized to fans on Twitter after the Boilermakers' 42-7 Week 1 loss at Cincinnati.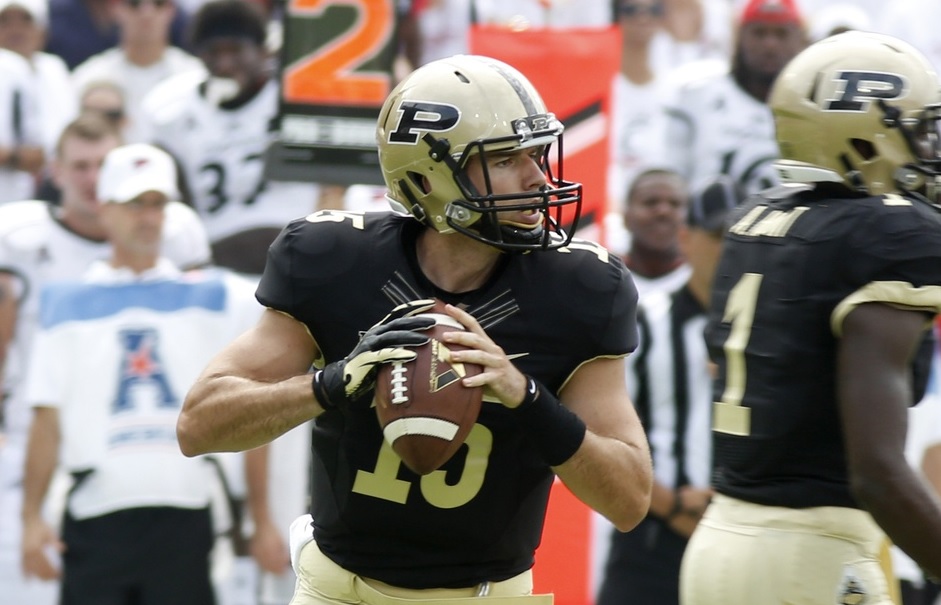 Things didn't start off that badly for Purdue in their season opener against Cincinnati Saturday; the Boilermakers scored a touchdown late in the second quarter to tie the game at 7, and at that point were virtually even in the box score. It might have been best if Boiler fans just quit watching then, though, as the Bearcats scored the game's final 35 points in a 42-7 laugher.
Not surprisingly, Purdue senior quarterback Rob Henry wasn't happy with that performance, and particularly with his own. He took to Twitter to apologize to Boiler supporters afterwards ... and swear off of Twitter for the time being:
I apologize to all my family, teammates, friends and fans. My performance today was unacceptable. Never played that bad in my life

— Rob Henry (@RobHenry15) August 31, 2013
Staying off twitter for a while because there obviously needs to be a lot more work done and a lot less talking on my part. #BoilerUp

— Rob Henry (@RobHenry15) August 31, 2013
Is Henry being too hard on himself? Well ... "unacceptable" is a really strong word. But no, 18-of-35 for 161 yards (4.6 yards per-attempt), two interceptions without a touchdown, and a fumble isn't good. (Henry did score the Boilers' only touchdown on a 7-yard run.)
The good news is that there's still time for Henry to settle down in coach Darell Hazell's system and improve before the Big Ten slate rolls around -- and he won't even be distracted by Twitter!
HT: BTN
Florida's roster got a boost on Tuesday with the return of several key members of the prog...

Tom Hutton joins the ranks of former Aussie rules footballers joining the college football...

The freshman is already on Heisman lists after throwing the walk-off score in the national...
These seven teams should make the most noise down the homestretch towards signing day

Air Force was forced to cancel 11 athletic events because of the 69-hour government shutdo...

Olson has a lot of the tools offensive coordinators want in a quarterback