Purdue safety Landon Feichter breaks leg
The Purdue safety was already playing in Saturday's game with broken bones in both hands.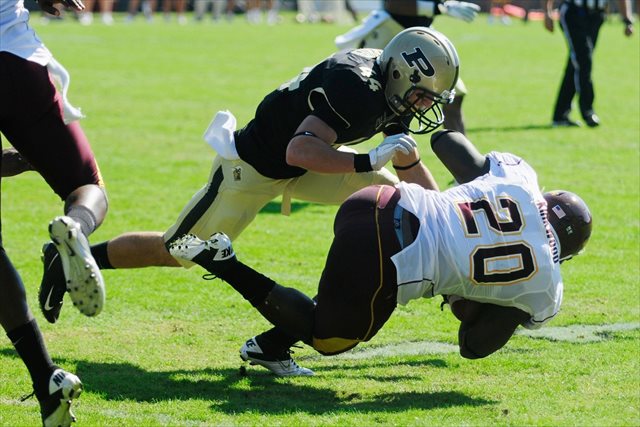 On Friday our Jerry Hinnen wrote about Purdue safety Landon Feichter who was going to play in Purdue's game against Indiana State with two broken hands. Unfortunately for Feichter he won't be able to play through his latest injury.
Feichter was forced to leave Saturday's game in the first half with a leg injury and coach Darrell Hazell confirmed on Saturday night that Feichter had suffered a broken leg.
Hazell said that Feichter was to undergo further evaluation to figure out whether or not he would need surgery.
While it's not known how long Feichter will be out just yet, he will miss this week's game against Notre Dame and will likely be replaced by Anthony Brown or Evan Feichter, Landon's younger brother.
Spurrier is among those thinking Saban can coach well into his 70s

The alliance includes including scheduling, training, development, recruitment, retention and...

Power Five home-and-homes have been a priority for UCF AD Danny White
Greg Byrne and Danny White had some words about what it means to be national champions

The team at TheMichiganInsider.com have an exclusive look at Michigan's spring practice

The 'Conference of Champions' won't be in the Round of 32 for the time since 1986