Q&A with Chris Spielman: His very personal new book
This week Chris Spielman's new book detailing his wife, Stefanie's, 11-year-battle with cancer -- before it took her life in November 2011 -- was released. I talked with him about the book, his wife's impact and how his perspective on things has changed.
I feel very fortunate to have gotten to know Chris Spielman over the years. I was a fan of his as a player before I began working in the media, and have learned he's even a better man than he was a linebacker, which considering how special he was on the football field is really saying something. He is direct, honest and as genuine as anyone I've worked with in two decades in the business. This week, Chris released a book detailing wife Stefanie's 11-year battle with cancer that took her life in November 2009. The title: That's Why I'm Here: The Stefanie and Chris Spielman Story. The book is getting rave reviews, and knowing Chris, I'm not surprised. Monday, I caught up with him to discuss the book, his wife's impact and how his perspective on things has changed.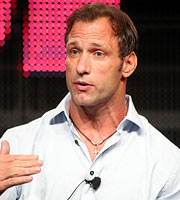 Q: What was the toughest thing to reveal in writing this book?

Spielman: Nobody likes to talk about their weakness or being broken and getting humbled. It was a little tough to write but I knew that I wanted people to relate to it, so I had to be completely honest. That's why I chose to write the book when I found out Stefanie was terminal.

Q: You wrote about the time in 2001, after hearing more devastating news, that the cancer had returned and at that moment, you moved into the back seat of the car, curled up sobbing and screamed, "God, no more deals. I'm done." How did your perspective on life change then?

Spielman: That I can't control everything. That I can't out-prepare, out-work, out-lift, out-run. And that's hard for a competitive guy, whose basically thought that success was based solely on effort and toughness and strength and endurance. It's not. There are some things that you cannot control. So you have to humble yourself and realize that there is meaning and purpose that you are not going to get to dictate. Now, it's your job to recognize to seize on that opportunity, which I essential I did--and we did, but it is humbling to learn that.

Q: The Stefanie Spielman Fund has already raised over $10 million, which is 100 times your goal. What would you like people who aren't familiar with your family's story to know?

Spielman: I think the whole premise is, and this is the motto that I try to live by now: I want folks to be on their guard, understanding that good things and bad things happen every single day. Challenges and triumphs happen every day in our lives. Just be on your guard. Be men and women of faith. Be men and women of courage. Be men and women of strength. Be men and women of passion. And, with those words, you can probably handle anything that goes your way.

Q: Your wife's motto was "No Doom and Gloom." How tough was that for you to live up to as she and your family was going though something as devastating as cancer?

Spielman: It wasn't tough for her. It was tough for me because of my nature. I think as a husband and a father, you do everything you can to protect your house. I was certainly angry, mad and sad that I let something bad come into my house before realizing that I had no control over that. I think that was a natural reaction from a husband and a father.

We were very open and honest with my two oldest at the time. Even as my two youngest ones came along they knew what cancer entails. That's what they grew up with. They knew that their mom periodically went through chemo treatments till the last round when I had to sit them down and tell them, "This is it. It's time for mom to go home." And that was hard. Very hard.

Q: I read something in a recent Columbus Dispatch story, where Stefanie's oncologist, Dr. Charles Shapiro said in regards to the money that has been raised: "Few non-doctors have touched the medical community as she has." What goes through your mind when you hear that?

Spielman: That she recognized what her mission in life was. First and foremost, she was a mother and a wife but also that she was a warrior against cancer and that she could make a positive difference and offer hope to many, many people. That she could be a fundraiser, and to have an impact that is far-reaching and helped so many people that I'll never know how many. Only she knows how many in my opinion.

Q: You were on the Wheaties box as a high school player, won as many awards as a linebacker can possibly win and had this terrific NFL career. With your profile, do you now look back upon it as a whole and consider perhaps there are some other reasons why you were able to attain such status as a football player?

Spielman: Well, I think that it is no accident that everything that I went through from a young age, as you said, the Wheaties box and all that up to now, playing with injuries in the NFL, like everybody else, but having the persona of being a tough guy and training myself to be a dad, I think there are no accidents. I think every circumstance in our life leads up to a certain point and that's when you have to make a decision. I really believe that.

Q: How are your kids doing now? Your oldest, Maddie, sounds like a grown-up when you read her comments and her perspective on things.

Spielman: I think that they're very strong. Stefanie videotaped a message, "Never use my death as an excuse for anything except motivation for everything." They're human beings and they still struggle with the loss of a mother. But that being said, I used to pray for mercy in the healing for Stef. Instead I got mercy in how my kids have handled it because I see them laugh and smile every single day. I know they have challenges and they deal with them. But they also know that mom is helping them and how they remember her in her full glory, not how they remember her how she passed away. And I think that helps.

For more on the Stefanie Spielman Fund, click here.

Our bowls expert looks at the toughest -- and weakest -- nonconference schedules in the na...

The new uniforms will be worn on Oct. 28 at Kyle Field vs. the Bulldogs

Kiffin's Owls have added myriad troubled players since he took over in Boca Raton
The Crimson Tide and Hurricanes have not met since the 1993 Sugar Bowl

Kelly is running out of people to blame at Notre Dame, and you know what that means

What's a bigger problem in college football -- referees or the rules themselves?