Q&A with Mack Brown: 'I don't need any more recognition, money'
In intimate interview with the Texas coach, Mack Brown reveals how he is going to turn around a program in turmoil.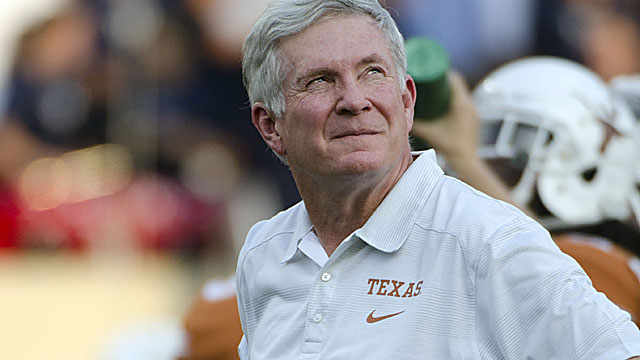 AUSTIN, Texas – During one of the most critical times in his Texas tenure, Mack Brown called his staff together on Sunday. They were going to watch every play – both sides of the ball – from Saturday's loss to Ole Miss.  
"Took hours," he said.
The goal was to find what is infecting Texas football at the moment. A program with the most returning starters in the country finds itself off to its worst start in 16 years. The walls are seemingly closing in from all angles. 
In the middle of preparations for Kansas State this week, Brown sat down for an extended period with two reporters – one from CBSSports.com – for a revealing interview about the current state of affairs. Brown is determined to turn Texas around. The Horns are 1-2 heading into conference play. Winning a mediocre Big 12 is still a possibility.
While his job status is a national topic of discussion, he's in a bunker sorting out his next move – beating K-State.
"You've got to be a great role model and great leader in a time of crisis," Brown said. "This is a crisis as far as football is concerned."
Is it effort or is it technical? "It's neither. It's like somebody is messing it up. Its' the weirdest thing I've ever seen."
How did you think your career would go?
Mack Brown: "I always thought I would probably be a high school coach and a principal and then a superintendent. Then it got way off track and it got into college. When I got into college, I always thought I would want to coach as long as I can or go into TV. I remember Coach Schembechler doing that, I remember Coach Royal doing that, I remember Coach Broyles doing that.
"In my era that's what you did."
How do you concentrate? "Coaches block out the future because they think if they start talking about the future they're not being fair to their current staff or players. That's a real phobia.
"In some cases it really hurts your family. During the season your commitment is to your coaches and your team. Sally [his wife] has to hear all that stuff. She has always handled it. The last couple of years she has turned it off too … She'll eat dinner with the players. She could care less about the football part of it. She cares about the players."
Could the Mack Brown of North Carolina even exist today – given time to turn around a program then last for 10 years?
Brown: "I go back to me in 1988, '89 and '90. I remember something in the media saying if Frank [Beamer] doesn't win six this year he's fired. Me, I was 1-10, 1-10, 6-4-1 then we were 7-4.
"I think it's bad. I think it takes coaches longer than three years. A lot of times you'll see a coach fix it in three years and he gets credit for it. Everybody talks about, 'This guy is a genius.' No, he had it in place. The other guy worked his tail off.
[Paraphrasing Lou Holtz:] "Five years, that's long enough. Seven, that's real long and 10 is too long,' because he stayed 10 at Notre Dame. I've been able to whip that. People don't understand that the large majority of my adult life has been spent in Austin. What we see publicly is negative. There are so many great fans. I want this program to play well. The last two weeks we haven't played well and that's on me.
"Whether somebody thinks I'm doing good or not doesn't matter. Whether somebody is mad at me doesn't matter. What matters is me getting it fixed and getting it back on track."
At the end Joe Paterno and Bobby Bowden were figureheads, you seem to be fully engaged:  "I've never worked any harder to [get] something fixed. I get over there early and stay until 10 o'clock at night …
"What I found is that the guys who aren't playing well are the ones that are talking bad in the dressing room. When you put the facts out for them to see it, it gets really quiet in that dressing room. The big eye in the sky don't lie. Here is how you played."
"They gotta understand how to overcome adversity."
Can you be content without football?
Brown: "I would always want to be involved with football in some manner. I love the game. I love coaching, good and bad. I love the fact that you can help them grow, I love the fact you can teach them life lessons. I don't need any more recognition. I don't need any more money. I don't need any legacy. If my name is never mentioned again the day I leave I don't care.
"The guys who have gotten out, they miss the staff, they miss the organization, they miss the kids, they miss the rush of game day.  I enjoy press conferences. It gives me a chance to tell how I feel."
Saban isn't going to win Alabama's special election, but the Crimson Tide coach got some l...

The Tigers are going worldwide for their next punter

Led by Heisman Trophy winner Baker Mayfield, the Big 12 finished with seven first-team sel...
Schiano would have made $4.4 million in Year 1 with annual raises as part of a six-year de...

Dykes spent this season as an offensive analyst at TCU

The 'Wyoming Wild Man' notched six tackles for loss as a junior in 2017